EY announces workday calendar
ADJUSTMENTS: Over the next five years, every year except 2026 would have only one makeup workday to compensate for national holidays, the government said
The Executive Yuan (EY) yesterday announced the official workday calendar for next year, which includes one makeup day and four holidays with more than three days off.
It also announced new standards for makeup days in the event of consecutive holidays.
The Directorate-General of Personnel Administration cited the importance of the Lunar New Year and Tomb Sweeping holidays to the public as its reason to mandate flexible off-days.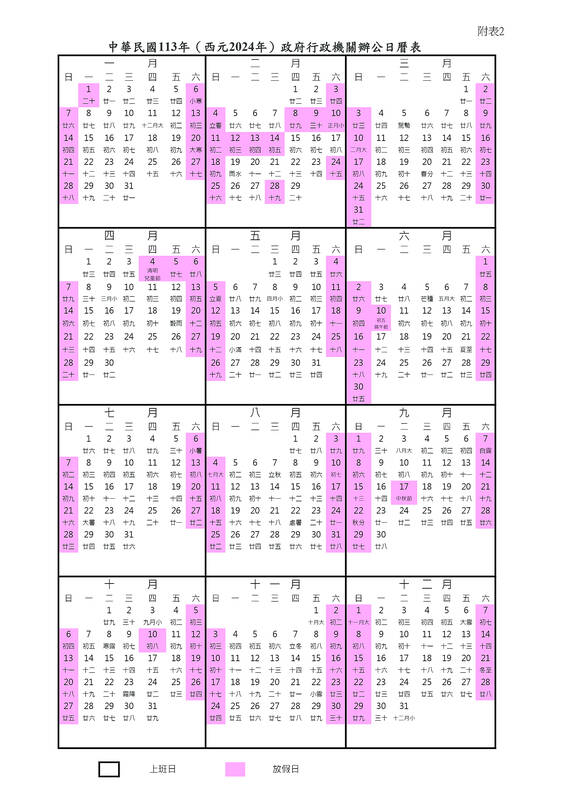 A calendar provided by the Executive Yuan shows holiday days next year.
Photo courtesy of the Directorate-General of Personnel Administration
The 115 total off-days dovetail with dates that international financial markets are closed, minimizing the effects of state holidays on stock and currency exchange trading, it said.
Over the next five years, only the calendar for 2026 has not been adjusted, while the other four years would only have one makeup day to account for the holiday on the day before Lunar New Year's Eve.
The changes came after six makeup days were mandated by the government this year, which drew criticism from the public.
Regarding when the makeup workday should be, the phrasing has been amended to "the Saturday on the week, or the Saturday the week after," from "the Saturday the week before."
Next year's makeup day has been set for Feb. 17, compensating for the Thursday before Lunar New Year's Eve.
The official workday calendar only applied to civil servants, public officials and employees at state-owned companies, adding that the off-days of military personnel falls under the jurisdiction of the Ministry of National Defense, the agency said.
Schools should observe the academic calendar, which is decided by the Ministry of Education, while the private sector should base off-days on the Labor Standards Act (勞動基準法), it said.
Regarding whether the reduced off-days would affect domestic markets, Minister of Economic Affairs Wang Mei-hua (王美花) said that the overall number of off-days remains unchanged, and the domestic market would not be affected.
The Ministry of Economic Affairs' post-pandemic regulations target the service industry and shopping districts to improve service quality, Wang said.
Total retail revenue last month increased to NT$369.7 billion (US$12.0 billion), or annual growth of 7.5 percent, and restaurants had revenue of NT$81.5 billion — an annual increase of 31.4 percent, Wang said, adding that the public should have more faith in the domestic market.
Additional reporting by Chung Li-hua
Comments will be moderated. Keep comments relevant to the article. Remarks containing abusive and obscene language, personal attacks of any kind or promotion will be removed and the user banned. Final decision will be at the discretion of the Taipei Times.