New rules aim to boost migrant worker numbers
WORKFORCE PROPORTIONS: Manufacturers would get an increase of their quota when they employ migrant workers who already reside in Taiwan, an official said
Employers would be able to hire more migrant workers after the Ministry of Labor yesterday unveiled proposed regulatory changes aimed at boosting the labor supply in Taiwan by up to 28,000 from the middle of next month.
The policy was developed in collaboration with the Ministry of Agriculture, the Ministry of Health and Welfare and the Ministry of Economic Affairs to deal with labor shortages, the labor ministry said in a public notice for the rule changes.
The public has the duration of the notice, or until Tuesday next week, to provide feedback to the government before the regulations are promulgated, it said.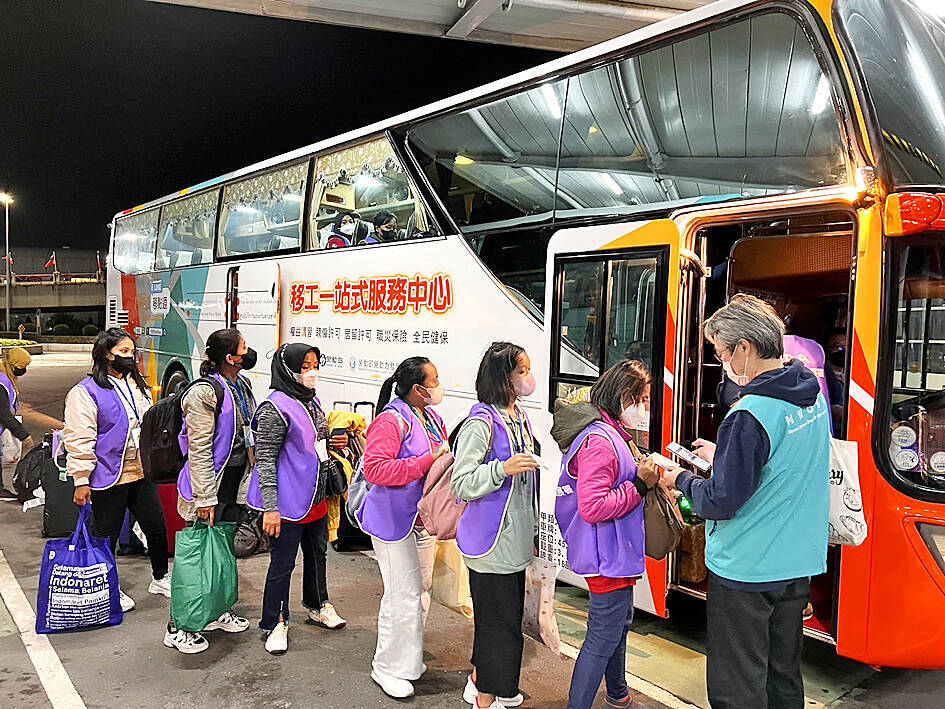 Newly arrived migrant domestic helpers and caregivers board a bus provided by the Ministry of Labor at Taiwan Taoyuan International Airport in an undated photograph.
Photo courtesy of the Ministry of Labor
The amended regulations would allow for 600 additional workers across 210 companies in the manufacturing sector, including 142 at seafood processors, 37 at tofu makers and 31 at metal hull manufacturers, Workforce Development Agency Deputy Director-General Lai Jia-jen (賴家仁) said.
The rule changes target industries with manufacturing processes that are difficult to automate and have hazardous working conditions, authorizing an increase in the share of migrant workers of their workforce to 20 percent from 15 percent previously, Lai said.
To reduce the number of idle migrant workers, manufacturers would receive an additional 5 percent on their quota when they employ eligible candidates who already reside in Taiwan, he said.
The cap for migrant workers across the manufacturing sector would be 40 percent, he said.
The cap for migrant workers at eligible comprehensive construction enterprises, specialized construction enterprises and civil engineering contractors would also be 40 percent, which would add 8,000 to the combined workforce, Lai said.
For example, for a civil engineering contractor to qualify to hire additional migrant workers under the new rules, it would need to have a contract valued at NT$10 million (US$324,739) or more and have more than five Taiwanese workers on its payroll, he said.
Farms that have 10 employees or fewer would be allowed a 50 percent cap on migrant workers, up from 35 percent, but the cap for large farms would remain unchanged, he said.
Agricultural entities allowed to hire migrant workers would include farms cultivating specific kinds of vegetables, fruit-bearing trees, seedlings, flowers, non-rice grains, coffee, tea and greenhouse-grown plants, he said.
In addition, timber harvesting and tree planting entities would be allowed to hire migrant workers, he said.
The agricultural workforce would increase by 12,000 due to the changes, Lai said, adding that the new rules would boost the number of care workers in the nursing sector by 14,000.
The current cap on migrant workers at social welfare institutions is one-third of the total number of occupied beds and the cap at long-term care facilities is one-fifth of the registered total bed capacity, he said.
The new rules would base the cap for all institutions on registered total bed capacity, he said.
Institutions would be allowed to employ as many migrant workers in carer roles as the total number of Taiwanese nurses and carers they employ, instead of only carers as currently stipulated, Lai said.
Comments will be moderated. Keep comments relevant to the article. Remarks containing abusive and obscene language, personal attacks of any kind or promotion will be removed and the user banned. Final decision will be at the discretion of the Taipei Times.