Australia lays on rock-star welcome for India PM Modi
Australia yesterday offered Indian Prime Minister Narendra Modi a rock-star welcome, lavishing praise on the Indian leader during a visit heavy on trade and light on criticism.
Modi held a campaign-style rally at a 21,000-capacity Sydney arena, with Australian Prime Minister Anthony Albanese playing emcee.
Lured by the world's most populous market and a counterweight to China's growing military, diplomatic and economic clout, the Australian government is layering on the charm.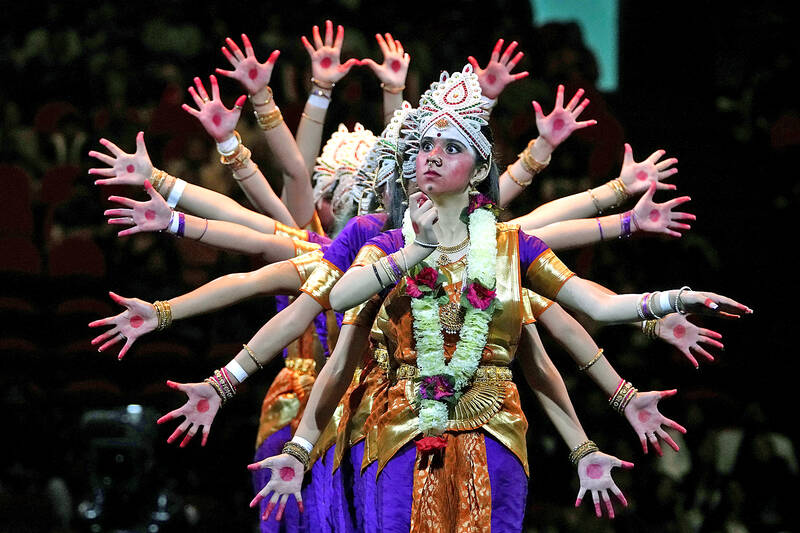 Dancers perform ahead of Indian Prime Minister Narendra Modi's arrival to attend an Indian community event at Qudos Bank Arena in Sydney, Australia, yesterday.
Photo: AP
To chants of "Modi, Modi, Modi," Albanese introduced his "dear friend" to a jazzed-up crowd of Indian-Australians, who he praised for making Australia "stronger and more inclusive."
"The last time I saw someone on the stage here was Bruce Springsteen and he didn't get the welcome that Prime Minister Modi has got," Albanese said.
"Prime Minister Modi is the boss," he said, breaking into a broad smile and boasting the pair had met six times in the past year.
It was an unusually personal show of support for Modi, a nationalist leader who faces re-election next year and has been criticized for democratic backsliding and discrimination against India's non-Hindus.
Modi reciprocated his host's praise, offering a long list of interests that bind the two nations — from cricket to curry, yoga to MasterChef.
"The most important foundation of our ties is mutual trust and mutual respect," he said.
Modi on Monday started his first visit to Australia since 2014, his first year in office.
Behind the flattery and mutual backslapping lie some hardheaded strategy and politics. As Australia struggles with a more assertive China, it is looking for economic and political partners in an increasingly rough-and-tumble neighborhood.
India's economic performance has been mixed in the past decade, with missteps curbing growth, but hundreds of millions have been lifted out of poverty. It is now the second-fastest growing economy in the G20 and a multitrillion-dollar market, and for both Modi and Albanese, the Indian diaspora offers a rich font of votes and campaign donations, said Ian Hall, an international relations professor at Brisbane's Griffith University.
"What we saw with this joint appearance in Sydney is an intermingling of Australian and Indian domestic and foreign policy," Hall said. "Both leaders are looking for funds and support, with the Indian diaspora center stage, and using the bilateral partnership almost as leverage."
Indian-Australians make up the nation's fastest-growing and second-largest diaspora, with 673,000 Indian-born citizens in a population of 26 million.
However, Albanese's warm embrace of Modi has raised questions, too.
Under Modi "the world's largest democracy" has become less free and more dangerous for his critics, Human Rights Watch's Elaine Pearson said.
"Modi's Bharatiya Janata Party-led government has been tightening its grip on civil society, using draconian laws to arrest and intimidate activists, journalists, opposition leaders, academics, peaceful protesters and critics of government policies," Pearson said.
Comments will be moderated. Keep comments relevant to the article. Remarks containing abusive and obscene language, personal attacks of any kind or promotion will be removed and the user banned. Final decision will be at the discretion of the Taipei Times.