Over 6,000 backed WHA bid: ministry
TAIWAN CAN HELP: More than 3,000 people supported the bid on social media, including US Senate Committee on Foreign Relations Chairman Robert Menendez
The government thanked more than 6,000 friends from around the world for supporting the nation's participation in the WHO and the World Health Assembly (WHA), despite Taiwan not being invited to attend.
Governments, parliaments, medical and health groups, think tanks and civil societies from more than 70 nations across five continents voiced support for Taiwan's inclusion in the WHA, which began on Sunday in Geneva, Switzerland, the Ministry of Foreign Affairs said.
They demonstrated their support through various means, such as making public speeches or statements, sending letters to the WHO, passing resolutions or bills, releasing videos, launching parades and joining a call to action on social media, the ministry said.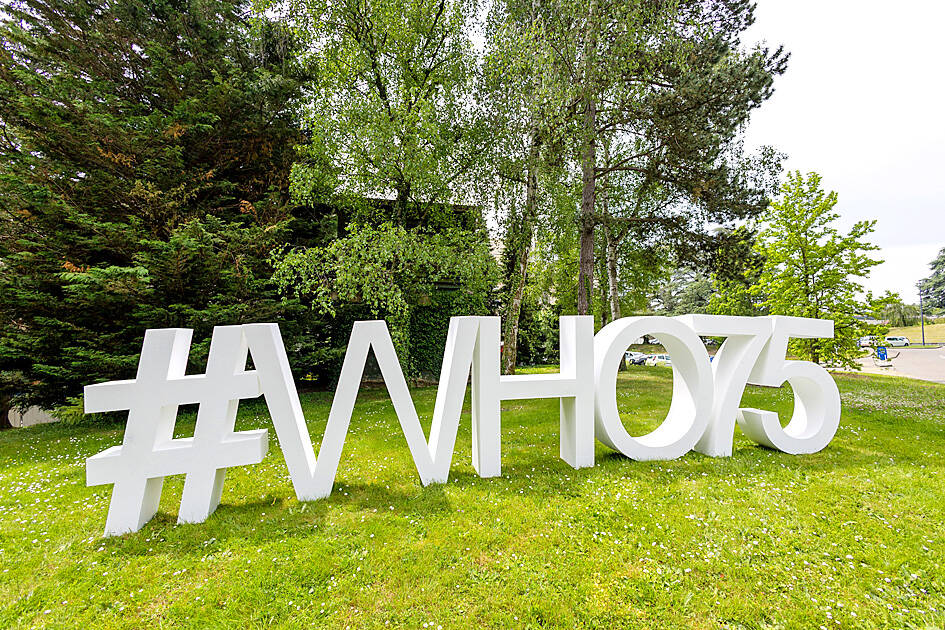 A sign is pictured outside the World Health Assembly at the UN in Geneva, Switzerland, on Sunday.
Photo: Reuters
Taiwan's 12 diplomatic allies that are UN members sent letters to WHO Director-General Tedros Adhanom Ghebreyesus asking that the issue of Taiwan's inclusion be discussed as a supplementary agenda item during the WHA, it said.
Several senior officials of Taiwan's diplomatic allies openly supported the bid, including Guatemalan President Alejandro Giammattei, Saint Vincent and the Grenadines Prime Minister Ralph Gonsalves, Saint Kitts and Nevis Deputy Prime Minister Geoffrey Hanley and Marshall Islands Minister of Foreign Affairs and Trade Kitlang Kabua, it added.
Voices in support of Taiwan have become louder from higher levels every year, the ministry said, citing the example of US Secretary of State Antony Blinken issuing a statement calling for Taiwan's participation as an observer at the WHA.
The legislative bodies of the US, Germany and the Czech Republic all passed bills supporting Taiwan's participation in international organizations, showing that the stance is part of public opinion in many nations, it said.
The ministry this year launched a campaign on social media, enlisting support with the hashtags #TaiwanCanHelp, #LetTaiwanHelp, #LetTaiwanIn and #WHONeedsTaiwan, the ministry said.
More than 3,000 people from more than 50 nations used the hashtags to voice their support for Taiwan in the past week, including US Senate Committee on Foreign Relations Chairman Robert Menendez, senior member of the committee Marco Rubio and member of the US House of Representatives Foreign Affairs Subcommittee on the Indo-Pacific Ami Bera, it said.
The ministry called on the WHO to listen to the supporting voices and allow Taiwan to participate in all WHO meetings, mechanisms and activities with equality and dignity in the spirit of "Health For All."
The ministry in a separate statement later yesterday expressed deep regret and dissatisfaction about not being invited to the WHA, while thanking Belize, Nauru, the Kingdom of Eswatini and the Marshall Islands for speaking up for Taiwan during debates with China at the WHA.
The allies refuted China's claim that Taiwan's international participation requires China's consent, it said.
The ministry condemned China's obstruction of Taiwan's participation in international organizations using unscrupulous means, adding that global epidemic prevention should not be subject to the political interference of a single nation.
Two reporters from the Central News Agency who had been accredited to cover this week's WHA yesterday were told that they would not be allowed to claim their press passes, in a move a UN staff member blamed on pressure from China.
Meanwhile, Minister of Health and Welfare Hsueh Jui-yuan (薛瑞元), who is leading an action group to advocate for Taiwan on the sidelines of the WHA, attended a sharing session held by the legislature's Social Welfare and Environmental Hygiene Committee by videoconference yesterday.
The central topics of discussions at the WHA this year include prevention and control of non-communicable and communicable diseases; universal health coverage; and women's, children's and adolescents' health, Hsueh said.
The WHA is also discussing how to conduct better clinical trials to facilitate evidence-based data, research and coordination of intervention measures, he said.
Other topics include boosting local drug production, technology accessibility, emergency medical services, patient safety and mental health, he added.
Taiwan's achievements on these topics are professional and valuable, and most policies are in line with WHO guidelines or even exceed the goals set by the WHO, he said, adding that Taiwan is willing to share its experiences.
Taiwan was expelled from the WHO in 1972 after losing its UN seat to China. Since then, Taiwan has not been able to attend the WHA due to objections by China, except from 2009 to 2016, when it was invited as an observer under the name "Chinese Taipei" while the Chinese Nationalist Party (KMT) held the presidency.
Additional reporting by CNA
Comments will be moderated. Keep comments relevant to the article. Remarks containing abusive and obscene language, personal attacks of any kind or promotion will be removed and the user banned. Final decision will be at the discretion of the Taipei Times.