DNA tests from China present risk to security: expert
Low-cost DNA testing tools from China could present a national security risk, with the potential for genetic data collected in Taiwan to be leaked to China, a cell biologist said yesterday.
The Web site of a local genetic testing company says that it has collaborated with BGI Genomics (華大基因) since 2014, providing its non-invasive fetal trisomy (NIFTY) test in more than 200 obstetrics and gynecology clinics nationwide, including Taipei City Hospital's Heping Fuyou Branch.
In 2021, Reuters reported that BGI was using the test — one of the most popular in the world — to collect genetic data from millions of women around the globe, and it was sharing that data with the Chinese military for genetic research.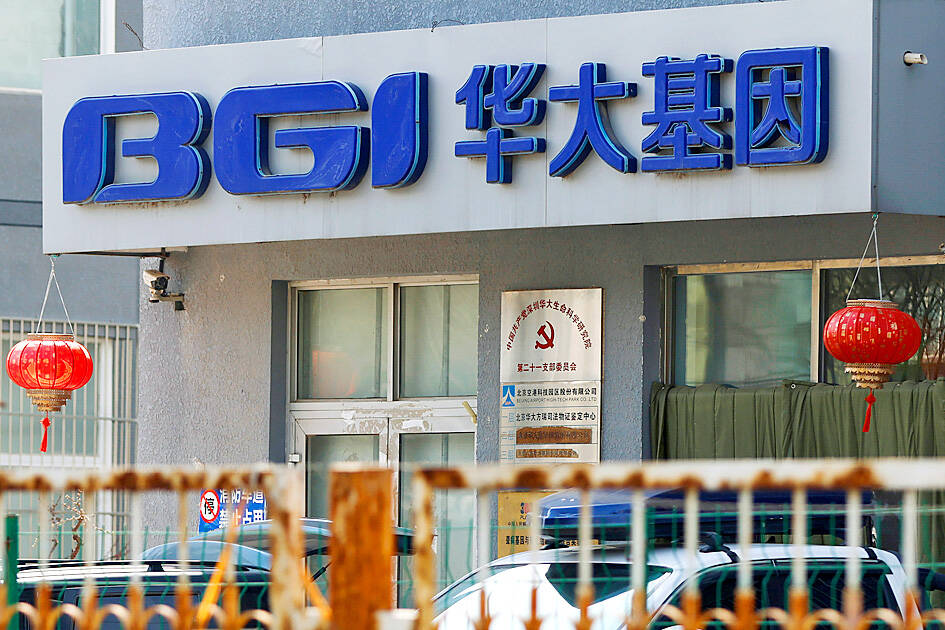 The logo of Chinese firm BGI Group at its building in Beijing is pictured on March 25, 2021.
Photo: Reuters
Although BGI said it has never provided data from its NIFTY tests to Chinese authorities for national security or national defense purposes, the NIFTY test has faced scrutiny from regulators in Australia, Canada, Germany and other countries, while the US in March added two subsidiaries of BGI to its trade blacklist.
Academia Sinica Institute of Cellular and Organismic Biology distinguished visiting fellow Wu Jen-leih (吳金洌) said that in addition to BGI, a Beijing-based bioinformatics company, Novogene (諾禾致源), also has laboratories and affiliated agencies in more than a dozen countries, including Taiwan, the US, the UK and Singapore.
The owner of a local genetics company said that the genomic testing and sequencing market in Taiwan can be categorized into four segments, with research and cancer screening accounting for the largest proportion of the market, worth billions of dollars.
Local agents collect specimens from research centers and send most of them to laboratories in China or to the laboratories of subsidiaries of Chinese companies in Southeast Asia for testing, they said.
Some companies have equipment in research centers in Taiwan, which might contain spyware that could send genomic data to China, they said.
Wu said that if genomic data are leaked to China and used for malicious purposes, it could cause a serious national security problem.
He said the government should follow the US in setting up access control systems for genetic data and support the local development of DNA testing tools.
While the US and many European countries developed their own DNA testing and genomic sequencing tools, Taiwan still allows many foreign agents to install equipment made by Chinese companies in hospitals and allows Hong Kong-funded companies to purchase local genetics companies, a genetics company owner said.
The government should support local companies by launching large-scale research projects and banning the use of Chinese equipment, they said.
Department of Medical Affairs Deputy Director-General Liu Yu-ching (劉玉菁) said that the Regulations Governing the Application of Specific Medical Examination Techniques and Medical Devices (特定醫療技術檢查檢驗醫療儀器施行或使用管理辦法) was revised in 2021, requiring hospitals to protect personal data collected through DNA testing.
If laboratories leak genomic data, they could be suspended from running tests, Liu said.
Additional reporting by Wu Liang-yi
Comments will be moderated. Keep comments relevant to the article. Remarks containing abusive and obscene language, personal attacks of any kind or promotion will be removed and the user banned. Final decision will be at the discretion of the Taipei Times.