Xi vows to boost security, defense in Central Asia
China is ready to help Central Asian nations bolster their security and defense capabilities, Chinese President Xi Jinping (習近平) said at a summit of the region's leaders, underscoring Beijing's efforts to deepen its influence there as an expansionist Russia raises fresh security issues.
China can help the region improve its "law enforcement, security and defense capability construction," Xi said during a keynote speech at the inaugural in-person China-Central Asia Summit, Xinhua news agency reported.
He said China would provide 26 billion yuan (US$3.7 billion) in financing support and "free assistance" to the countries.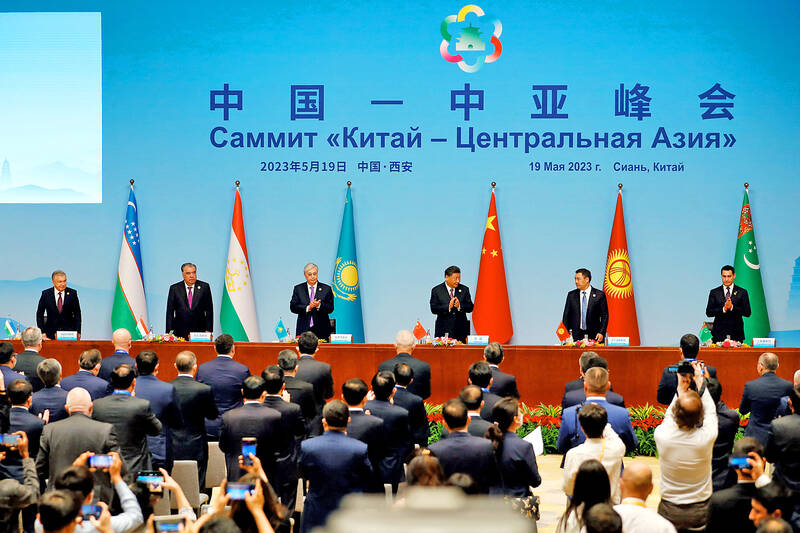 From left, Uzbek President Shavkat Mirziyoyev, Tajik President Emomali Rahmon, Kazakh President Kassym-Jomart Tokayev, Chinese President Xi Jinping, Kyrgyz President Sadyr Japarov and Turkmen President Serdar Berdymukhamedov attend a news conference at the China-Central Asia Summit in Xian, China, yesterday.
Photo: AFP
The event assembled the leaders of Kazakhstan, Kyrgyzstan, Tajikistan, Turkmenistan and Uzbekistan for two days in the Chinese city of Xian, where they discussed ways to deepen ties on everything from defense to finance, trade and energy.
The summit came as US President Joe Biden joined other G7 leaders in Japan this week to discuss, among other things, measures to counter perceived Chinese threats to global economic security. The simultaneous meetings symbolized an increasingly multipolar world, as China tries to challenge the US-led system.
While Russia and China are united in that mission to counter Washington, Xi's gathering of five former Soviet states without Russian President Vladimir Putin demonstrates Beijing's increasingly senior position in their "no limits" relationship.
Since Russia began its invasion of Ukraine, the Kremlin has become reliant on China to provide economic cover from Western sanctions and much-needed diplomatic support.
Russian Prime Minister Mikhail Mishustin would next week lead a delegation to a Shanghai business forum that has also invited sanctioned tycoons, exemplifying how China can shelter Moscow from Western economic sanctions.
At the summit, Xi also stressed that Central Asia has the "conditions and capabilities" to become a Eurasian hub, adding that their "sovereignty, security, independence and territorial integrity" must be "safeguarded."
That emphasis on their "sovereignty" came weeks after Chinese Ambassador to France Lu Shaye (盧沙野) sparked a firestorm when he questioned the independence of former Soviet states during a television interview.
Russia's invasion of Ukraine in February last year deepened a tussle for influence in the resource-rich Central Asian states, which were already on a trajectory of economic realignment toward China.
Last year, Kyrgyzstan, Uzbekistan and Turkmenistan each did more trade with China than with either Russia or the G7 bloc, the IMF said.
Chinese imports from the region are mostly commodities, including cotton, oil, natural gas and copper, official trade data showed.
China made some inroads on other economic ties during this week's summit.
On Thursday, Kazakhstan and Uzbekistan vowed to ensure the stable supply of gas to China.
The two countries combined accounted for about 6.4 percent of China's gas imports in 2021, but Uzbekistan last year began reducing Chinese exports so it could keep more fuel for its growing domestic petrochemical industry.
In Taipei, Taiwan's Ministry of Foreign Affairs yesterday strongly protested and condemned four joint statements issued by China and four Central Asian countries supporting China's territorial claim over Taiwan.
The leaders of Kazakhstan, Kyrgyzstan, Uzbekistan, and Tajikistan separately signed bilateral statements with Xi following the China-Central Asia Summit, according to the ministry.
The statements, which claimed that Taiwan is an inalienable part of China's territory, deviated from the fact that the People's Republic of China (PRC) and the Republic of China (ROC) have never been subordinate to each other and Taiwan has never been ruled by the PRC, MOFA said.
No country has the right to deny the existence of the ROC, nor are they able to do so by issuing a joint statement with China, the ministry said via a press release.
Additional reporting by CNA
Comments will be moderated. Keep comments relevant to the article. Remarks containing abusive and obscene language, personal attacks of any kind or promotion will be removed and the user banned. Final decision will be at the discretion of the Taipei Times.