Truss calls on democratic world to support Taiwan
SUPPORT: Taiwan can increase cooperation with the UK in areas such as supply chain resilience, innovation in technology and cybersecurity, President Tsai said
The free world should come together to support Taiwan and protect the nation's achievements, former British prime minister Liz Truss told President Tsai Ing-wen (蔡英文) yesterday in Taipei.
"What is being achieved here in Taiwan must be protected," Truss said, calling on democracies around the world to support Taiwan's endeavors to pursue democracy and economic development.
Freedom and democracy serve the best interests of societies, as they bring prosperity and happiness to people, she said.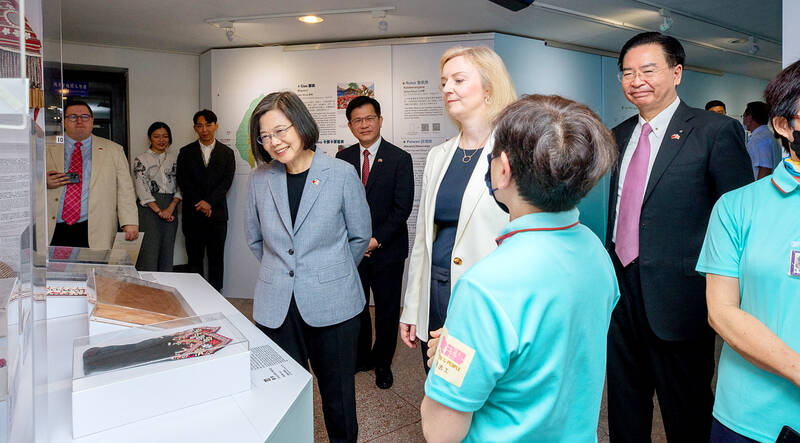 President Tsai Ing-wen, left, and former British Prime Minister Liz Truss attend an exhibition in Taipei yesterday.
Photo: REUTERS
The UK is "very clear that we need to maintain peace and stability in the Taiwan Strait," as the world is facing increasing struggles between democracies and authoritarian regimes, she said.
Taiwan's ability to defend itself must be ensured, she added.
In addition to security issues, the UK should also strengthen economic ties with Taiwan, she said.
"It's no understatement to say that Taiwan powers the modern world," Truss said.
She said that she found Taiwan's economic achievements impressive, including strong growth rates and leadership in critical industries, especially while facing intimidation from China.
Truss mentioned the idea of forming an "economic NATO," a concept she had talked about in a speech in Taipei on Wednesday, to allow like-minded democratic countries to cooperate economically to "challenge coercion by authoritarian regimes."
Tsai welcomed Truss' first visit to the country, and thanked her for her long-term support for Taiwan's international participation and security issues across the Taiwan Strait.
The UK "elevated the Taiwan Strait issue from a regional to a global matter" thanks to Truss, as she encouraged G7 countries and NATO to publicly emphasize the importance of maintaining cross-strait peace and stability while serving as British foreign secretary from 2021 to last year, Tsai said.
Truss underlined the importance of democratic allies working together to defend against authoritarian expansion at the Copenhagen Democracy Summit on Monday, in which Tsai also participated, she said.
Taiwan has been sending the same message to the world: "By acting in solidarity, democracies around the globe will make each other stronger," she said.
Cooperation between Taiwan and the UK has yielded fruitful outcomes in different sectors over the past few years, she said, adding that she hopes to see more exchanges in supply chain resilience, cybersecurity and technological innovation.
Tsai said she hopes to sign a bilateral trade agreement with the UK to further bolster economic ties between the two sides.
Truss is scheduled to conclude her visit today.
Comments will be moderated. Keep comments relevant to the article. Remarks containing abusive and obscene language, personal attacks of any kind or promotion will be removed and the user banned. Final decision will be at the discretion of the Taipei Times.