Paraguay president-elect invited to visit Taiwan
Vice Minister of Foreign Affairs Alexander Yui (俞大?) congratulated Paraguayan president-elect Santiago Pena and invited him to visit Taiwan during a meeting in Asuncion, the Ministry of Foreign Affairs said yesterday.
Yui, on behalf of President Tsai Ing-wen (蔡英文), congratulated Pena and running mate Pedro Alliana for their victory in Paraguay's April 30 presidential election and invited Pena to visit Taiwan to discuss ongoing and future cooperation projects to bolster diplomatic relations, the ministry added.
In a social media post after the meeting, Pena said he and Yui talked about the history of friendship and cooperation between Taipei and Asuncion, as well as the "great projects that we are going to promote to generate development in Paraguay."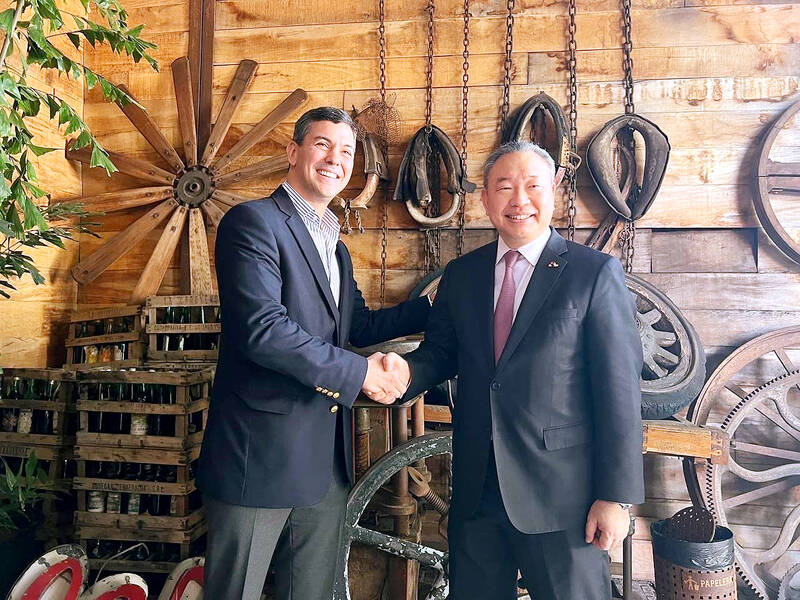 Vice Minister of Foreign Affairs Alexander Yui, right, shakes hands with Paraguayan president-elect Santiago Pena on Wednesday in Paraguay.
Photo courtesy of the Ministry of Foreign Affairs
Earlier on Wednesday, Yui met with outgoing Paraguayan President Mario Abdo Benitez to thank him for supporting Taiwan and advocating for its international participation during his five-year term in office, the ministry said.
Yui's visit to Paraguay comes on the heels of Pena's comfortable win over center-left rival Efrain Alegre, who had campaigned on a pledge to switch diplomatic recognition to Beijing.
The victory for Pena, who vowed to maintain ties with Taipei, eased fears that Taiwan would lose another diplomatic ally.
The number of UN member states maintaining formal relations with Taiwan has fallen to 13 as Beijing intensifies efforts to poach the country's allies.
Minister of Foreign Affairs Joseph Wu (吳釗燮) previously said his ministry would soon invite Pena to visit Taiwan some time before his inauguration on Aug. 15.
The ministry also said it plans to send representatives to attend Pena's inauguration.
However, Wu would not disclose if Tsai or Vice President William Lai (賴清德) would lead the delegation.
Paraguay, the only country in South America to maintain diplomatic relations with Taiwan, established official relations with the nation in 1957.
Comments will be moderated. Keep comments relevant to the article. Remarks containing abusive and obscene language, personal attacks of any kind or promotion will be removed and the user banned. Final decision will be at the discretion of the Taipei Times.