Category 5 Cyclone Mocha hits Myanmar, Bangladesh
Cyclone Mocha yesterday crashed ashore in Myanmar and southeastern Bangladesh, uprooting trees, scattering flimsy homes in Rohingya displacement camps and bringing a storm surge into low-lying areas.
Packing winds of up to 195kph, Mocha hit between Cox's Bazar, home to nearly 1 million Rohingya refugees in Bangladesh, and Myanmar's Sittwe, the Bangladesh Meteorological Department said.
Streets in Sittwe were turned into rivers as the biggest storm to hit the Bay of Bengal in more than a decade surged through the seaside town.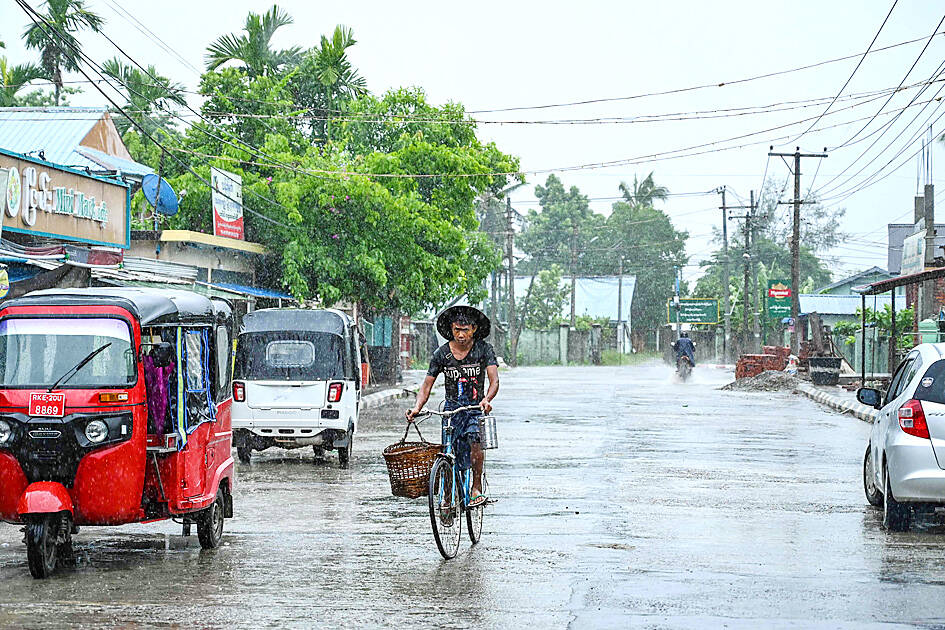 A man rides a bicycle in the rain in Kyauktaw, Myanmar, yesterday, ahead of the expected landfall of Cyclone Mocha.
Photo: AFP
"The water is gradually rising," social worker Wai Hun Aung said from Sittwe. "The tide has reached to the drain in front of a school... Soon we will move our important belongings upstairs."
The wind ripped apart homes made of tarpaulin and bamboo at one camp for displaced Rohingya at Kyaukphyu in Myanmar's Rakhine State.
Its residents were anxiously watching the rising sea tide, camp leader Khin Shwe said.
"We are now going to check whether sea water is increasing to our place ... if the sea water rises, our camp can be flooded," Khin Shwe said.
In Teknaf in Bangladesh, high winds uprooted trees, brought traffic to a halt and sent residents running for cover, an Agence France-Presse correspondent said.
"Our camp houses, which are constructed with bamboo and tarpaulins, can be blown away in soft, light winds," Mohammad Sayed, 28, said from Nayapara refugee camp in Cox's Bazar.
"The schools, which are designated as cyclone shelters ... are not strong shelters that can withstand the winds of a cyclone. We are scared," he said.
Thousands left Sittwe on Saturday, packing into trucks, cars and tuk-tuks and heading for higher ground inland as meteorologists warned of a storm surge of up to 3.5m.
"We are not OK because we didn't bring food and other things to cook," said Maung Win, 57, who spent the night in a shelter in Kyauktaw town further inland. "We can only wait to get food from people's donations."
Bangladeshi authorities had moved 190,000 people in Cox's Bazar and nearly 100,000 in Chittagong to safety, divisional commissioner Aminur Rahman said late on Saturday.
The Myanmar Red Cross Society said it was "preparing for a major emergency response."
In Bangladesh, authorities have banned Rohingya refugees from constructing concrete homes, fearing it might encourage them to settle permanently rather than return to Myanmar, which they fled five years ago following a brutal military crackdown.
The camps are generally slightly inland, but most of them are built on hillsides, exposing them to the threat of landslides.
Forecasters expect the cyclone to bring a deluge of rain, which can trigger landslips.
Hundreds of people also fled Bangladesh's Saint Martin's island, a local resort area right in the storm's path, with thousands more moving to cyclone shelters on the coral outcrop.
"We are in a panic because we don't have enough cyclone shelters here," Saint Martin's resident Jahangir Sarwar, 23, said by telephone. "We asked the administrators many times that everyone should be evacuated to a safe place in mainland Teknaf town, but no action was taken."
Cyclone Mocha is the most powerful storm to hit Bangladesh since Cyclone Sidr, said Azizur Rahman, head of the Bangladesh Meteorological Department.
Sidr hit Bangladesh's southern coast in November 2007, killing more than 3,000 people and causing billions of dollars in damage.
Comments will be moderated. Keep comments relevant to the article. Remarks containing abusive and obscene language, personal attacks of any kind or promotion will be removed and the user banned. Final decision will be at the discretion of the Taipei Times.