Across Taiwan, flash mobs protest risk to pedestrians
Advocacy groups staged flash mobs in several cities yesterday, calling on the government to ensure "pedestrians' right of way" and to end the "living hell" pedestrians face in Taiwan.
Hundreds of participants, mostly dressed in black, holding open umbrellas, carnations and paper signs, marched for 10 minutes around intersections where fatal traffic accidents involving pedestrians have occurred.
The flash mobs took place in Taipei, New Taipei City, Taoyuan, Hsinchu City, Taichung, Tainan and Kaohsiung.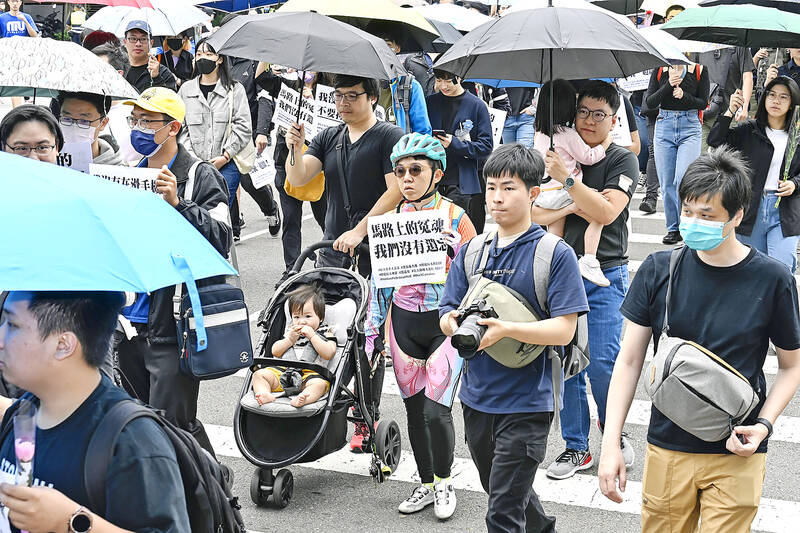 Participants in a flash mob march across the intersection of Jianguo S Road and Xinyi Road in Taipei yesterday, demanding that the government improve pedestrian safety.
Photo: Chen Chih-chu, Taipei Times
One of the intersections was in Tainan, where a three-year-old girl was killed and her mother was injured on Monday last week when a car hit them while they were crossing the street on a crosswalk.
One of the organizers, an influencer nicknamed Cheap, said that the government has always prioritized the right of way for motorists, neglecting pedestrian safety.
The flash mobs were organized to encourage the government to focus on pedestrians' right of way, and get it to lay more sidewalks, as well as ones that are flatter, Cheap said.
A large rally would also be held in late August, in the hopes of ensuring a safer environment for the next generation of pedestrians, he said.
In Taipei, a woman with her one-year-old son in a stroller said she attended the event to mourn for the three-year-old girl who died in Tainan last week, and to express her frustration at using a baby stroller in the city.
It is difficult to push strollers on many sidewalks, and because of illegally parked vehicles she is sometimes forced to dangerously walk between cars and motorcycles on the road, she said.
She said she wants the government to ensure that sidewalks are barrier-free and clamp down on illegal parking.
Also in Taipei, a university student surnamed Chien (簡) said that people in wheelchairs find sidewalks in Taiwan problematic, so while he hopes more people become alert to the difficulties pedestrians face, they must also be aware of the different demands people have.
The flash mobs wore black to mourn the pedestrians who have been killed on crosswalks, while holding umbrellas to symbolize a shield for pedestrians and carnations in remembrance of all the mothers and children who have died and for the family members of traffic accident victims, organizers said.
Deputy Minister of Transportation and Communications Chen Yen-po (陳彥伯) yesterday said that the Institute of Transportation has been discussing a traffic safety bill since late last month, which is to be sent to the ministry for further discussion.
The ministry has over the past few months been focusing on pedestrian traffic safety, especially at intersections, and has drafted plans to work with local governments to improve safety for pedestrians and motorists, such as at intersections and near schools, he said.
Comments will be moderated. Keep comments relevant to the article. Remarks containing abusive and obscene language, personal attacks of any kind or promotion will be removed and the user banned. Final decision will be at the discretion of the Taipei Times.