China world's largest jailer of journalists: report
China was the biggest global jailer of journalists last year with more than 100 behind bars as Chinese President Xi Jinping's (習近平) government tightened control over society, Reporters Without Borders said on Wednesday.
The Chinese government was also one of the biggest exporters of propaganda, according to the media freedom group.
China was listed second, behind only North Korea, in the group's annual index of media freedoms.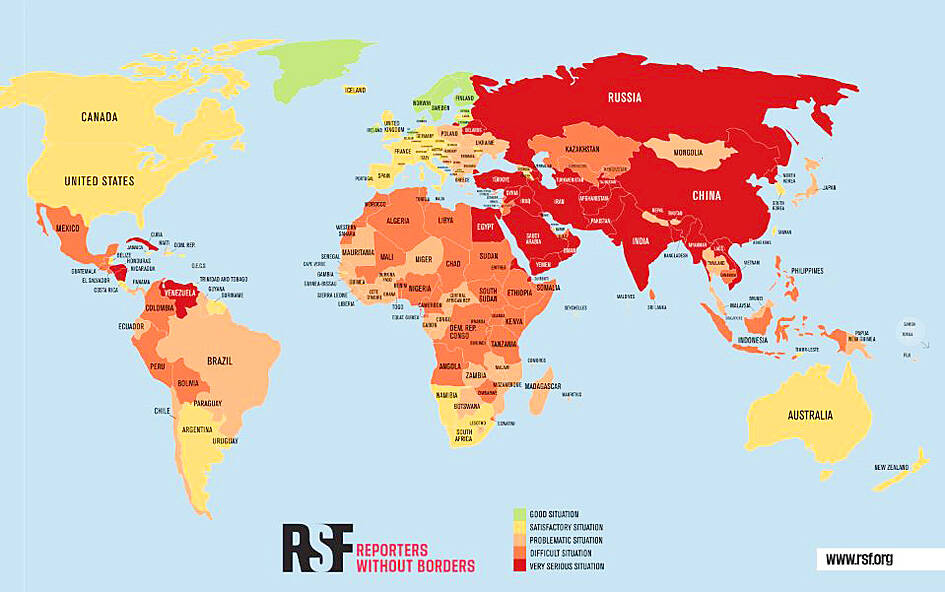 2023 World Press Freedom Index is shown in this map.
Photo courtesy of the Reporters Without Borders (RSF)
The Chinese Communist Party (CCP) has tightened already strict controls on media in China, where all newspapers and broadcasters are state-owned.
Web sites and social media are required to enforce censorship that bans material that might spread opposition to the country's one-party rule.
Xi, China's most powerful figure in decades, called for journalists to adhere to "the correct orientation of public opinion" during a 2016 meeting with reporters who had been awarded official prizes.
Xi is pursuing a "crusade against journalism," the report said, adding that the decline in China's media freedoms was "disastrous."
Beijing operates what is regarded as the world's most extensive system of Internet controls. Its filters try to block the Chinese public from seeing Web sites abroad operated by news outlets, governments and human rights groups.
Chinese journalists have been prosecuted on charges of spying, leaking national secrets and "picking quarrels," a vague accusation used to jail dissidents. Others are subjected to surveillance, intimidation and harassment.
Journalist Dong Yuyu (董鬱玉), who worked at a CCP-affiliated newspaper and is a former Harvard University fellow, faces espionage charges after being detained for more than a year, his family said last week.
Chinese-born Australian journalist Cheng Lei (成蕾) last year was tried in China on national security charges, but has yet to learn the verdict, Australian Minister for Foreign Affairs Penny Wong (黃英賢) said in March.
Cheng worked for CGTN, the English-language state television channel aimed at foreign audiences. She was detained in August 2019 and accused of sharing state secrets.
In Hong Kong, the CCP forced the Apple Daily newspaper to shut down as part of a crackdown on pro-democracy sentiment.
Apple Daily founder Jimmy Lai (黎智英) was convicted of fraud last year, a charge his supporters said was politically motivated. Six other former executives pleaded guilty.
Comments will be moderated. Keep comments relevant to the article. Remarks containing abusive and obscene language, personal attacks of any kind or promotion will be removed and the user banned. Final decision will be at the discretion of the Taipei Times.