Police launch campaign to ensure pedestrian safety
LEGAL CHANGE: Drivers now face bigger fines if they fail to give way to pedestrians on crosswalks, while officers are to crack down on multiple other driver offenses
The National Police Agency (NPA) is today launching a nationwide traffic enforcement campaign to ensure drivers give way to pedestrians at crosswalks.
Police are to increase monitoring in the hope that drivers and pedestrians treat each other with courtesy and abide by traffic laws, the agency said yesterday.
Under an amendment by the Ministry of Transportation and Communications, which took effect on March 31, drivers of small passenger vehicles who fail to yield to pedestrians on crosswalks face a fine of NT$3,600 (US$117.11), up from NT$2,000, while drivers of large commercial vehicles face a fine of NT$3,600, up from NT$2,800, the amendment says.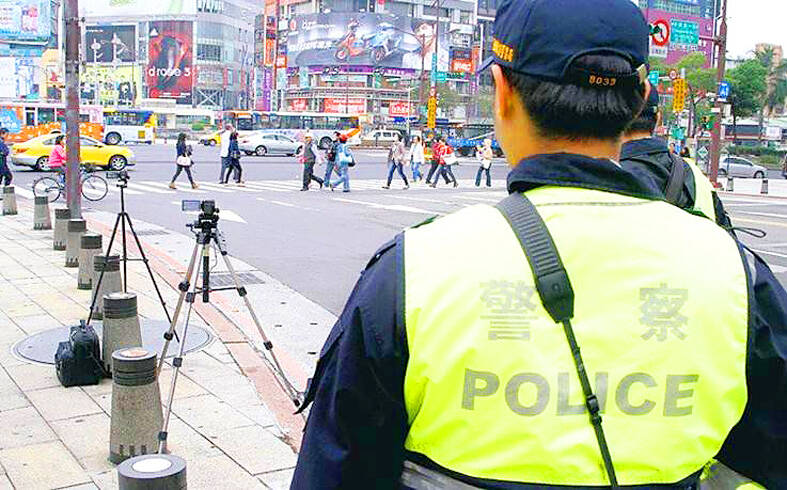 A police officer watches people cross an intersection in Taipei in an undated photograph.
Photo: Yao Yueh-hung, Taipei Times
The fine for motorcyclists is unchanged at NT$1,200.
The campaign also focuses on strictly enforcing regulations concerning not yielding, not stopping at intersections without signs, illegal parking and obstacles placed on roads, the agency said.
Police reported 30,717 cases in which drivers did not yield to pedestrians or the visually impaired at crossings or when turning from January to last month, up from 12,893 cases during the same period last year, it said.
The 138 percent increase in such contraventions indicated that while enforcement became stricter, citizens' awareness of the rules should be heightened, it said.
In related news, the NPA released statistics showing that police agencies reported 15,016,547 traffic offenses last year, a 33 percent increase from 2018 and the highest number in five years.
Illegal parking was the No. 1 traffic contravention, comprising 30 percent of all cases, the agency said.
That was followed by exceeding the speed limit of 60kph on regular roads and running red lights, at 24.1 percent and 9.8 percent of all cases respectively.
Compared with 2021, there was mainly an increase in three types of traffic contraventions: cases involving drivers not following the traffic rules when making turns rose by 328,369; those caught running a red light increased by 187,167; and those not yielding to others with right of way rose by 125,902.
In terms of percentage, cases involving people not fastening their seat belts increased by 77.34 percent — the most among all cases.
However, when compared with 2018, the largest increase in cases was for illegal parking, which reached 727,596.
Compared with 2018, cases involving people using mobile phones or computers while driving rose 169.38 percent — the largest percentage increase among traffic offenses. Drunk driving dropped 38.34 percent, which was the largest percentage decrease.
Car drivers' top five traffic offenses last year were: illegal parking (3,090,588 cases), exceeding the 60kph speed limit (2,530,124 cases), failure to follow the rules when making turns (849,062 cases), running a red light (566,496 cases) and not yielding to those with right of way (209,397 cases).
The top five traffic offenses for motorcyclists were the same as for car drivers: illegal parking (1,396,968 cases), exceeding the 60kph speed limit (1,091,253 cases), running a red light (909,951 cases), failure to follow the rules when making turns (616,282 cases) and not yielding to those with right of way (458,823 cases).
Comments will be moderated. Keep comments relevant to the article. Remarks containing abusive and obscene language, personal attacks of any kind or promotion will be removed and the user banned. Final decision will be at the discretion of the Taipei Times.