Biden to make landmark visit to Papua New Guinea
US President Joe Biden is set to become the first sitting US president in at least a century to visit Papua New Guinea, Papua New Guinean Minister of Foreign Affairs Justin Tkatchenko said yesterday, revealing plans for a brief, but symbolic trip.
The region around the country could prove vital in any possible military conflagration over Taiwan.
Biden plans to stop at Port Moresby next months as he travels between a G7 summit in Japan and a Quadrilateral Security Dialogue summit in Sydney, Tkatchenko said.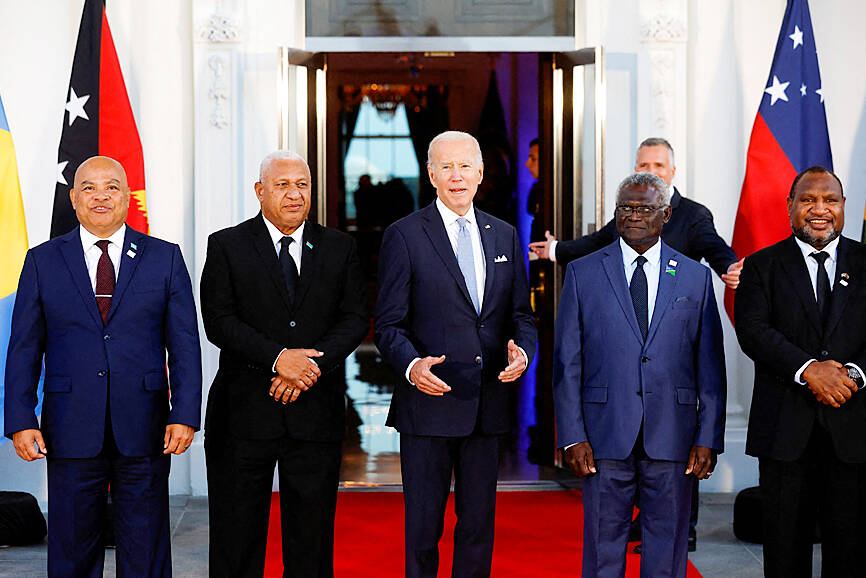 Papua New Guinean Prime Minister James Marape, right, poses for a photograph with US President Joe Biden and other Pacific island country leaders in Washington on Sept. 29 last year.
Photo: Reuters
"He is coming on the 22nd, in the morning, and will be here for three hours only," Tkatchenko said, adding that talks were expected to focus on the economy, security and climate change.
Biden's trip might put the finishing touches on a US-Papua New Guinea Defense Cooperation Agreement that would allow more joint training and the development of security infrastructure.
The presidential trip is a nod toward the country's rapidly growing strategic importance, as the US and its allies tussle with China for influence across the Asia-Pacific region.
Chinese President Xi Jinping (習近平) visited Port Moresby in 2018 to much fanfare, with Chinese flags hoisted across the capital and his motorcade whizzing past gathered crowds.
The trip was seen as a major diplomatic coup for Beijing. US and Australian officials have been concerned by a rapid uptick in Chinese investment in the resource-rich nation.
There have also been concerns that China has been trying to establish a military outpost, prompting Washington to move toward establishing a joint naval facility at Lombrum on Manus Island.
Construction started in mid-2020, according to the Australian Department of Defence, which is also taking part in the initiative.
Four Guardian-class patrol boats are expected to be based at the facility.
US Department of State records, which date back to then-US president Theodore Roosevelt's administration in 1901, show that no sitting US president has visited Papua New Guinea.
However, the importance of the region has come more sharply into focus since China and the Solomon Islands agreed on a security pact last year.
The details of the agreement have not been made public — at Beijing's request — but a draft seen by reporters has provisions that would allow China to deploy troops to the country.
Washington and other capitals have expressed concern that Beijing could also establish a military outpost.
Last month, a state-backed Chinese company won a contract to develop the international port in the capital Honiara, a major victory in Beijing's quest to gain a strategic foothold in the South Pacific.
Comments will be moderated. Keep comments relevant to the article. Remarks containing abusive and obscene language, personal attacks of any kind or promotion will be removed and the user banned. Final decision will be at the discretion of the Taipei Times.