Biden, Yoon reaffirm Taiwan support at summit
'KEY PARTNERS': The two leaders strongly oppose coercive maritime activities, unlawful maritime claims and harmful economic influence, they said in a statement
US President Joe Biden and South Korean President Yoon Suk-yeol highlighted the importance of maintaining peace and stability across the Taiwan Strait in a joint statement issued after the two leaders met in Washington.
Yoon arrived in the US on Tuesday for a state visit, and met with Biden on Wednesday to commemorate the 70th anniversary of the alliance between the two nations.
Biden and Yoon "reiterated the importance of preserving peace and stability in the Taiwan Strait as an indispensable element of security and prosperity in the region," the statement said.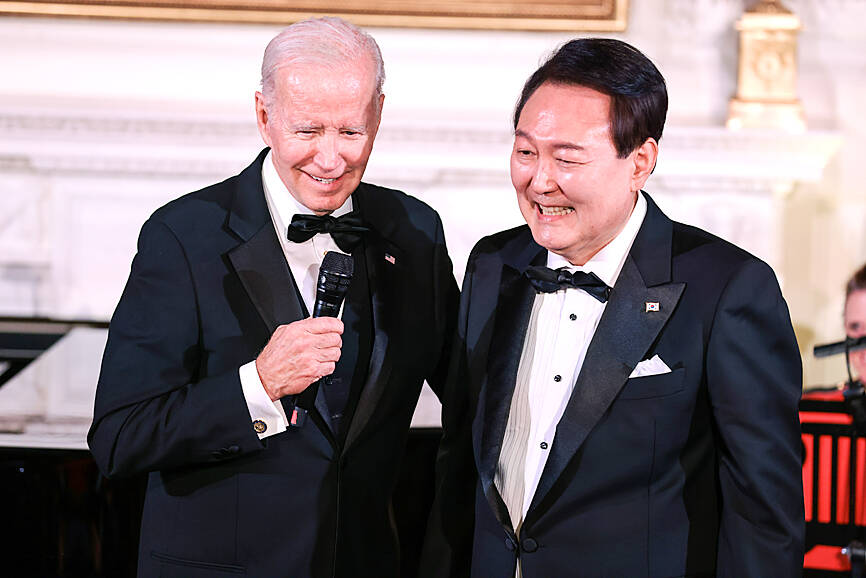 US President Joe Biden, left and South Korean President Yoon Suk-yeol speak at a state dinner at the White House in Washington on Wednesday.
Photo: EPA-EFE
The two leaders "strongly opposed any unilateral attempts to change the status quo in the Indo-Pacific, including through unlawful maritime claims, the militarization of reclaimed features and coercive activities," it said.
The Ministry of Foreign Affairs yesterday welcomed the statement, saying that cross-strait peace and stability are the core of a safe and prosperous Indo-Pacific region.
The statement demonstrated that safeguarding the Taiwan Strait is a consensus among the democratic community and linked to key global interests, the ministry said.
Biden and Yoon also reaffirmed their commitment to preserve lawful access to the South China Sea and beyond, including unimpeded commerce and freedom of navigation, the statement said.
The two countries are set to expand cooperation in the Indo-Pacific region, singling out economic coercion as one of the issues of deep concern, it said.
The leaders oppose "harmful uses of economic influence, including economic coercion as well as use of opaque tools with respect to foreign firms," and plan to cooperate with like-minded partners to counter the issues, it said.
The leaders vowed to work together, along with Japan, to "ensure the future of the Indo-Pacific is free, is open, prosperous and secure," Biden said at a news conference after meeting with Yoon.
South Korea and the US are "key partners in achieving stability and building peace in the Indo-Pacific region," and have agreed to work together to tackle regional and global challenges, Yoon said at the news conference, without directly mentioning Taiwan.
The two leaders also issued what they called the Washington Declaration to demonstrate their commitment to "develop an ever-stronger mutual defense relationship" by facilitating dialogue and information sharing, and improving joint exercises and training activities to counter growing nuclear threats faced by South Korea.
Comments will be moderated. Keep comments relevant to the article. Remarks containing abusive and obscene language, personal attacks of any kind or promotion will be removed and the user banned. Final decision will be at the discretion of the Taipei Times.