Worker incentives to offer salary boost
CONSTRUCTION, ACCOMMODATION: The one-year program is to add NT$5,000 to NT$13,000 to monthly salaries to attract 20,000 workers in shortage-struck industries
The government is to offer an incentive fund of up to NT$13,000 per month to those who accept work in the construction and accommodation industries, the Executive Yuan said yesterday.
The incentive is part of the extended employment program proposed by the Ministry of Labor, and was approved at a weekly Cabinet meeting yesterday morning.
The one-year trial program aims to motivate 20,000 jobseekers to accept jobs in construction, accommodation and other key industries that have reported severe labor shortages, Deputy Minister of Labor Chen Ming-ren (陳明仁) told a news conference after the Cabinet meeting.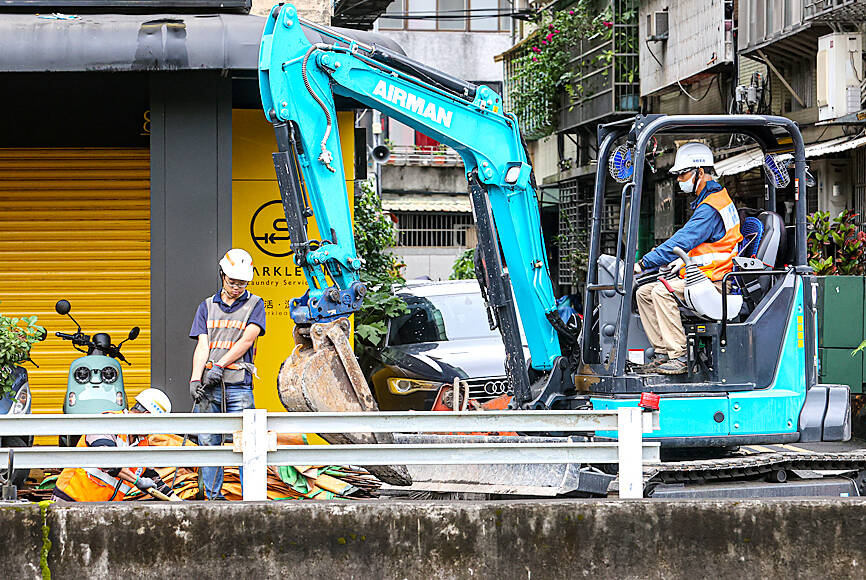 A worker operates an excavator at a construction site in Taipei on Monday.
Photo: CNA
New hires in the construction and accommodation industries would be paid an additional NT$6,000 per month from the fund, while the amount would be raised to NT$9,000 per month for jobs in rural regions.
New middle-aged and older hires in the construction industry would be paid an incentive of NT$10,000 per month, rising to NT$13,000 per month for those in rural areas.
Those in that age group who work part-time would receive NT$5,000 per month, or NT$6,500 in rural regions.
The salary top-ups in the incentive program are to be provided for 12 months, the ministry said.
"Government agencies overseeing the construction and accommodation industries can subsize employers who hire workers, improve working environments and introduce automated services," the ministry said.
Employers in the construction and accommodation industries who train new workers after they are hired are to receive a monthly training subsidy of NT$12,000 per employee and NT$15,000 for jobs in remote regions.
The training subsidy is to be available for three months, while workers who complete training are to be offered an additional one-time grant ranging from NT$5,000 to NT$8,000, depending on the work location.
"Workers can benefit not just from the salary subsidies, but also from the improved working conditions that are expected from the incentives," Chen said.
Several measures to address worker shortages in the construction industry were initiated earlier this year by the Ministry of Labor, the Public Construction Commission and the Ministry of the Interior.
The introduction of precast modular construction methods and enhanced professional skills training were part of that program, Chen said.
Those measures and the incentive program are separate, he added.
Comments will be moderated. Keep comments relevant to the article. Remarks containing abusive and obscene language, personal attacks of any kind or promotion will be removed and the user banned. Final decision will be at the discretion of the Taipei Times.