War games to tackle the latest PLA threats
HAN KUANG: Non-stop tabletop war games for five days next month would test the ability of personnel to coordinate a response to a hypothetical Chinese invasion
Taiwan's annual war games this year would simulate responses to a potential Chinese invasion based on the latest threats posed by the Chinese People's Liberation Army (PLA), the Ministry of National Defense said yesterday.
As in previous years, this year's Han Kuang drills would be held in two stages, the ministry said.
The tabletop war games phase would be held from May 15 to 19 and the live-fire exercise component is scheduled for July 24 to 28, said Major General Lin Wen-huang (林文皇), who is in charge of planning at the ministry.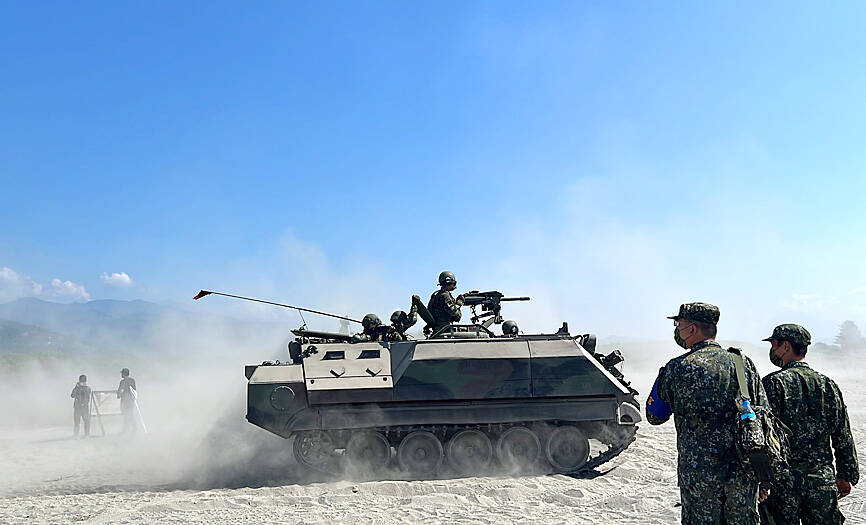 Military personnel look on as an armored vehicle participates in the Han Kuang military exercises on a beach in the Chihpen area of Taitung on July 28 last year.
Photo: CNA
The computerized war games would be conducted using the US-built Joint Theater Level Simulation platform, which simulates joint, combined and civil-military operations at an operational level, Lin said.
The simulations would be held around the clock for five days in a row to test the ability of military personnel to coordinate and launch a response to a hypothetical Chinese invasion, he said.
The main emphasis of the live-fire drills would be on testing the military's ability to preserve its forces in the event of a full-scale invasion and to conduct "maritime interceptions" to counter a simulated attempt by the PLA to blockade Taiwan.
That would include using civilian airports and dispersing air assets, as well as disguising forces on the ground, and integrating sea, air and land forces to attack enemy forces and amphibious assault ships, Lin said.
He did not directly address a question about whether the Han Kuang exercises would simulate a response to China's newest aircraft carrier, the Shandong, which recently this month engaged in its first-ever exercises in the western Pacific in waters not far from Taiwan.
Taiwan's drills would simulate all kinds of recent PLA maneuvers and deployments that pose a threat to the country, he said.
He also did not directly comment on whether a military aircraft emergency landing and takeoff drill would be staged for the first time at a civilian airport in eastern Taiwan in July during the live-fire portion of the exercises, as the Central News Agency (CNA) reported last month.
The general said that civilian airports would be an important asset for the military to increase its flexibility and make sure its air assets could survive longer, which is why the ministry would simulate the scenario.
An unnamed source on March 28 told CNA that the drill to be staged at Taitung Fengnian Airport would simulate a scenario in which Taiwan's military airports and airstrips are severely damaged by enemy fire, requiring fighter jets to land at civilian facilities or sections of freeway designated as makeshift runways.
If it went ahead, it would be the first time that such a drill is staged at the airport since it opened in 1981.
The Han Kuang exercises have been held annually since 1984 to test the combat readiness of Taiwan's military branches.
Comments will be moderated. Keep comments relevant to the article. Remarks containing abusive and obscene language, personal attacks of any kind or promotion will be removed and the user banned. Final decision will be at the discretion of the Taipei Times.