Tsai, new AIT chair look to deepen bilateral ties
President Tsai Ing-wen (蔡英文) yesterday met with American Institute in Taiwan (AIT) Chair Laura Rosenberger at the Presidential Office in Taipei, with both sides expressing the wish to continue to deepen bilateral ties.
Rosenburger arrived in Taiwan on Monday and is expected to stay until Sunday.
Tsai thanked Rosenberger for accompanying her during her stopover in the US two weeks ago.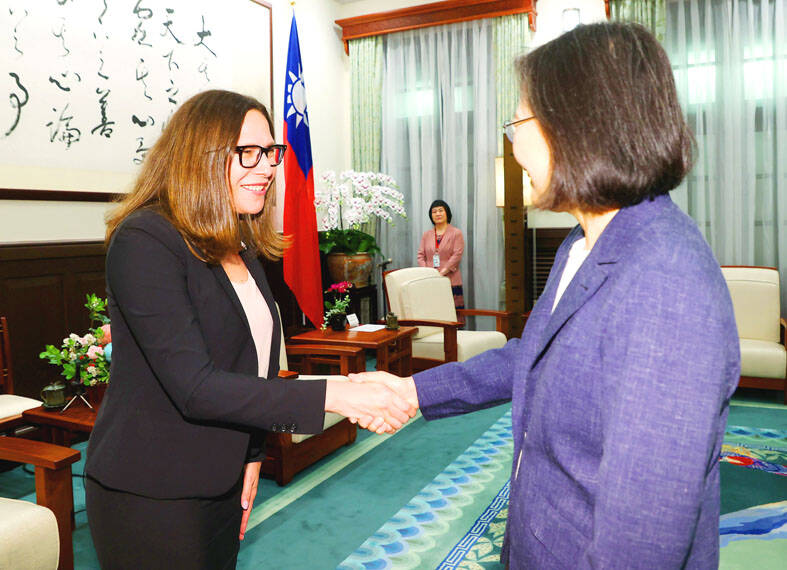 President Tsai Ing-wen, right, shakes hands with American Institute in Taiwan Chair Laura Rosenberger at the Presidential Office in Taipei yesterday.
Photo: CNA
She also thanked her for her efforts to help Taiwan, resulting in closer Taiwan-US relations and giving Taiwan more breathing space on the international stage.
Rosenberger's aid was instrumental to the US' donation of 4 million COVID-19 vaccines to Taiwan during the COVID-19 pandemic, Tsai said.
"We believe that Ms Rosenberger's more than two decades of experience in Indo-Pacific affairs will bring more vitality and strengthen US-Taiwan relations, foster regional freedom and prosperity," Tsai said.
Rosenberger took over from former AIT chair James Moriarty on March 20.
The US is a solid partner that shares Taiwan's values of democracy and freedom, Tsai said.
She thanked the administration of US President Joe Biden for its mention of the Taiwan Relations Act, the "six assurances" and the announcement of nine batches of arms sales to Taiwan, which would help the nation boost its defense.
Taiwan and the US closely collaborate in the areas of economy, culture and education, she said.
Rosenberger's attendance at the American Chamber of Commerce in Taiwan's annual Hsieh Nien Fan banquet yesterday shows the importance that the US attaches to its economic and trade ties with Taiwan, Tsai said.
Tsai said that she hoped Taiwan-US relations would continue to deepen, including through the Taiwan-US Initiative on 21st-Century Trade.
She also expressed hope that the two sides would sign an agreement to avoid double taxation, which would provide better grounds to foster prosperity in the region.
Rosenberger said she was honored to have accompanied Tsai during her stopover in the US.
This is her first time traveling to Taiwan since 2017 and first as AIT chair, she said.
"The AIT is responsible for managing the unofficial relations between the US and Taiwan; regular travel to Taiwan and engagement with you [Tsai] is a key part of that responsibility," Rosenberger said.
Taiwan is a valued friend and an important trade partner, and is critical in maintaining peace and stability, Rosenberger said, adding that she "looked forward to working with you [Tsai] and your team in the months ahead."
Comments will be moderated. Keep comments relevant to the article. Remarks containing abusive and obscene language, personal attacks of any kind or promotion will be removed and the user banned. Final decision will be at the discretion of the Taipei Times.