Public transport mask requirement ends today
From today, Taiwan is further relaxing COVID-19 restrictions by removing its mask mandate for all forms of public transportation, leaving medical facilities as the last category of venue where masks are still required.
Masks are still mandatory at medical and healthcare facilities — including hospitals, clinics, pharmacies, senior welfare institutions, long-term care centers, children and youth service centers, and residential homes for people with disabilities — as well as in ambulances, the Central Epidemic Command Center said.
However, within those facilities, people are allowed to remove their masks for specific purposes, such as eating and drinking, undergoing tests and taking pictures, or if they feel unwell, it said.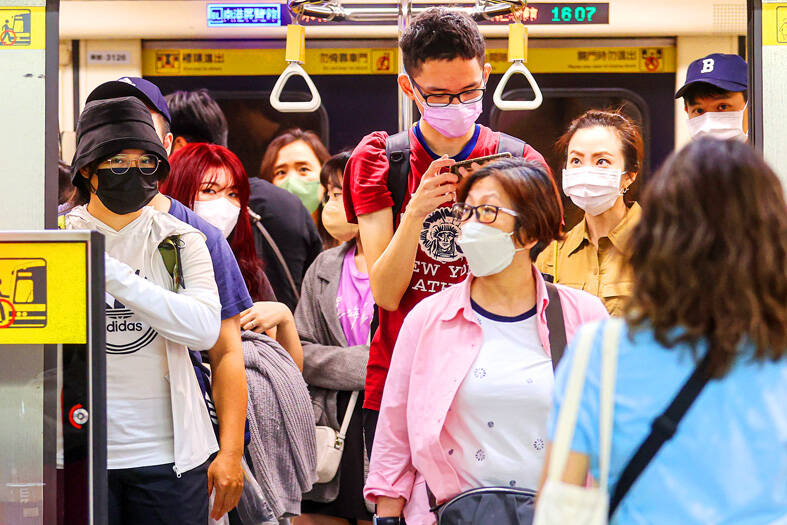 Passengers wearing masks take the Taipei MRT yesterday.
Photo: CNA
People are advised, but not mandated, to wear a mask if they are elderly or immunocompromised, have respiratory symptoms or a fever, or visit places that are crowded or poorly ventilated, the center said.
Students are no longer required to wear masks on school buses, but should still put on a mask if they need to visit the school health center, the Ministry of Education said.
Taiwan lifted its mask mandate for school campuses on March 6.
Paratransit buses — which provide services to people with mental or physical disabilities, as well as seniors with limited mobility — are classified as a form of public transport and would therefore not require passengers to wear masks, the center said.
The mask requirement for public transport, which included train stations and airports, was first announced by the Ministry of Transportation and Communications on March 31, 2020 and went into effect the following day.
The requirement was later expanded in May 2021, when Taiwan experienced its first wave of COVID-19 infections, with the government requiring everyone to wear a mask outside their homes.
Comments will be moderated. Keep comments relevant to the article. Remarks containing abusive and obscene language, personal attacks of any kind or promotion will be removed and the user banned. Final decision will be at the discretion of the Taipei Times.