US and Philippines begin war drills, including in Strait
US and Philippine forces yesterday launched their largest combat exercises in decades in the Philippines and its waters across the South China Sea and the Taiwan Strait, where Washington has repeatedly warned China over its increasingly aggressive actions.
The annual drills by the allies called Balikatan — Tagalog for "shoulder-to-shoulder" — are to run until April 28 and involve more than 17,600 military personnel.
"The relationships that we have, that we build into these exercises, will make us faster to respond to conflict, crisis, humanitarian assistance and disaster relief," US Marine Major General Eric Austin said.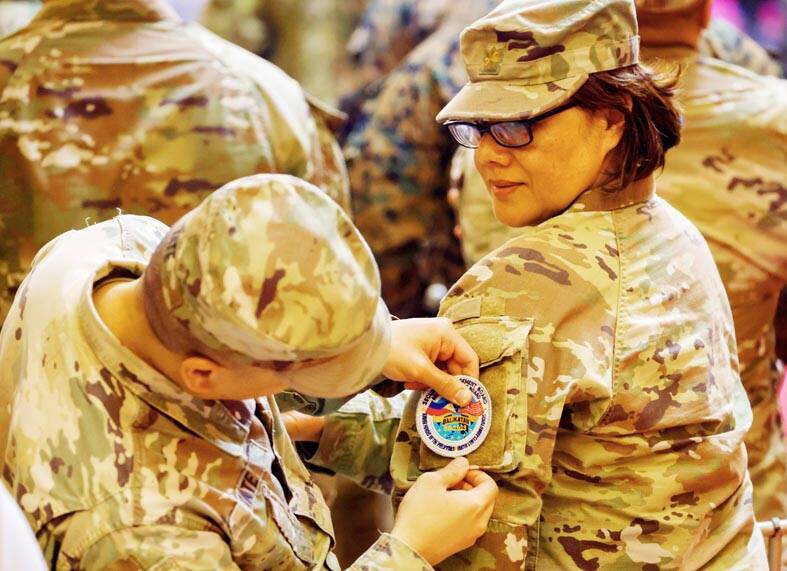 US military personnel apply badges during the opening ceremony of the Philippine-US Balikatan exercise at Camp Aguinaldo in Quezon City, the Philippines, yesterday.
Photo: EPA-EFE
About 12,200 US military personnel, 5,400 from the Philippines and 111 Australians are taking part in the exercises, the largest since Balikatan started three decades ago.
The drills are to showcase US warships and fighter jets, as well as Patriot missiles, HIMARS and anti-tank Javelins, US and Philippine military officials said.
In a live-fire drill, US and Philippine forces would sink a target ship in the Philippine territorial waters off the western province of Zambales on April 26, in a coordinated inland and coastal artillery bombardment and airstrike, Colonel Michael Logico, a Philippine spokesman for Balikatan, told reporters.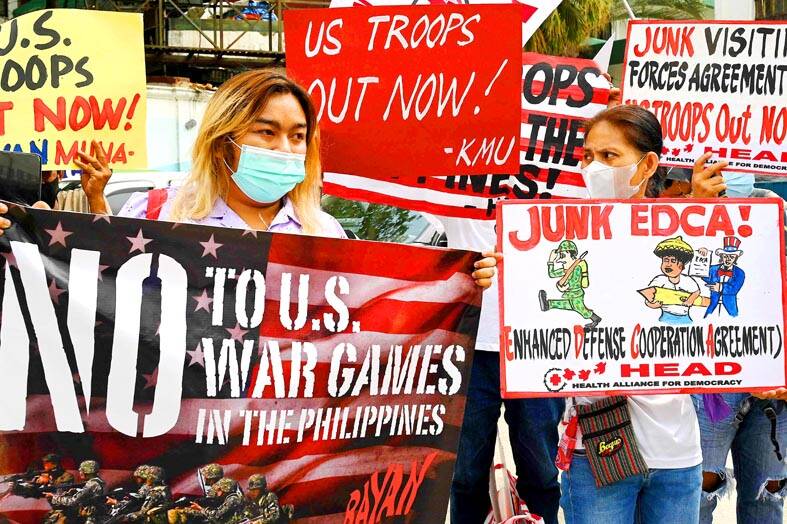 People protest outside Camp Aguinaldo in Quezon City, the Philippines, yesterday against the Balikatan military exercises with the US.
Photo: AFP
"We have to fire at a target that is closer to what we would expect in an actual threat, which is an intrusion coming from an adversary by sea," Logico told reporters. "We are demonstrating that we are combat ready."
Asked if Philippine President Ferdinand Marcos Jr raised any concern that Beijing might be antagonized by the rocket-firing near the waterway, Logico said that did not come up when he briefed the president about the event.
Marcos wants to witness the live-fire drill, he said.
In western Palawan province, which faces the South China Sea, the exercises would involve retaking an island captured by enemy forces, Logico said.
Philippine military officials said that the maneuvers were aimed at bolstering the country's coastal defense and disaster-response capabilities, and were not aimed at any country.
China last week warned against the intensifying US military deployment to the region.
Chinese Ministry of Foreign Affairs spokeswoman Mao Ning (毛寧) said in a regular news briefing in Beijing that it "would only lead to more tensions and less peace and stability in the region."
Comments will be moderated. Keep comments relevant to the article. Remarks containing abusive and obscene language, personal attacks of any kind or promotion will be removed and the user banned. Final decision will be at the discretion of the Taipei Times.