Macron's China comments draw criticism
'NO FOLLOWING': An MP in Germany said that the French leader had turned his China trip into a PR coup for Xi Jinping and a foreign policy disaster for Europe
French President Emmanuel Macron has caused a stir by saying that Europe has no interest in accelerating the conflict in Taiwan and should become a "third pole," independent of Washington and Beijing.
Politicians on both sides of the Atlantic on Monday criticized the president's position as being too accommodating of China, while it carried out military drills around Taiwan.
In the interview conducted when Macron was traveling from Beijing to Guangzhou, he said that Europe should avoid being "caught up in crises that are not ours," Politico reported.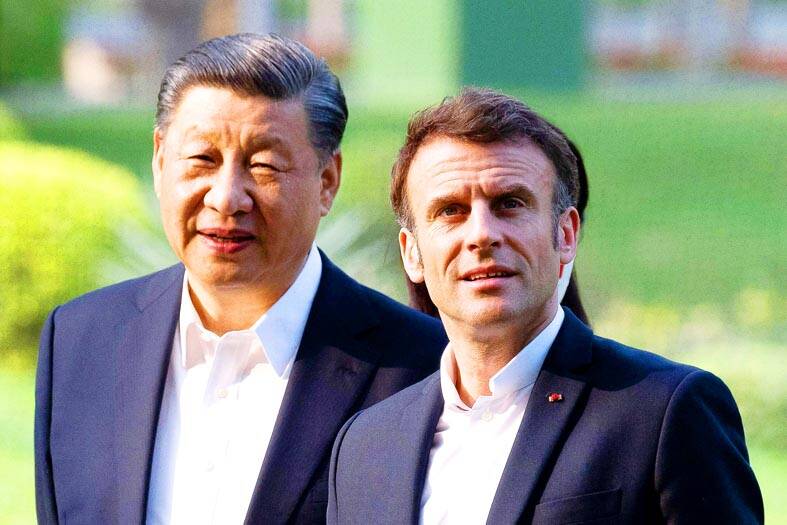 French President Emmanuel Macron, right, and Chinese President Xi Jinping visit the residence of the governor of Guangdong on Friday last week.
Photo: AFP
While Macron did not specify what crises he was referring to, he later cautioned Europe against becoming a "follower" of either the US or China on the issue of Taiwan.
"The question Europeans need to answer ... is it in our interest to accelerate [a crisis] on Taiwan? No. The worse thing would be to think that we Europeans must become followers on this topic and take our cue from the US agenda and a Chinese overreaction," he said.
German lawmaker Norbert Roettgen, former chairman of the Bundestag's Committee on Foreign Affairs, wrote on Twitter that Macron had "managed to turn his China trip into a PR coup for Xi and a foreign policy disaster for Europe," referring to Chinese President Xi Jinping (習近平).
The French president was "increasingly isolating himself in Europe," Roettgen wrote.
In a video posted on Twitter, US Senator Marco Rubio drew parallels with the conflict in Ukraine, on which Macron hopes to enlist the help of China.
If Europe does not "pick sides between the US and China over Taiwan, then maybe we shouldn't be picking sides either" on Ukraine, Rubio said.
Pascal Confavreux, spokesman for the French embassy in the US, said that Macron's comments had been "overinterpreted."
"The US is our ally with whom we share our values," Confavreux wrote on Twitter.
The Elysee Palace did not respond to requests for comment.
Meanwhile, the Inter-Parliamentary Alliance on China also criticized Macron for what it called "ill-judged remarks" that sent a signal of "indifference" over Taiwan as it faces increased pressure from China.
The group of cross-parliamentarian politicians expressed "dismay" over Macron's "ill-judged remarks" in an interview with Politico and Les Echos, saying they "undermine the decades-long commitment of the international community to maintaining peace across the Taiwan Strait."
The alliance said that Macron's comments were "severely out of step with the feeling across Europe's legislatures and beyond."
Macron does "not speak for Europe," it said in a statement, adding that it would continue to urge democratic governments to "do everything possible to ensure that Beijing's aggressive stance towards Taiwan receives the hostile reception it deserves from the international community."
Thirty-eight parliamentarians signed the statement, said the alliance, an unofficial organization that includes more than 200 lawmakers from 27 legislatures.
In Taipei, the Ministry of Foreign Affairs said in a statement that it would contact French authorities soon to ascertain "the meaning of Macron's remarks" in the interview.
Macron visited China from Wednesday to Saturday last week in a bid to urge Beijing to help end Russia's war in Ukraine, with European Commission President Ursula von der Leyen joining part of his itinerary, including a trilateral meeting with Xi on Thursday last week.
Von der Leyen later told a news conference in Beijing that she had reiterated the EU's position on the issue of Taiwan with Xi.
"We have a very clear interest in preserving the stability, the peace and the status quo in the Taiwan Strait," she told the news conference. "The threat of the use of force to change the status quo [in this region] is unacceptable."
Macron, on the other hand, was described by some Western media and analysts as taking a more conciliatory tone with Chinese officials.
A joint statement issued after Macron and Xi held an informal meeting on Friday last week did not mention Taiwan or cross-strait relations, with the French side reaffirming its "attachment to the one China policy."
The French president concluded his trip to China and headed back to Paris on Saturday, the day Beijing launched three days of military exercises around Taiwan following a meeting between President Tsai Ing-wen (蔡英文) and US House of Representatives Speaker Kevin McCarthy in California.
Separately yesterday, Angus Campbell, chief of the Australian Defence Force, when asked by reporters if Canberra had a role in any future conflict over Taiwan, said that "anything that undermines the security, stability and prosperity of the Indo-Pacific region in which we live is of interest to Australia."
"The question then might arise what particular circumstance or scenario enlivens what form of interest and in what form of response," Campbell said.
The war in Ukraine showed that there was no way to predict how any war would unfold, he said.
"I encourage all parties to areas of international tension to find other ways to resolve that tension... A stable secure free and open Indo-Pacific for all nations is in Australia's interest," he added.
Comments will be moderated. Keep comments relevant to the article. Remarks containing abusive and obscene language, personal attacks of any kind or promotion will be removed and the user banned. Final decision will be at the discretion of the Taipei Times.