US confident it can keep the peace: AIT
STRIKE SIMULATION: About 35 warplanes either crossed the Strait's median line or flew into the southwestern ADIZ yesterday, the MND said
The US is closely watching the drills China is conducting around Taiwan, and is confident that it has enough resources and capabilities to ensure peace and stability in the region, the American Institute in Taiwan (AIT) said yesterday, while the EU called for restraint.
In Washington, a US Department of State spokesperson said that the US has "consistently urged restraint and no change to the status quo," adding that it has ample resources to fulfill its security commitments in Asia.
The remarks were issued as Chinese People's Liberation Army (PLA) drills around Taiwan entered their second day yesterday.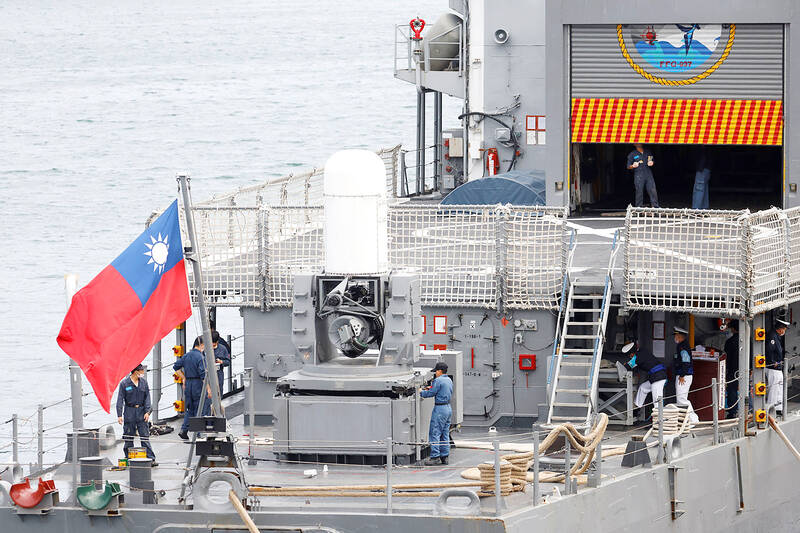 Crew members work aboard a Taiwanese navy vessel docked in Keelung yesterday.
Photo: Carlos Garcia Rawlins, Reuters
The PLA's Eastern Theater Command on Saturday announced that it would be conducting its "Joint Sword" exercises in the Taiwan Strait, as well as in the sea and air to the north, south and east of Taiwan from Saturday to today.
The drills are a response to President Tsai Ing-wen's (蔡英文) meeting with US House of Representatives Speaker Kevin McCarthy on Wednesday during a stopover in California at the tail end of her 10-day trip to visit Taiwan's allies in Central America.
Among the Chinese military aircraft detected were an undisclosed number of Sukhoi SU-30 fighter jets, Shenyang J-11 and J-16D fighter jets, and KJ-500 airborne early warning and control planes, the Ministry of National Defense (MND) said in a statement.
As of 4pm yesterday, a total of 70 warplanes and 11 warships were detected around Taiwan, with 35 planes either crossing the median line of the Taiwan Strait or entering into the southwestern part of Taiwan's air defense identification zone (ADIZ), the ministry said.
The nation's armed forces were monitoring the situation, it said, adding that they would remain on high alert while making every effort to defend the country's sovereignty and national security.
The armed forces are also keeping a close eye on the PLA Rocket Force using the joint intelligence and surveillance system, in case the PLA conducts live-fire rocket and missile drills in nearby waters, the ministry said.
"The first day of the exercise focused on testing the task force capabilities in seizing control of the sea, air and information under the support of the joint combat system, as the forces simultaneously pushed forward to encircle the island, creating a suppressive situation in which the island is surrounded from all directions," state-run China Central Television (CCTV) reported on Saturday.
CCTV yesterday said that the drills had "simulated joint precision strikes against key targets on Taiwan island and surrounding waters," and that forces "continued to maintain the situation of closely encircling the island."
China's air force had deployed dozens of aircraft to "fly into the target airspace," and ground forces had carried out drills for "multi-target precision strikes," CCTV said.
The drills have so far been conducted in international waters or China's territorial waters, not in Taiwan's territorial waters.
The Chinese aircraft carrier Shandong is on what is expected to be long-range training exercises about 200 nautical miles (370.4km) east of Taiwan.
Exercises today are expected to include live-fire drills off China's Fujian Province, about 80km south of Taiwan's Matsu Islands and 190km from Taipei.
"These operations serve as a stern warning against the collusion between separatist forces seeking Taiwan independence and external forces and against their provocative activities," PLA spokesman Shi Yin (施毅) said.
China's Fujian Maritime Safety Administration also announced that it on Saturday held live-fire exercises in China's territorial waters near its Fujian Province's Luoyuan Bay, which is about 200km northwest of Taiwan, and would be doing so again tomorrow, and on Wednesday and Saturday, and Monday and Wednesday next week from 8am to 12pm.
US Representative Michael McCaul, a Republican who led a congressional delegation to Taiwan for three days last week, told Fox News on Friday that the US might send troops to Taiwan if Beijing attacks.
"If communist China invaded Taiwan, it would certainly be on the table, and something that would be discussed by [the US] Congress and with the American people," he said.
"Conflict is always a last resort," he said, adding that he and fellow lawmakers traveled to Taiwan to "provide deterrence to China."
China's saber-rattling "galvanizes the United States' support for Taiwan," he added.
Asia-Pacific Elite Interchange Association secretary-general Wang Chih-sheng (王智盛) yesterday said that Chinese military drills in the Taiwan Strait are "a lot of thunder, but little rain."
"The exercises are not so much a sanction against Taiwan as they are a form of internal propaganda. The main purpose is to appease domestic nationalist sentiment in China," he said.
China was unable to stop Tsai from visiting the US or meeting McCarthy, so all it could do to appease angry nationalists was to hold such drills, he said.
"Part of the live-fire exercises were concentrated near China's coastal areas, such as Pingtan County in Fujian Province, showing that they were held for a domestic audience," Wang said.
China has learned from the backlash it received following its military exercises around Taiwan in August last year, after then-US House speaker Nancy Pelosi visited Taipei, he said.
Those drills also increased support for Taiwan, he said, adding that China is being more restrained this time to avoid a repeat of that situation.
China held off on conducting the drills until after Tsai and McCarthy finished their meeting, and until after French President Emmanuel Macron and European Commission President Ursula von der Leyen left Beijing, where they met Chinese President Xi Jinping (習近平), also to avoid an international backlash, Wang said.
Comments will be moderated. Keep comments relevant to the article. Remarks containing abusive and obscene language, personal attacks of any kind or promotion will be removed and the user banned. Final decision will be at the discretion of the Taipei Times.