Countries urged to send N Korean workers home
Seoul, Washington and Tokyo yesterday urged UN member states to repatriate North Koreans working overseas, saying they continue to evade sanctions abroad to finance Pyongyang's unlawful weapons program.
North Korea was also engaged in "malicious cyber activities" that supported its military expansion, representatives of the three countries said in a joint statement.
The nuclear-armed country has long made a fortune from the army of citizens it sends abroad to work, mostly in neighboring China and Russia, but also in Europe, the Middle East and Africa.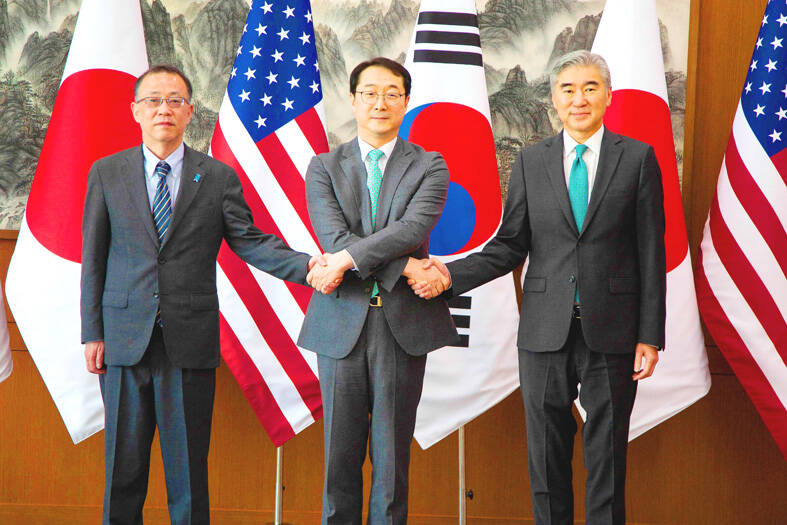 From left, Japanese Ministry of Foreign Affairs Director-General for Asian and Oceanian Affairs Takehiro Funakoshi, South Korean Special Representative for Korean Peninsula Peace and Security Affairs Kim Gunn and US Special Representative for North Korea Sung Kim pose for a photograph before a meeting in Seoul yesterday.
Photo: AFP
Under a UN Security Council resolution unanimously approved in 2017, member states had until December 2019 to send back all North Koreans working in their countries.
However, Seoul, Tokyo and Washington's special envoys for North Korea yesterday said the country's overseas workers are continuing to help fund Pyongyang's increasingly aggressive provocations, following a trilateral meeting in the South Korean capital.
Overseas North Korean information technology workers "continue using forged identities and nationalities to evade [UN] sanctions and earn income abroad that funds the DPRK's unlawful weapon of mass destruction and ballistic missile programs," the envoys said in a joint statement, using the acronym for North Korea's official name.
"We are also deeply concerned about how the DPRK supports these programs by stealing and laundering funds, as well as gathering information through malicious cyber activities," they said.
The envoys accused Pyongyang of stealing up to US$1.7 billion in cryptocurrency last year.
In 2019, analysts said Beijing and Moscow — Pyongyang's key allies — were issuing North Korean workers with alternative visas to ensure a continued supply of cheap labor.
North Korea last year declared itself an "irreversible" nuclear power, effectively ending the possibility of denuclearization talks.
North Korean Leader Kim Jong-un ordered his military to intensify drills last month to prepare for a "real war."
In recent weeks, North Korea has tested what state media has claimed was an underwater, nuclear-capable drone, and carried out the launch of an intercontinental ballistic missile.
"We strongly condemn the DPRK's repeated ballistic missile launches, as well as its escalatory and destabilizing rhetoric related to the use of nuclear weapons," the envoys said.
"We express deep regret that the DPRK continues to ignore the hardship of its people, choosing instead to pour its scarce resources into its [weapons of mass destruction] and ballistic missile programs in clear violation of multiple United Nations Security Council resolutions," they said.
Comments will be moderated. Keep comments relevant to the article. Remarks containing abusive and obscene language, personal attacks of any kind or promotion will be removed and the user banned. Final decision will be at the discretion of the Taipei Times.