Tsai lauds shared values with Belize
LIKE-MINDED: Taiwan and the Central American nation share the strength and courage to rise from their challenging past and face a free and bright future, the president said
The friendship between Taiwan and Belize is not built on empty promises or the political whims of their leadership, but on shared values, President Tsai Ing-wen (蔡英文) told the Belizean National Assembly on Monday.
Tsai was invited to deliver an address before the assembly by Belizean Prime Minister John Briceno, House of Representatives Speaker Valerie Woods and Senate President Carolyn Trench-Sandiford.
"What our two countries share is the strength and courage to rise from our challenging past and make our present and future free, bright and prosperous," she said, adding that she was delighted to visit the country again after her trip five years ago.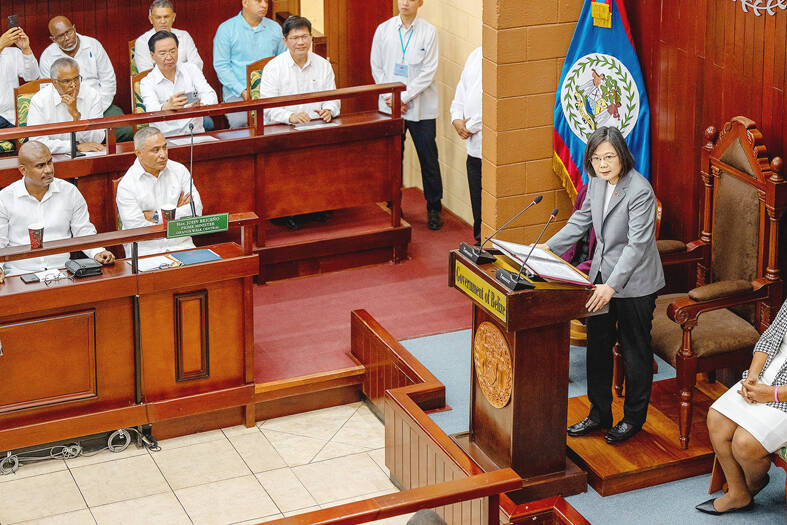 President Tsai Ing-wen delivers a speech while Belizean Prime Minister John Briceno, second left center, listens during a joint session of the National Assembly in Belmopan on Monday.
Photo: EPA-EFE / Presidential Office
She singled out "expansionist threats from authoritarian regimes" as the greatest challenge faced by both sides in the post-COVID-19 pandemic era, alongside climate change, a global economic slowdown and inflation.
While Taiwan's relationships with democratic partners around the world have grown closer in recent years, the nation is facing constant threats from China and continues to be excluded from participation in international organizations, she said.
She thanked Belize for being "Taiwan's strongest and most powerful advocate for our international participation" by voicing support for the nation at international forums and meetings held by global organizations, including the UN, the WHO, the International Civil Aviation Organization and the UN Framework Convention on Climate Change.
Members of the Belizean National Assembly unanimously passed a motion to support Taiwan's participation in international organizations in May last year and the Resolution to Support Democratic Taiwan Motion last month, she said.
"Your unwavering friendship and support mean so much to us," Tsai said.
Taiwan is honored to help Belize with development projects, such as road infrastructure, clean water supply for rural areas and providing nutritious food and Internet access to schools, she said.
The joint Women's Empowerment Project has so far directly assisted more than 700 local women through vocational training and financial support, while scholarships from Taiwan have brought 500 Belizean students to study in Taiwan, she added.
Taiwan is Belize's 10th-largest trading partner, with exports from the Central American nation to Taiwan last year skyrocketing 317 percent from 2021 after the Taiwan-Belize Economic Cooperation Agreement took effect in January last year, she said.
Companies from the two countries signed a letter of intent to import US$2 million of Belizean lobsters, and the government is working to facilitate and accelerate imports of other products from Belize, she said.
"Both our countries' success is a testament to what courage, hard work, determination and diligence can achieve," she said.
Despite some countries' attempts to destroy their friendship, Taiwan and Belize remain close as they share common values and the vision for a more prosperous and peaceful future, she said.
The president said that the visit to Belize "solidified my confidence that our relationship will continue to stand strong for decades to come."
Comments will be moderated. Keep comments relevant to the article. Remarks containing abusive and obscene language, personal attacks of any kind or promotion will be removed and the user banned. Final decision will be at the discretion of the Taipei Times.