Taiwan bond 'unbreakable': Guatemala
US FRIENDS: A source said President Tsai Ing-wen met with House Minority Leader Hakeem Jeffries in New York, although Washington and Taipei refused to comment
Guatemala on Friday said its ties with Taiwan are firm, reiterating support for its Asian ally just a week after neighboring Honduras cut its ties with Taipei in favor of China.
Guatemalan President Alejandro Giammattei said he had sincere and frank exchanges of opinion with President Tsai Ing-wen (蔡英文), who arrived in the Central American nation on Friday, adding that the two sides are strategic partners.
"The ties between Guatemala and Taiwan are unbreakable," Giammattei told a news conference with Tsai in Guatemala City.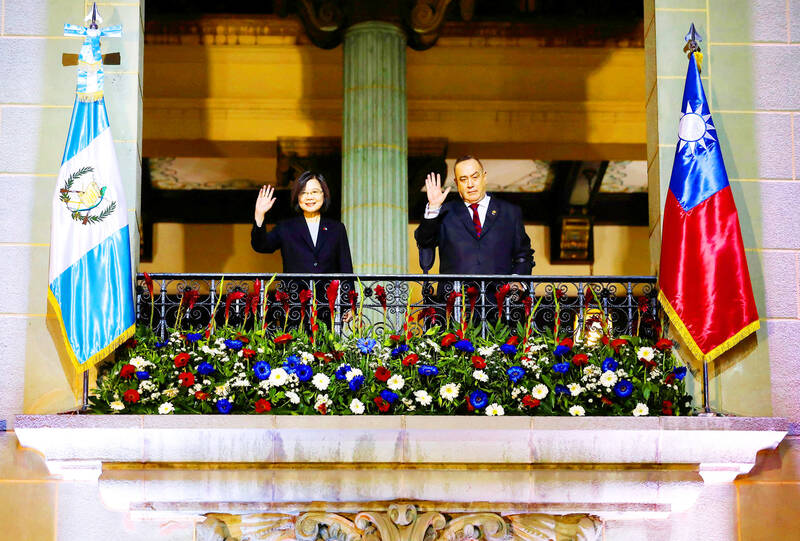 President Tsai Ing-wen, left, and Guatemalan President Alejandro Giammattei wave at the National Palace of Culture in Guatemala City on Friday.
Photo: Reuters
"We promote resolving disputes by dialogue and negotiation, and work together to satisfy people's desire for freedom, prosperity, development and territorial integrity," he said.
Guatemala has been an ally of Taiwan for more than six decades.
Tsai received a warm welcome to Guatemala, with military honors, at the National Palace of Culture.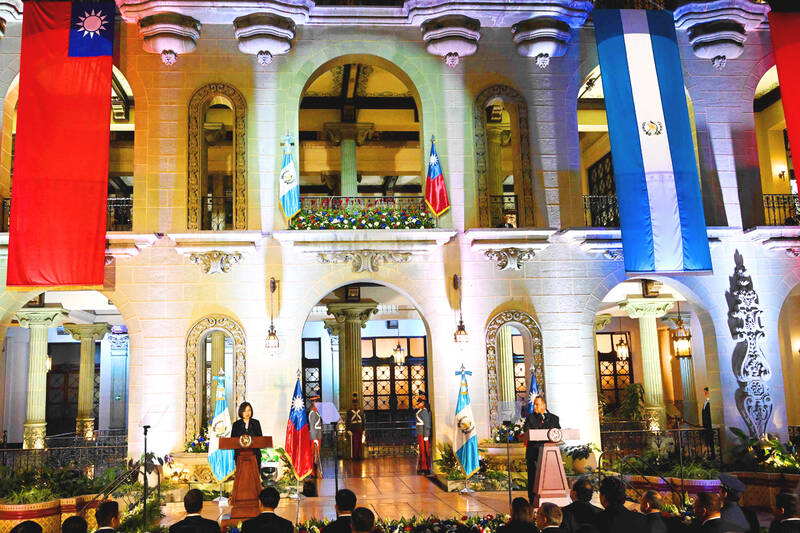 President Tsai Ing-wen, left, and Guatemalan President Alejandro Giammattei deliver a joint statement at the National Palace of Culture in Guatemala City on Friday.
Photo: AFP
Tsai and Giammattei then held a meeting and witnessed the signing of a basic cooperation agreement by the two countries' foreign ministers, with the aim of reinforcing bilateral relations and promoting economic and social development.
"Taiwan is the only and the real China to us," said Giammattei, calling Tsai's visit "very important."
Guatemala supports Taiwan's participation in the UN, and Taipei has assisted Guatemala in areas such as energy and agriculture, he said.
Giammattei awarded Tsai the "Orden de los Cinco Volcanes, Gran Cruz, placa de oro," an order honoring a country's leader for contributions to regional integration.
Tsai thanked Guatemala for speaking up for Taiwan, particularly when China launched large-scale military exercises around the nation last year.
Guatemala is a strong diplomatic ally of Taiwan after years of cooperation in healthcare, economics, trade and infrastructure, she said, adding that the basic cooperation agreement is expected to diversify bilateral exchanges and cooperation in the field of technology development.
During her stopover in New York on the way to Guatemala, Tsai met with US House of Representatives Minority Leader Hakeem Jeffries, a person familiar with the matter said, speaking on condition of anonymity.
The meeting took place in New York on Thursday, the person said.
Jeffries' office declined to confirm the meeting, and the White House did not immediately respond to a request for comment on Friday evening.
The Presidential Office said in a statement that Tsai's meetings with US friends would be announced at an appropriate time.
The Tsai-Jeffries meeting was reported earlier on Friday by Punchbowl News.
After Guatemala, Tsai is scheduled to visit Belize from today to Tuesday and stop over in Los Angeles on Tuesday on her way home. There she is expected to meet House Speaker Kevin McCarthy.
Although China has protested Tsai's visit, several people familiar with the matter said they believe that China's response might be more muted than had been feared.
The people, who asked not to be identified as they were discussing private deliberations, said that Tsai scrapped some events and limited press engagements that were seen as most likely to enrage Beijing.
In a sign that the White House was trying to keep the issue under control, US National Security Adviser Jake Sullivan last week spoke over the telephone with his Chinese counterpart. Both sides decided not to publicize the conversation.
Additional reporting by CNA
Comments will be moderated. Keep comments relevant to the article. Remarks containing abusive and obscene language, personal attacks of any kind or promotion will be removed and the user banned. Final decision will be at the discretion of the Taipei Times.