Taiwan, Honduras sever all relations
SWITCH TO BEIJING: The government severed diplomatic relations about an hour after Honduras announced the move, saying that no semi-official ties would be maintained
Taiwan severed diplomatic ties with Honduras and ended all cooperation with the Central American country, the Ministry of Foreign Affairs said yesterday, about an hour and a half after the Honduran Ministry of Foreign Affairs announced on Twitter at 8am Taiwan time that the nation would cut its ties with Taiwan.
Honduran President Xiomara Castro on Wednesday sent Honduran Minister of Foreign Affairs Eduardo Enrique Reina to Beijing to negotiate the establishment of diplomatic relations.
She announced the plan on March 14 on Twitter.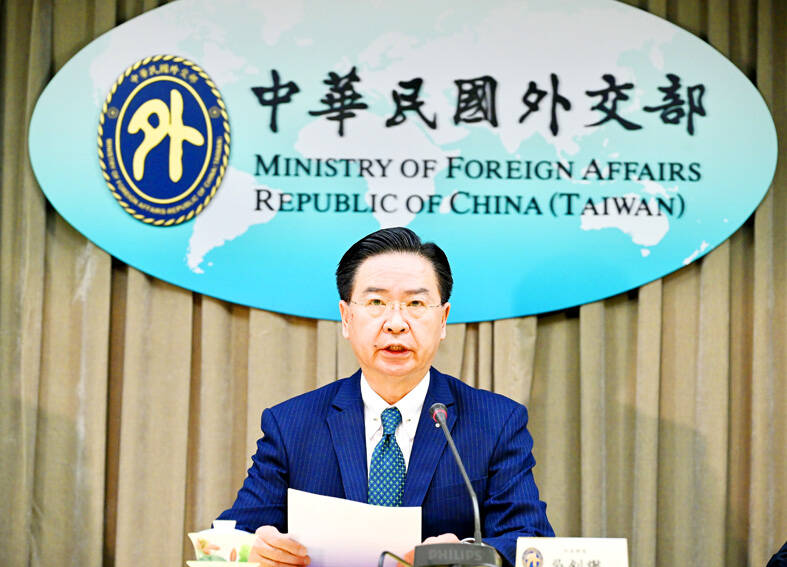 Minister of Foreign Affairs Joseph Wu speaks at a news conference in Taipei yesterday.
Photo: Lo Pei-de, Taipei Times
"To safeguard Taiwan's sovereignty and dignity, Taiwan is terminating diplomatic ties with Honduras with immediate effect" after communication with the country failed, Minister of Foreign Affairs Joseph Wu (吳釗燮) told a news conference at 9:30am in Taipei.
After the switch, Taiwan has official diplomatic relations with 13 UN-recognized states, as well as Somaliland.
The Presidential Office in a statement said Taiwan would "not engage in a meaningless contest of dollar diplomacy with China."
Suppressing Taiwan's international space and undermining regional peace do not change the fact that Taiwan and China are not subordinate to each other, it added.
Beijing's pressure and coercion "cannot erode the Taiwanese people's staunch commitment to freedom and democracy, or our determination to engage wholeheartedly with the world," President Tsai Ing-wen (蔡英文) said in a video published shortly after Honduras' diplomatic switch.
Wu said Taiwan is withdrawing its embassy in Honduras, the consulate general in San Pedro Sula and its technical missions in the country, and asking Honduras to close its embassy in Taiwan.
The ambassador to Honduras has returned to Taiwan, and 61 staff at the embassy, the consulate and the missions, as well as their family members, would return to the nation or be transferred to other embassies as soon as possible, he said.
The fewer than 100 Taiwanese living in Honduras would not be affected, he added.
The Honduran ambassador to Taiwan left the nation on Saturday, Wu said.
"Castro and her administration always had a fantasy about China," which has been using the lure of economic gain to attract Honduras, he said.
Taiwan has been striving to maintain good relations with Honduras with utmost sincerity since Castro took office, but her government requested huge economic assistance from Taiwan, and compared the amounts proposed by Taiwan and China, he said.
Honduras last year requested that Taiwan provide US$45 million to help build a hospital and another US$300 million to help build a dam, in addition to paying US$2 billion of their national debt, he said.
In a letter to Wu dated March 14, Reina wrote that Honduras is raising its demands to US$90 million and US$350 million respectively, which amounted to US$2.44 billion with the national debt request, he said.
Unlike cooperative projects with other diplomatic allies, it seemed that Honduras "wanted money, instead of a hospital," he said, adding that this kind of "opaque aid" is not what Taiwan should provide.
Over the years, Taiwan implemented joint projects in Honduras that benefited its economy and people's livelihood in a wide range of fields, joined relief efforts immediately after floods struck, and sent technical missions to provide help on agricultural, fishery and healthcare projects, he said.
It is "saddening and regretful" that Honduras disregarded Taiwan's long-term assistance and friendship, and began negotiations to establish diplomatic ties with China, he added.
Considering all the assistance Taiwan has provided to Honduras, the termination of ties makes it "impossible" for Taiwan and Honduras to maintain any semi-official exchanges, he said.
By repeatedly making false promises to lure away Taiwan's diplomatic allies and suppress its diplomatic space, Beijing "is pushing cross-strait relations in the wrong direction," he said.
Taiwan would not succumb to China's pressure and coercion, and would unite with allies and like-minded countries based on freedom and democracy to maintain regional peace and stability, while striving for Taiwan's due international status, he said.
The government would continue to expand Taiwan's international space by deepening ties with like-minded countries, which has proved fruitful in the past few years, he said.
Meanwhile, Honduran Vice President Salvador Nasralla on Saturday expressed opposition to Castro's decision to establish ties with China, saying it would result in severe consequences and lead the country into poverty.
The opposition National Party called the decision selling out the nation's sovereignty and dignity to "the highest bidder," the Central News Agency cited it as saying.
Most Hondurans find that cutting ties with Taiwan is regrettable, the party said.
Comments will be moderated. Keep comments relevant to the article. Remarks containing abusive and obscene language, personal attacks of any kind or promotion will be removed and the user banned. Final decision will be at the discretion of the Taipei Times.