N Korea says it tested 'radioactive tsunami' weapon
North Korea yesterday said it had tested an underwater nuclear attack drone able to unleash a "radioactive tsunami," as it blamed US-South Korea exercises for a deteriorating regional security situation.
Pyongyang carried out military drills of its own in response this week, including test-firing a new nuclear-capable underwater drone, state media reported.
The weapon's mission is to "stealthily infiltrate into operational waters and make a super-scale radioactive tsunami ... to destroy naval striker groups and major operational ports of the enemy," the Korean Central News Agency (KCNA) said.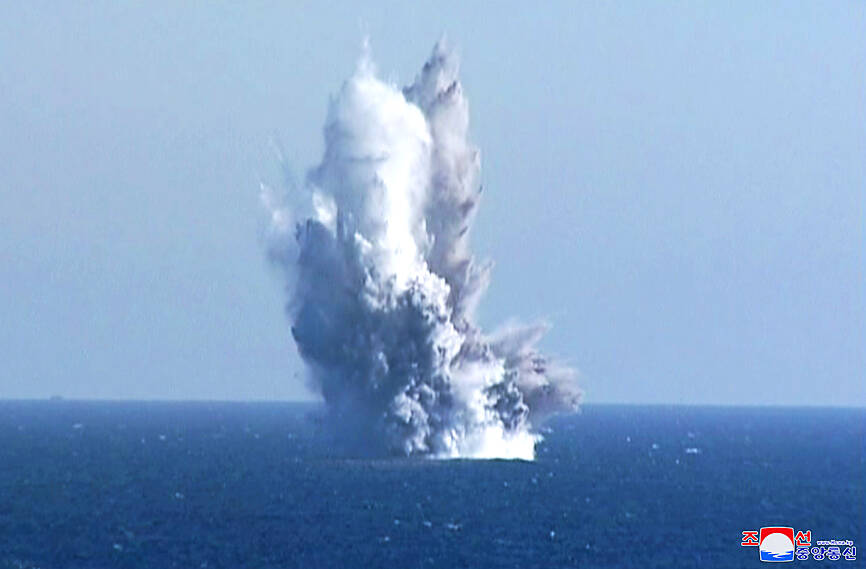 A device that North Korea called an underwater nuclear attack drone is tested off the country's Riwon County on Tuesday.
Photo: EPA-EFE / KCNA
The new weapon, called Haeil, meaning "tsunami" in Korean, "can be deployed at any coast and port or towed by a surface ship for operation," the report said.
North Korean leader Kim Jong-un oversaw Tuesday's test, KCNA said, and images released by the daily Rodong Sinmun showed a smiling Kim and what appeared to be an underwater explosion.
The agency also said that Pyongyang on Wednesday fired strategic cruise missiles "tipped with a test warhead simulating a nuclear warhead."
However, analysts questioned North Korea's claims.
The idea that Pyongyang has "a nuclear-capable underwater drone should be met with skepticism," said Leif-Eric Easley, a professor at Ewha Womans University in Seoul.
"Pyongyang's claims about a new weapons system are not the same as a credible demonstration of capability," he added.
US-based analyst Ankit Panda wrote on Twitter that it could not be ruled out that the announcement was "an attempt at deception/psyop."
Even so, the claim was "shocking," said Cheong Seong-chang, a researcher at the private Sejong Institute.
If true, it is hard to see how Seoul "could respond to such a formidable new weapon from North Korea that [it says] can completely destroy the South's major operational ports," Cheong said.
The KCNA statement showed that "Pyongyang is more than ready to use its tactical nuclear weapons at any time," said An Chan-il, a defector-turned-researcher based in Seoul. "This obviously further strengthens Kim's justification for his future nuclear tests."
Russia has reportedly developed a similar weapon — nuclear-capable Poseidon torpedoes — but mastering the complex technology required for such weaponry might yet be beyond North Korea, experts said.
"For an unmanned submarine to go deep underwater undetected, it requires advanced technology such as control sensors and radar," said Choi Gi-il, a professor of military studies at Sangji University in Wonju, South Korea.
North Korea has not acquired this "to an extent that it can deploy nuclear unmanned sea drones in combat yet," but its claims about the Haeil drone fit a broader pattern, Choi said.
Pyongyang has moved on from simply stockpiling nuclear warheads and is "attempting to further advance and diversify launch mediums," Choi said, adding that further testing could yet give the North Korean military "formidable" new ways to deliver a nuclear payload.
Comments will be moderated. Keep comments relevant to the article. Remarks containing abusive and obscene language, personal attacks of any kind or promotion will be removed and the user banned. Final decision will be at the discretion of the Taipei Times.