Local fungus cases showed no drug resistancy: CDC
Three cases of Candida auris, a fungus that can cause a yeast infection known as candidiasis in humans, have been reported in Taiwan over the past few years, but they did not display drug resistance, Centers for Disease Control (CDC) Deputy Director-General Philip Lo (羅一鈞) said yesterday.
Lo made the statement at a news conference in Taipei, one day after the Washington Post reported that the potentially deadly fungus is spreading in US hospitals.
The fungus was first discovered in Japan in 2009 and poses a danger to immunocompromised people, with an estimated mortality rate of 30 to 60 percent, Lo said.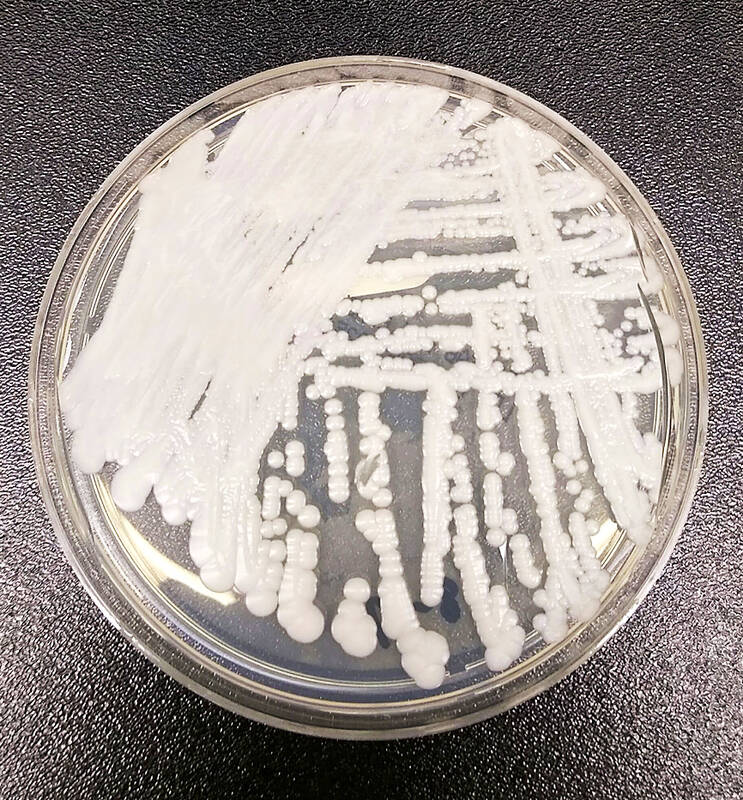 Candida aures are cultured in a petri dish at a laboratory in the US in an undated photograph.
Photo: AP
Most people infected in the US were hospital patients breathing through respirators or undergoing dialysis, he said, adding that the condition has affected people of all ages from newborns to the elderly.
The first Taiwanese case, reported in April 2018, was a 50-year-old resident of southern Taiwan who tested positive for the fungus following a skin infection, he said.
The man had diabetes and pemphigus, and regularly took prescription steroids and antibiotics, Lo said.
In May 2021, a Taiwanese businessman in his 60s who had returned from Vietnam to get treatment for septic encephalopathy tested positive for the fungus, Lo said, adding that it was the only time a candidiasis case in Taiwan was deemed life-threatening.
The man recovered after receiving intravenous antifungal medication, he said.
The most recent case, reported in February last year, was a resident of southern Taiwan in his 40s, Lo said.
The man tested positive after developing an ear infection with symptoms including discharge from the ear, tinnitus, hearing loss and vertigo, Lo said.
As candidiasis is not recognized as an epidemic, hospitals are not obliged to report infections, potentially leading to cases being unreported, he said.
The fungus can survive on surfaces for weeks, and many of its strains are resistant to multiple types of antifungal drugs, including some that are resistant to all three major groups of medication used to treat candidiasis, Lo said.
Traces of the fungus have been detected in the respiratory systems, urinary tracts and inner organs of healthy people, he said.
The CDC did not identify the infection source of the three Taiwanese cases, Lo added.
Comments will be moderated. Keep comments relevant to the article. Remarks containing abusive and obscene language, personal attacks of any kind or promotion will be removed and the user banned. Final decision will be at the discretion of the Taipei Times.