Government announces NT$500 youth sports vouchers
People aged 16 to 22 would soon be eligible to receive an annual NT$500 (US$16.46) voucher for sporting events, the Executive Yuan announced yesterday.
The policy aims to promote the development of the sports industry, and foster good exercise habits among the younger generation, it said.
About 1.65 million people would benefit from the policy, the Cabinet said.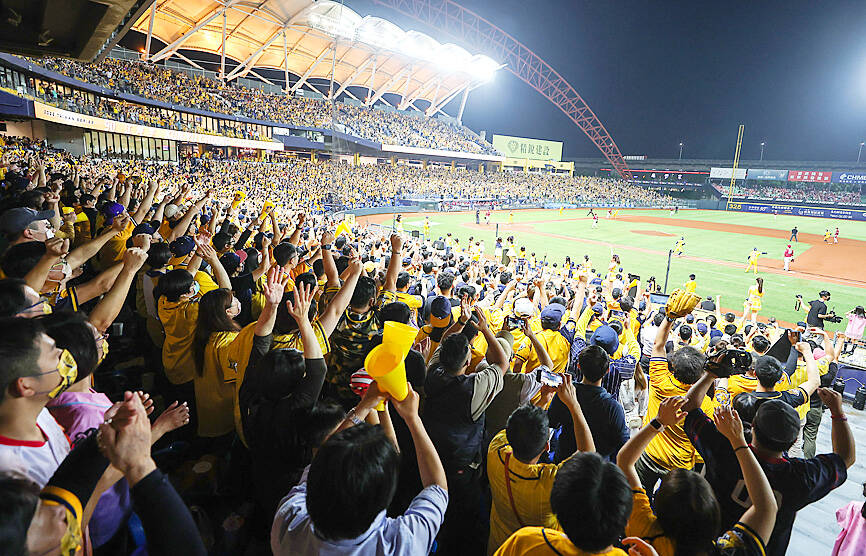 More than 10,000 fans watch the third game of the CPBL Taiwan Series at the Taichung Intercontinental Baseball Stadium on Nov. 8 last year.
Photo: CNA
The vouchers, released as QR codes, would be available to those born from Jan. 1, 2001, to Dec. 31, 2007, and can be obtained online from June 1 to Dec. 31 and redeemed at designated locations.
The vouchers would be issued annually beginning this year, the Executive Yuan said.
Premier Chen Chien-jen (陳建仁) has said that similar vouchers, distributed twice during the COVID-19 pandemic, brought about NT$5.7 billion in benefits and NT$3.3 billion in spillover effects, Executive Yuan spokesman Lo Ping-cheng (羅秉承) said.
The voucher program is expected to cost up to NT$825 million, and the funds would be sourced from the sports development fund, Deputy Minister of Education Lin Teng-chiao (林騰蛟) said.
The ministry hopes to achieve 1.5 to 2.5 times the benefits of vouchers cashed in, Lin said.
The age limits for the vouchers were set according to the Sports Administration's sports participation statistics, which showed that 80 percent of elementary-school-aged children participated in sports, with junior-high-school students falling to 67 percent, 58 percent for high-school students and less than 50 percent for college students.
The Executive Yuan is also planning to provide a NT$1,200 "coming of age" subsidy, as well as allocate NT$22 billion for a post-pandemic school loan subsidy program to alleviate financial burdens for 550,000 students taking out loans for their education.
The government is planning to promote public transportation monthly passes in Taiwan proper, and potentially similar discounts for transportation in outlying islands, to lower travel expenses for students and commuters, Chen said.
The government's NT$30 billion rental subsidy program would drop eligibility age restrictions from 20 to 18 to benefit more college students, Chen said, adding that the government has also invested NT$4.5 billion in funds to upgrade school dormitories and campuses.
Additional reporting by Chung Li-hua
Comments will be moderated. Keep comments relevant to the article. Remarks containing abusive and obscene language, personal attacks of any kind or promotion will be removed and the user banned. Final decision will be at the discretion of the Taipei Times.