Pilots launch joint training program
NUMBERS MATTER: The defense ministry is increasing the number of reserve brigades nationwide, and each brigade must have nearly 200 personnel, up from 24 previously
Pilots of F-16V, Mirage 2000 and other jets have been participating in joint training at Hualien County's Chiashan Air Force Base to bolster the military's ability to engage in asymmetric warfare, military officials said yesterday.
Lieutenant General Sun Lien-sheng (孫連勝), deputy commander of the Air Force Command, said at the launch of the joint training earlier this month that such exercises would be held more frequently to gain an understanding of the limitations and capabilities of different military branches, and to determine what support they need to closely work with one another during wartime.
The goal is to enable Taiwan's relatively smaller military to deter China from invading, Sun added.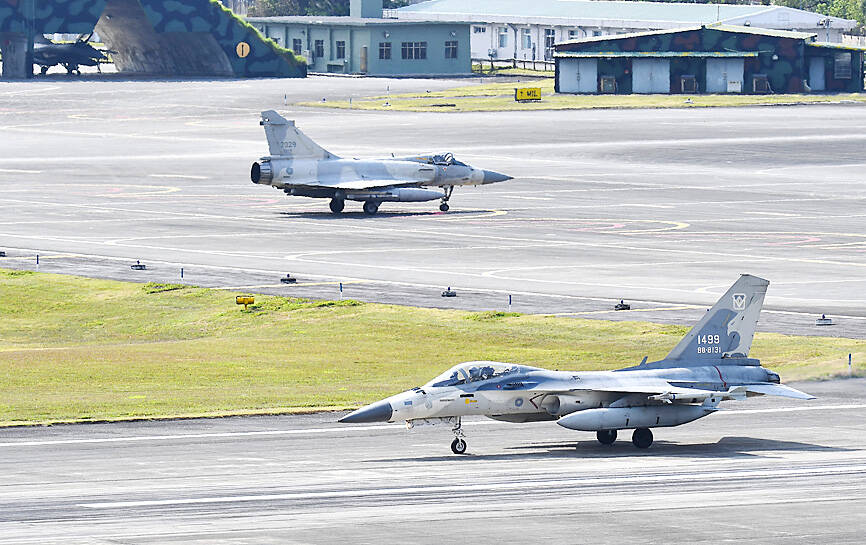 An Indigenous Defense Fighter, front, prepares for takeoff while a Mirage 2000 fighter awaits its turn during a training at Hualien County's Chiashan Air Force Base yesterday.
Photo: Yu Tai-lang, Taipei Times
Military officials yesterday said that the lesson from Russia's war in Ukraine is to build an asymmetric military force to stall, destroy or paralyze the enemy.
The air force is mostly asked to support other military branches' missions, so joint training must first start with combat precision training for the air force, and then expand to include the other two branches of the military, they said.
To improve training for second-generation aircraft, the air force in 2001 commissioned the Chungshan Institute of Science and Technology to develop the Tactic Analysis System (TAS), which was merged with the existing telemetry system.
TAS was modified and refined based on actual air force operations. It includes a mission display and control system, an airborne targeting pod and relay stations.
The TAS system has been upgraded to be used with the Air Combat Training Instrumentation System (ACTIS) targeting pod for military exercises, the officials said.
Aside from F-16Vs, Mirage 2000s and Indigenous Defense Fighters, Taiwan's AIDC T-5 Brave Eagle trainer jet has also been equipped with the ACTIS targeting pod, they said.
The Brave Eagle's test missions now include air-to-surface bombing, the officials added.
In other developments, the Ministry of National Defense last month began expanding the number of reservists nationwide, military personnel said.
New reserve brigades have been formed in Taichung, Kaohsiung, New Taipei City and Hsinchu County, they said.
A reserve brigade now consists of nearly 200 personnel, up from 24 under the previous policy, they said, adding that brigade commanders, battalion commanders and other important staff are on active duty.
The ministry is expected to form four more reserve brigades in the second half of this year and another 10 next year, military sources said.
Chen Wen-jia (陳文甲), a senior consultant for the Institute for National Policy Research, said that having reserve brigades in 18 cities and counties would help mobilize reservists, but "regulations governing the mobilization of reservists must be flexible."
Su Tzu-yun (蘇紫雲), a research fellow at the government-funded Institute for National Defense and Security Research, said rules related to reservists are expected to be greatly improved.
Comments will be moderated. Keep comments relevant to the article. Remarks containing abusive and obscene language, personal attacks of any kind or promotion will be removed and the user banned. Final decision will be at the discretion of the Taipei Times.