KMT abolishes days-old election strategy body
The Chinese Nationalist Party (KMT) is abolishing a controversial central election strategy committee, KMT Secretary-General Justin Huang (黃健庭) said yesterday.
Huang, who was tapped to head the committee, said the KMT would continue its established method to nominate candidates for elections.
The KMT's candidates in next year's legislative and presidential elections would be ratified by the party's Central Nomination Committee, whose members would be selected by KMT Chairman Eric Chu (朱立倫), Huang said, adding that the nomination committee would include city and county government heads.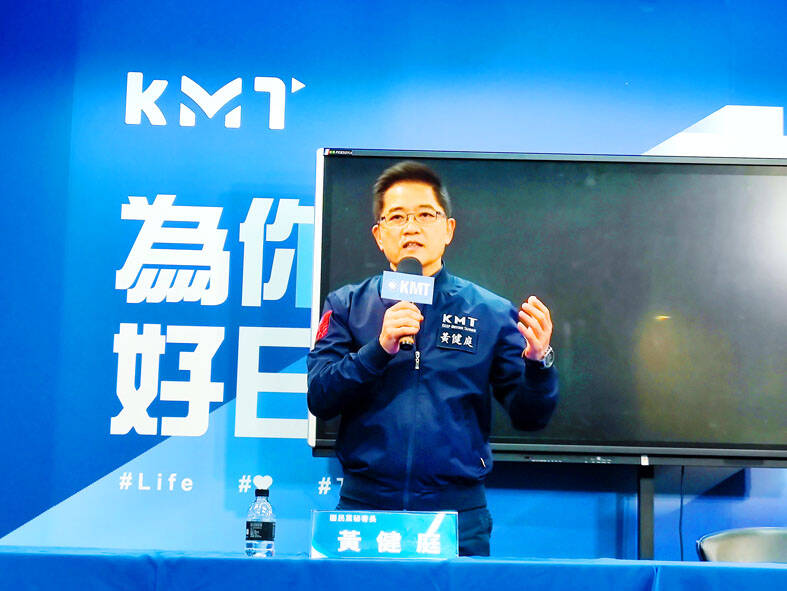 Chinese Nationalist Party (KMT) Secretary-General Justin Huang speaks at the party's headquarters in Taipei yesterday.
Photo: CNA
The new election body, which was announced at a KMT Central Standing Committee meeting on Wednesday, had been controversial even among party members.
The committee was to include several controversial figures, such as former Tainan City Council speaker Lee Chuan-chiao (李全教) and former Hualien County commissioner Fu Kun-chi, who have both served time in prison.
Party members such as former Tainan City councilor Hsieh Lung-chieh (謝龍介), Broadcasting Corp of China chairman Jaw Shaw-kong (趙少康), Taichung Mayor Lu Shiow-yen (盧秀燕) and New Taipei City Mayor Hou You-yi (侯友宜) criticized the plan.
Taipei City Councilor Chung Pei-chun (鍾沛君) resigned as KMT Cultural and Communications Committee deputy director-general to protest the move.
Fu on Friday challenged Hou to seek the party's presidential nomination and "take over" the new committee.
Jaw said Fu is commonly seen as Chu's right-hand man, and his comments were signs of a rift between Chu and Hou.
Huang said the new committee was meant to help the party secretary-general negotiate with potential candidates and suggest members who could run for office in areas where the party is expected to face difficulties.
However, the new committee would be unnecessary, Huang said, adding that the plan had created trouble.
Even though the new committee would not start to operate, KMT members who seek to run in next year's elections could send it their applications from Wednesday to Friday, Huang said.
Fu yesterday wrote on Facebook that he respected the decision to abolish the committee.
"We are the silent volunteers for the party," Fu wrote.
On Friday, Chu took responsibility for the controversy, saying that "all faults are mine to bear."
The plan to set up the new committee was also criticized from outside the KMT, and its change of heart did not satisfy some critics.
Democratic Progressive Party spokesman Chang Chih-hao (張志豪) said the move was aimed at deceiving the public and covering up the KMT's return to "black gold" politics.
"Black gold" politics refers to alleged connections between government officials and organized crime.
The KMT abolished the plan when it became clear that some of its members had such connections, Chang said.
Chang accused prominent KMT members of corruption, singling out Penghu County Council Speaker Chen Chao-ling (陳昭玲), Yunlin County Council Speaker Shen Tsung-lung (沈宗隆), Miaoli County Commissioner Chung Tung-chin (鍾東錦), Taoyuan City Council Speaker Chiu Yi-sheng (邱奕勝), Taipei Deputy Speaker Yeh Lin-chuan (葉林傳), Nantou County Council Speaker Ho Sheng-feng (何勝豐) and Nantou County Council Deputy Speaker Pan Yi-chuan (潘一全).
Additional reporting by Jason Pan
Comments will be moderated. Keep comments relevant to the article. Remarks containing abusive and obscene language, personal attacks of any kind or promotion will be removed and the user banned. Final decision will be at the discretion of the Taipei Times.