AUKUS leaders prepare submarine deal in the US
The leaders of Australia, the UK and the US were to announce plans for a new fleet of nuclear-powered submarines yesterday, as they deepen the AUKUS defense partnership aimed at countering China in the Pacific. Upgrading Australia's aging sub fleet is a lynchpin of that effort.
However, Australia might not get its first submarine for at least 10 years, and the deal is fraught with potential delays and uncertainty.
It calls for Australia to get a new type of submarine jointly built with the UK that does not yet exist. In the meantime, the US would offer its Virginia-class submarine, whose production has been plagued by billions of US dollars of cost overruns.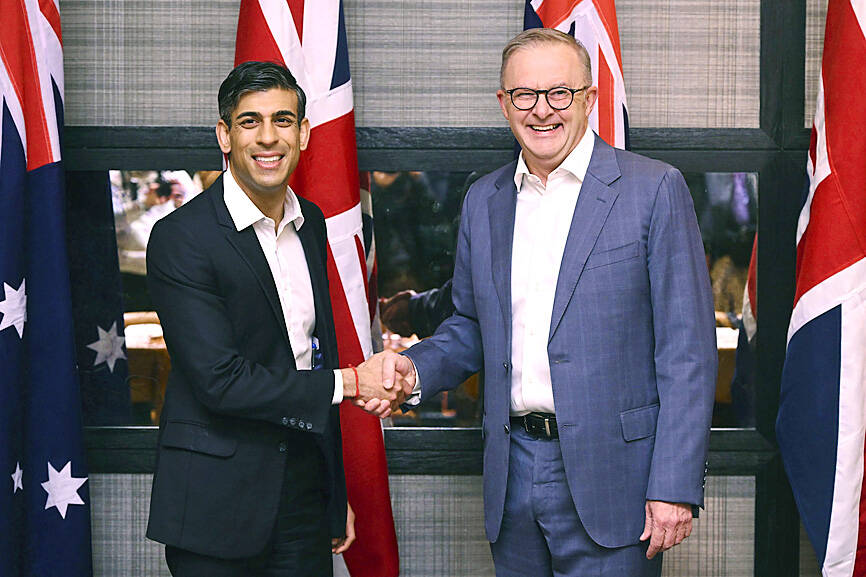 British Prime Minister Rishi Sunak, left, shakes hands with Australian Prime Minister Anthony Albanese in San Diego, California, on Sunday.
Photo: AP
There is also the matter of Australian defense spending. A single Virginia-class sub costs about US$3.5 billion, which is more than 10 percent of Australia's annual US$30 billion defense budget.
Australian officials say the pricey upgrade from its current diesel-powered subs is needed to drive the US-led agreement.
US President Joe Biden was to meet with British Prime Minister Rishi Sunak and Australian Prime Minister Anthony Albanese yesterday in San Diego, California, to unveil plans to develop the new submarine.
It would be a milestone in the young partnership, which was established in 2021 to counter growing Chinese naval might in the Asia-Pacific region.
Under AUKUS, the three nations share classified military capabilities, including technology for nuclear-powered subs, as well as cooperation in a range of areas including hypersonic missiles, artificial intelligence and quantum computing.
Officials hope the AUKUS deal's rocky start would not be an omen, after Australia angered France when it canceled a submarine contract with France in 2021
However, already there are questions: Why develop an entirely new submarine for Australia while also selling it US submarines?
"I suspect that the most likely ultimate outcome would be Australia going ahead and increasing its purchase of Virginia-class submarines and eventually forgoing the new design due to cost concerns," said Zack Cooper, a senior fellow at the American Enterprise Institute and a former Pentagon official.
"This could become a Frankenstein project," he said.
The announcement is meant to show the deepening defense bond between the US, the UK and Australia for decades to come, and to put China on notice that it would face significant hard-power resistance should it press ahead with a potential invasion of Taiwan and aggressive actions in the South China Sea.
In a speech last month, Albanese called the security arrangement the "biggest leap in our defense capability in our history."
He described the Australia-UK-US accord as the "future," saying Australia has long known that "partnerships and alliances are key to our security."
Comments will be moderated. Keep comments relevant to the article. Remarks containing abusive and obscene language, personal attacks of any kind or promotion will be removed and the user banned. Final decision will be at the discretion of the Taipei Times.