Women's Day rallies seek equal rights, focus on issues in Iran, Afghanistan
Rallies marking International Women's Day took place around the world yesterday after a year in which girls in Afghanistan were banned from education, mass women's rights protests erupted in Iran and a landmark US abortion ruling was overturned.
Demonstrations were held in cities across the globe with more planned in Paris, Beirut, Baghdad, Karachi, Istanbul and many other cities.
In Manila, advocates calling for equal rights and better wages scuffled with police blocking their protest.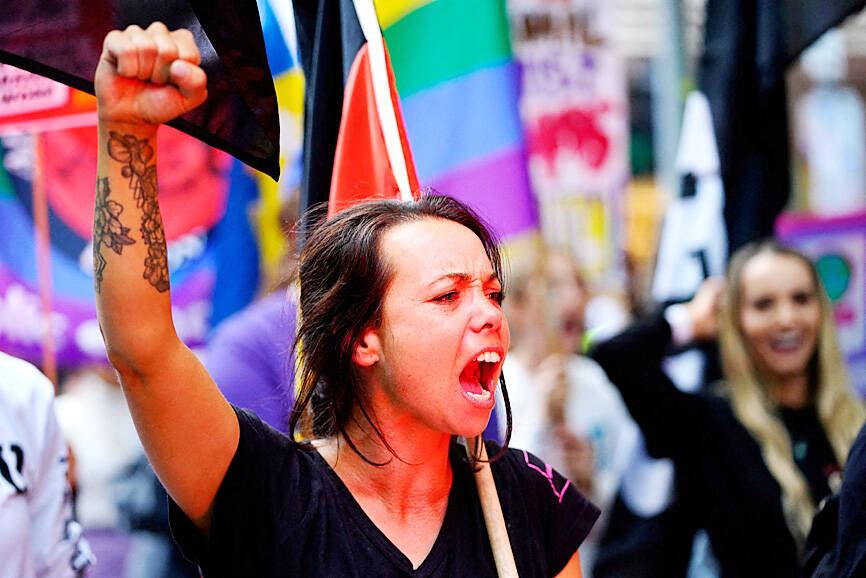 A protester shouts slogans at an International Women's Day march in Melbourne, Australia, yesterday.
Photo: Reuters
"Girls just want to have fun...damental rights," read one poster.
In Melbourne, demonstrators demanded equal pay and better safety for women.
"Safe, respected, equal," said one banner at the march.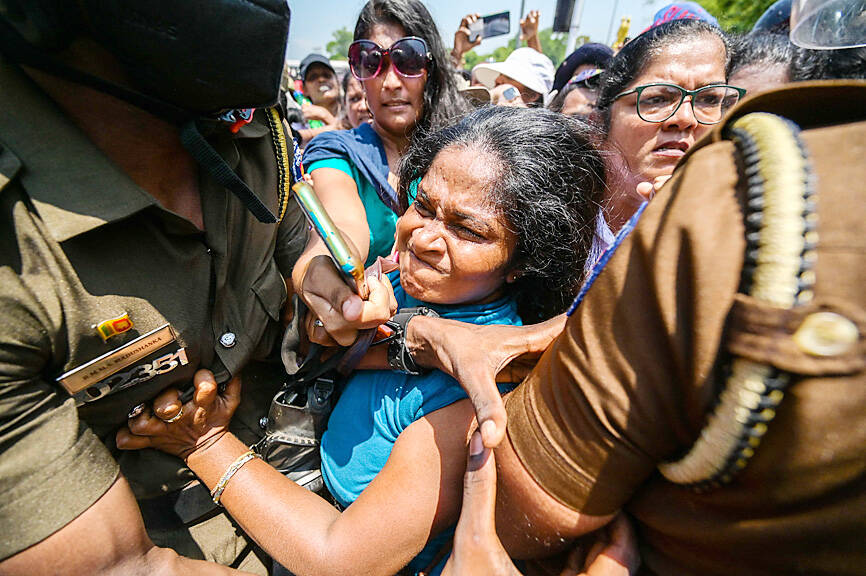 Demonstrators scuffle with police during a march organized by the Women for Rights group to mark International Women's Day in Colombo yesterday.
Photo: AFP
An Iranian contingent was also present.
Many protests included calls for solidarity with women in Iran and Afghanistan where their freedoms have faced especially hard blows in the past year.
"Afghanistan under the Taliban remains the most repressive country in the world regarding women's rights, and it has been distressing to witness their methodical, deliberate, and systematic efforts to push Afghan women and girls out of the public sphere," said Roza Otunbayeva, head of the UN Assistance Mission in Afghanistan.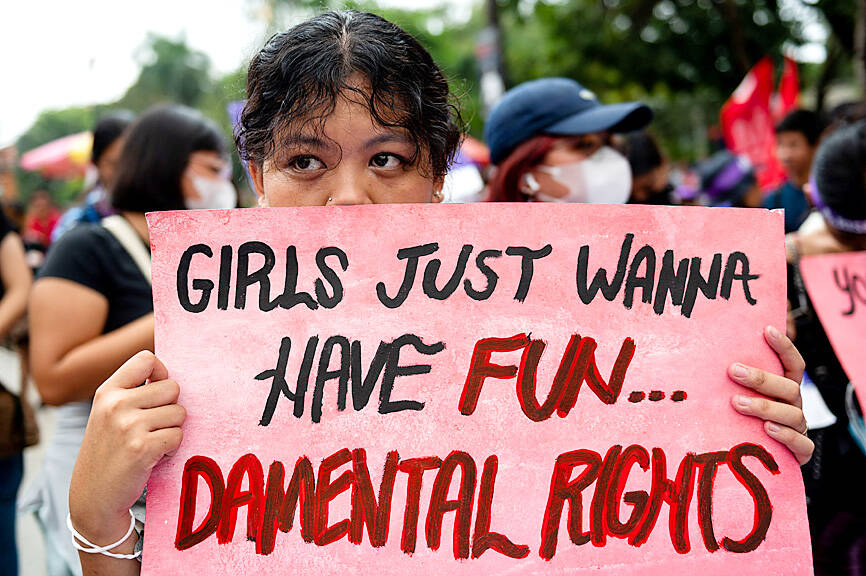 A demonstrator holds a placard during an International Women's Day march in Manila yesterday.
Photo: Reuters
The death in September last year of 23-year-old Mahsa Amini in the custody of morality police in Tehran unleashed the biggest anti-government protests in Iran in years.
Abortion and reproductive rights were on the agenda for international rallies yesterday, nine months after the US Supreme Court overturned the landmark 1973 Roe v Wade ruling that recognized women's constitutional right to abortion.
Some governments marked the day with legislative changes or pledges.
Canada repealed historic indecency and anti-abortion laws, Japan said more needed to be done to change attitudes about gender and Ireland announced a referendum in November to remove outmoded references to women in the constitution.
Italy's first female prime minister, Giorgia Meloni, focused on the role of women in the economy, saying state-controlled companies should have at least one female leader.
In Japan, which ranked 116 out of 146 countries on gender parity in a World Economic Forum global report last year, Chief Cabinet Secretary Hirokazu Matsuno said progress had been made on improving women's working conditions, but more had to be done.
In Russia, where International Women's Day is one of the most celebrated public holidays, the head of its upper house of parliament used the occasion to launch a vehement attack on sexual minorities and liberal values promoted by the West.
Comments will be moderated. Keep comments relevant to the article. Remarks containing abusive and obscene language, personal attacks of any kind or promotion will be removed and the user banned. Final decision will be at the discretion of the Taipei Times.