China may test Taiwan's 24-nautical-mile limit: Chiu
Beijing could use a potential visit by US House of Representatives Speaker Kevin McCarthy to Taiwan next month as a pretext to break into Taiwan's territorial sea baseline of 24 nautical miles (44.4km) and get close to its territorial space, Minister of National Defense Chiu Kuo-cheng (邱國正) said yesterday.
Chiu made the remarks in response to questions by Chinese Nationalist Party (KMT) Legislator Johnny Chiang (江啟臣) regarding China intensifying its threats by sending more military vessels and aircraft near Taiwan's territorial space or by crossing the median line of the Taiwan Strait.
China has continued to operate military vessels and aircraft around Taiwan, Chiu said.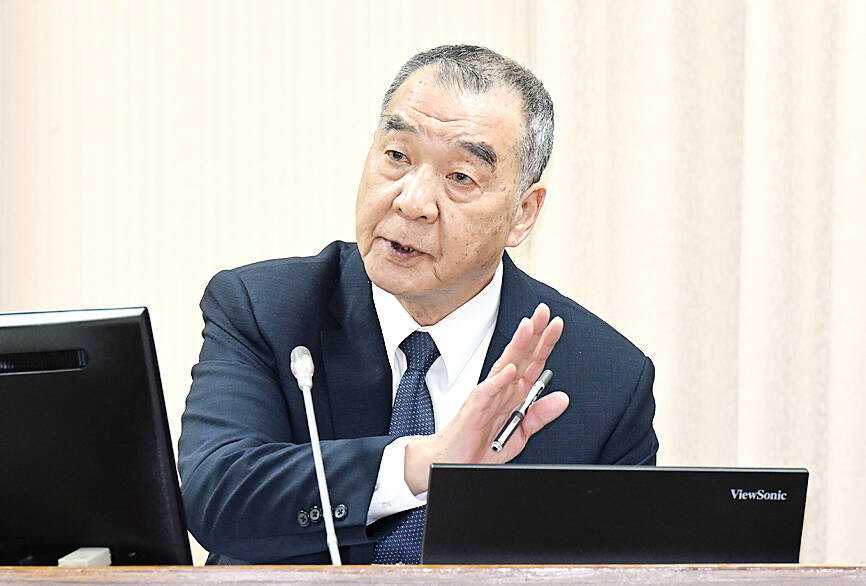 Minister of National Defense Chiu Kuo-cheng speaks at a meeting of the legislature's Foreign and National Defense Committee in Taipei yesterday.
Photo: Liao Chen-huei, Taipei Times
"Beijing has been looking for excuses, such as visits from high-ranking officials from abroad and frequent military exchanges between Taiwan and other countries, to intensify the military threat," Chiu said. "It is constantly adjusting the size of its forces, waiting to respond whenever a situation calls for military action."
The Taiwanese military is prepared for any possible military response from China should McCarthy visit Taiwan next month, he said, adding that Beijing is likely to take more serious action than it did after a visit by then-House speaker Nancy Pelosi in August last year.
Beijing "could without warning break into our territorial sea baseline of 24 nautical miles and approach our territorial space of 12 nautical miles [from Taiwan's coast]," Chiu said.
"We would restrain ourselves from launching the first strike to avoid giving China an excuse to attack Taiwan," he said.
However, this does not mean that the military has retreated its deep defense line to 12 nautical miles, he said.
"China has changed the status quo of the Taiwan Strait by flying drones, aircraft and balloons over our airspace," Chiu said. "We would be forced to respond should Chinese military vessels and aircraft come near or enter the nation's airspace and territorial waters, even if they are in disputed areas."
Chiu confirmed that Taipei and Washington are discussing whether Taiwan should become another storage site for US military equipment in Asia, in addition to Japan, South Korea and the Philippines. However, he declined to elaborate.
The US government is not considering reinstating the Military Assistance Advisory Group in Taiwan, he said, adding that military exchanges between Taiwan and the US would continue.
The Ministry of National Defense said in a statement that it has no plans to start mass producing an eight-wheeled Clouded Leopard armored vehicle developed by the Armaments Bureau this year, nor is it under any pressure from national security officials to do so.
Asked about proposed amendments to the General Mobilization Act (全民防衛動員準備法), Chiu said that period for the public to view the draft ended yesterday, and the ministry is now collecting opinions from government agencies and other stakeholders before reintroducing the proposal.
He also reiterated that the amendment would not authorize the ministry to draft 16-year-olds to fight, following some media reports that it was designed to draft minors and prepare them for war.
The minimum age for conscripts is 18, and they cannot fight in a war without training, he said.
"As a military person, I am against war, but we must make the best preparations for it without interfering too much in people's lives. The more prepared we are, the more we can take orderly steps to respond" in a crisis, he said.
Separately, Chiu said the ministry has taken three steps to protest a report last week in the Japanese newspaper Nikkei that up to 90 percent of Taiwanese military retirees had visited China and provided information to Beijing in exchange for money.
"First, we lodged a protest with the Japan Exchange Association and submitted a protest letter to the Taiwan Representative Office in Japan; second, we have contacted the offices of the NHK, Asahi and Kyodo News in Taiwan and offered to clarify the situation, but so far there has been no official reply," he said. "Third, President Tsai Ing-wen (蔡英文) has ordered the Ministry of Foreign Affairs to sternly protest the news coverage."
Comments will be moderated. Keep comments relevant to the article. Remarks containing abusive and obscene language, personal attacks of any kind or promotion will be removed and the user banned. Final decision will be at the discretion of the Taipei Times.