China plans to increase its military spending at fastest pace in four years
China said its defense spending would grow by 7.2 percent this year — the fastest pace since 2019 amid increasing tensions with the US on a range of issues, including Taiwan.
The increase in the world's second-largest defense budget came as Beijing announced an economic growth goal of about 5 percent for this year — one of its lowest in decades.
Military expenditure is expected to rise to 1.55 trillion yuan (US$224.4 billion) this year, according to the Chinese Ministry of Finance's annual report released yesterday at the start of the Chinese National People's Congress in Beijing.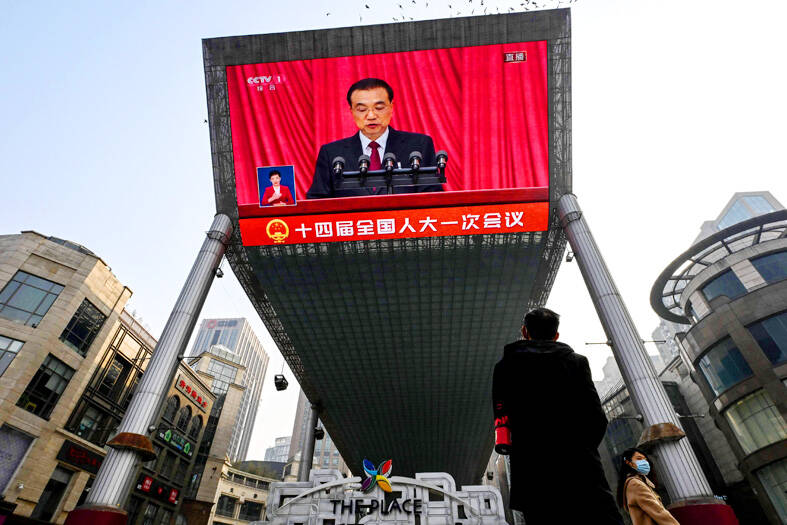 An outdoor screen in Beijing yesterday shows a live news coverage of Chinese Premier Li Keqiang delivering a work report during the opening session of the Chinese National People's Congress.
Photo: AFP
It officially rose 7.1 percent last year.
Spending on China's People's Liberation Army (PLA) has increased by at least 6.6 percent each year for the past three decades, keeping pace or often exceeding economic growth.
Outgoing Chinese Premier Li Keqiang (李克強) told congress delegates that "external attempts to suppress and contain China are escalating."
"The armed forces should intensify military training and preparedness across the board," he said as he presented the government's annual work report to thousands of amassed delegates in Beijing's Great Hall of the People.
The military must "devote greater energy to training under combat conditions, and ... strengthen military work in all directions and domains," he added.
China's defense spending still pales in comparison with the US, which has allotted more than US$800 billion for its military this year.
The defense figure that China unveils every year is among the few official announcements that offer signs of progress the PLA is making in its revamp.
Analysts outside the nation say the actual amount far exceeds the official sum, partly because research and development expenditures are not included.
This year's figure "feels in part a reflection of the growing increase in military spending we see globally and regionally, while also a reflection of increased sense of threat in Beijing and a need to be prepared for eventualities," said Raffaello Pantucci, a senior fellow at the S. Rajaratnam School of International Studies in Singapore.
"Taiwan will clearly be seen as an important focus, but my view would be that Chinese preparations go farther than this and remain about building a globally competitive military," Pantucci said.
Yesterday's conservative economic goals followed China posting just 3 percent growth last year, widely missing its 5.5 percent target as the economy strained under the effects of strict COVID-19 containment policies and a property crisis.
Li struck a bullish tone in his speech, saying that China's economy "is staging a steady recovery and demonstrating vast potential and momentum for further growth."
The sustained growth in defense spending despite sagging economic expectations showed that "security is now much more important for the national leadership" than before, said Alfred Muluan Wu (吳木鑾), an associate professor at the University of Singapore's Lee Kuan Yew School of Public Policy.
"It is even, to some extent, more important than economic growth," he said.
China also plans to increase its public security budget by 6.4 percent — the fastest pace in five years. That rise comes after the Asian nation experienced its most widespread protests in decades in November last year due to broad discontent over harsh COVID-19 regulations.
Comments will be moderated. Keep comments relevant to the article. Remarks containing abusive and obscene language, personal attacks of any kind or promotion will be removed and the user banned. Final decision will be at the discretion of the Taipei Times.