China must respect Taiwan, MAC says
RESPONSE REQUIRED: Chinese Premier Li Keqiang told the Chinese National People's Congress that the CCP 'resolutely opposes an independent Taiwan'
Beijing should recognize that Taiwan does not belong to China and handle cross-strait affairs in a "reasonable, practical, equal and mutually respectful manner," the Mainland Affairs Council (MAC) said yesterday.
The council issued a statement after outgoing Chinese Premier Li Keqiang (李克強) in a speech at the Chinese National People's Congress said that the Chinese Communist Party (CCP) "resolutely opposes an independent Taiwan and promotes a peaceful unification" with it.
"We once again call for Beijing's recognition of the fact that Taiwan is not part of China, and vice versa. They should respect the people of Taiwan for upholding the nation's sovereignty and believing in freedom and democracy, and stop the united front propaganda by military threat and imposing its political framework on Taiwan," the council said.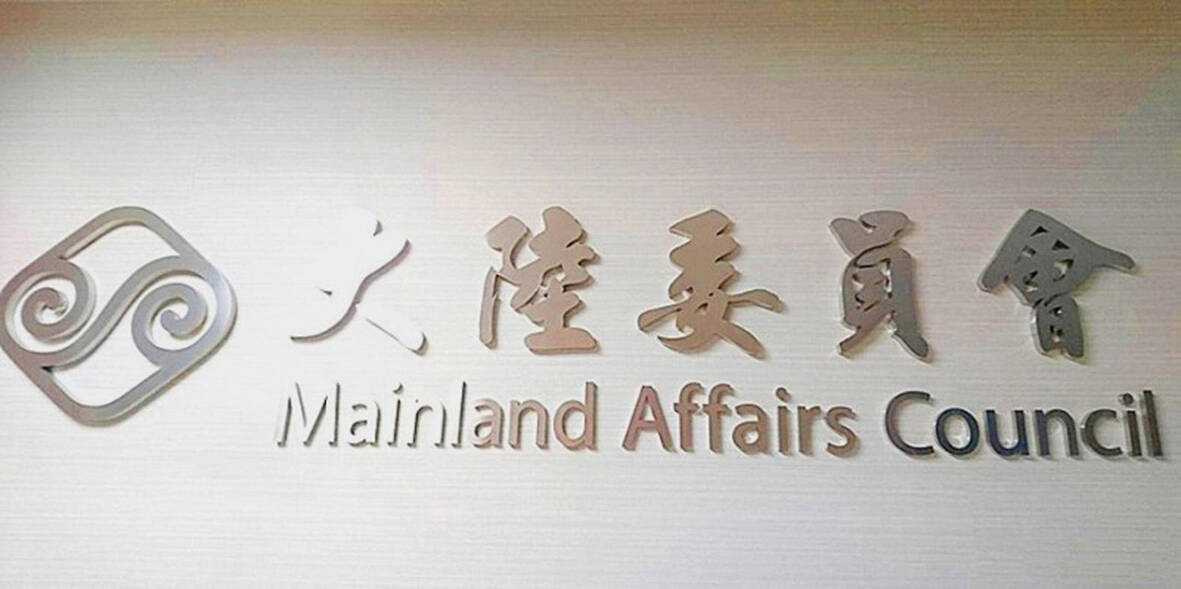 The logo of the Mainland Affairs Council is pictured in an undated photograph.
Photo: CNA
"They should also handle cross-strait affairs in a reasonable, equal, practical and mutually respectful manner," the council said. "This would create a condition for healthy interactions between Taiwan and China."
During the Chinese People's Political Consultative Conference and National People's Congress, which are commonly referred to as "the two conferences," the Chinese State Council is to present a government work report that highlights internal and external challenges, as well as economic stimulus plans following the COVID-19 pandemic, the council said.
The CCP is expected to tighten its control on the country through internal party reforms, it said.
"Beijing should have a more open attitude and invest resources to improve the welfare of the public. It should promote democratic reforms with checks and balances, honor civic groups and keep regional peace. This would help it avoid risks involved in governance and to face the challenges ahead," the council said.
The government would closely monitor further moves by Beijing and enforce the law to prevent national security risks, it added.
National Cheng Kung University political science professor Hung Chin-fu (洪敬富) yesterday said the CCP did not deviate much from its long-standing policy for Taiwan, judging from the content in the government work report.
"This year marks the beginning of Chinese President Xi Jinping's (習近平) third term. To fulfill Xi's ambition of a 'unified China,' more Chinese provinces and cities are expected to set goals about increasing exchanges with local governments and the private sector in Taiwan," Hung said.
"As a result, increased activities from China's 'united front' system could emerge in the second half of this year," Hung added.
The CCP reiterated its position of "opposing an independent Taiwan and promoting peaceful unification," as it seeks to lure pro-unification political parties, organizations and individuals to attack the Democratic Progressive Party government and pro-independence groups, Hung said.
The CCP is expected to extend an olive branch to political parties and organizations that agree with the so-called "1992 consensus," or try to sway public opinion in favor of peaceful unification during next year's presidential election, he said.
The "1992 consensus" — a term former MAC chairman Su Chi (蘇起) in 2006 admitted making up in 2000 — refers to a tacit understanding between the Chinese Nationalist Party (KMT) and the Chinese government that both sides of the Taiwan Strait acknowledge there is "one China," with each side having its own interpretation of what "China" means.
Comments will be moderated. Keep comments relevant to the article. Remarks containing abusive and obscene language, personal attacks of any kind or promotion will be removed and the user banned. Final decision will be at the discretion of the Taipei Times.