Biden, Scholz to discuss Ukraine war, China in Washington
German Chancellor Olaf Scholz was yesterday scheduled to hold confidential talks in Washington with US President Joe Biden about the war in Ukraine amid growing concerns that China might provide weapons to Russia as its invasion grinds into a second year.
Biden and Scholz are to meet for an hour at the White House, including a significant "one-on-one component," giving the two men a chance to "exchange notes" on their respective recent meetings with Ukrainian President Volodymyr Zelenskiy and the state of the war, a senior US official said.
"Both of the leaders wanted this to be a working-level meeting, wanted it to be very much a get down into the weeds, focused on the issues of Ukraine," the official said.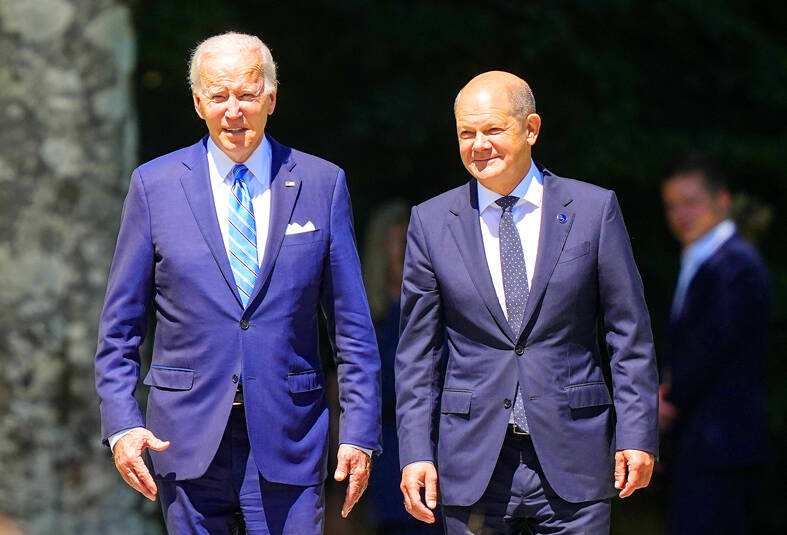 US President Joe Biden, left, and German Chancellor Olaf Scholz arrive at a G7 welcoming ceremony in Kruen, Germany, on June 26 last year.
Photo: AP
A major topic is to be the push to deliver fresh Western support to Ukrainian forces, which are bracing for new Russian offensive in the coming weeks, officials said.
Washington is due to announce a new US$400 million military aid package for Kyiv on the day of Scholz's visit, they said.
Scholz arrives as the US is consulting with allies about the possibility of imposing sanctions on China if it provides military support to Russia for its war in Ukraine, according to four US officials and other sources.
Neither Washington nor Berlin said they have seen evidence of Beijing providing weapons to Moscow, but US officials have said they are monitoring the situation closely.
Germany has taken a much less hawkish stance on China, its top trading partner. It has suggested that China could play a role in bringing about peace.
US officials welcomed Scholz's speech to the German Bundestag on Thursday, in which he urged China not to provide arms to Moscow and asked Beijing to pressure Russia to pull back its forces.
"US policymakers have a chronic concern that industrial European powerhouses like Germany will allow their commercial interests in China to temper their willingness to take tough positions on security and geopolitical issues," said Daniel Russel, who served as assistant secretary of state for East Asian and Pacific affairs under former US president Barack Obama and is now with the Asia Society.
"The Biden administration will use the Scholz visit to try to shift Germany's balance in the direction of stronger pushback," he said.
The White House last month said that Scholz's visit would be an opportunity to "reaffirm the deep bonds of friendship between the United States and our NATO ally Germany."
Last month, a vast delegation of US officials including US Vice President Kamala Harris and US Secretary of State Antony Blinken attended an annual security gathering in Munich, with many praising Germany for overhauling its foreign policy to support Ukraine.
Yesterday's meeting "is not a sign of crisis. It is an opportunity to deepen the personal relationship between both leaders," German Marshall Fund Berlin bureau director Sudha David-Wilp said.
US officials said that Scholz would likely raise concerns about US subsidies for green technologies under the Inflation Reduction Act, which Germany has said could put its companies at a disadvantage.
Critics said the measure is a slap in the face to Europe from its biggest ally at a time when Europe is struggling with sharply higher energy prices due to the Ukraine war.
A US-EU task force is meeting on the issue, but Washington has said it cannot change the law, and said the tax credits could benefit European firms by driving down costs for clean energy globally.
Comments will be moderated. Keep comments relevant to the article. Remarks containing abusive and obscene language, personal attacks of any kind or promotion will be removed and the user banned. Final decision will be at the discretion of the Taipei Times.