Paraguay president affirms ties
Paraguayan President Mario Abdo Benitez yesterday denied that his country might switch recognition to Beijing after it holds elections in April, saying that severing diplomatic relations with Taiwan would be a "historic mistake."
Abdo Benitez, who cannot run for re-election under the Paraguayan constitution, said he hopes his successor's administration would not commit such an error.
Speaking at a news conference during a five-day visit to Taipei, Abdo Benitez said he believes that no matter who succeeds him, the election would not affect Paraguay's more than 65-year friendship with Taiwan.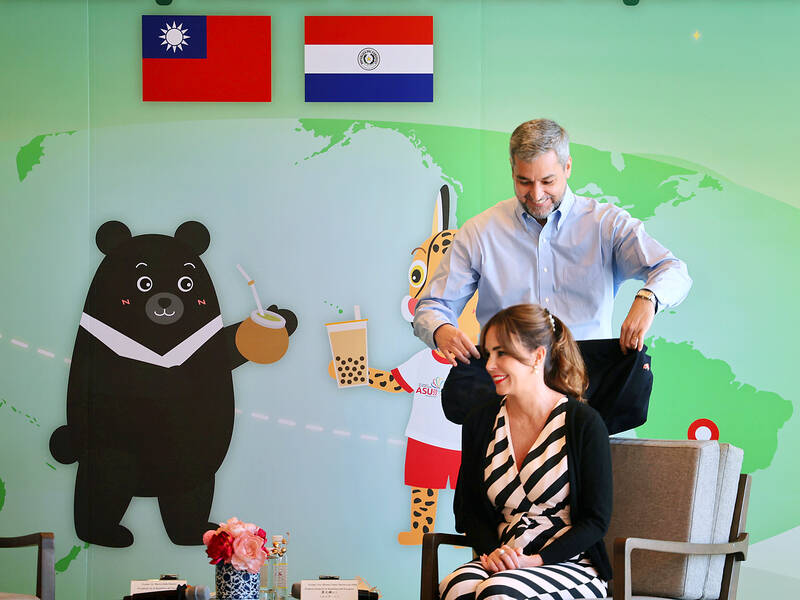 Paraguayan President Mario Abdo Benitez drapes his jacket over his wife's shoulders during an event in Taipei yesterday.
Photo: CNA
Paraguay is one of 14 countries that have formal diplomatic relations with Taiwan.
PRO-CHINA CANDIDATE
Former Paraguayan minister of public works and communications Efrain Alegre, the candidate of the Authentic Radical Liberal Party, has said that if he wins, Paraguay would switch recognition to Beijing, as it would boost economically important soy and beef exports.
Abdo Benitez said his country has never had diplomatic ties with the People's Republic of China, adding that its Taiwan ties are not a major issue ahead of the election.
Statements candidates make on the campaign trail would not necessarily correspond with their policies after taking office, Abdo Benitez added.
"Nobody is going to dare to go ahead with a process of diplomatic rupture with the Republic of China, Taiwan," he said, referring to Taiwan's official name. "We are brotherly peoples, and we have a destiny together."
Former Paraguayan minister of finance Santiago Pena, the candidate of Abdo's Colorado Party, has said Paraguay's relations with Taiwan would remain intact if he wins the election.
Paraguay's Taiwan ties have been under pressure in the past few years, especially from the country's beef producers and farmers, who see the relationship as an obstacle to gaining access to China, the world's largest market for their products.
China targeting Taiwan's allies has taken on broader geopolitical significance amid US concerns about Beijing expanding its influence in Latin America and the Caribbean, where many of Taipei's diplomatic allies are located.
Comments will be moderated. Keep comments relevant to the article. Remarks containing abusive and obscene language, personal attacks of any kind or promotion will be removed and the user banned. Final decision will be at the discretion of the Taipei Times.