Biden seeks talks with Xi Jinping to defuse tensions
US President Joe Biden said he expects soon to speak with Xi Jinping (習近平) about the Chinese spy balloon shot down by the US earlier this month, signaling a desire to end a dispute that has highlighted the fragility of relations between the world's biggest economies.
Biden disclosed plans for the call as part of his most extensive remarks yet about the balloon saga, which led the US to destroy three other still-unidentified objects.
He pledged to "responsibly manage" competition with China "so that it doesn't veer into conflict."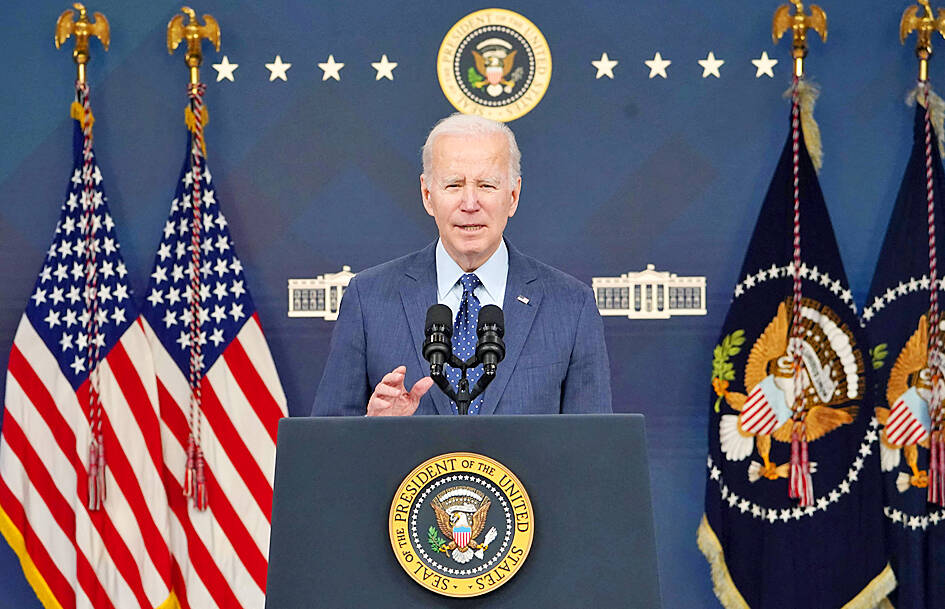 US President Joe Biden speaks to reporters at the White House in Washington on Thursday.
Photo: AFP
"I expect to be speaking with President Xi, and I hope we have a — we are going to get to the bottom of this," Biden said. "But I make no apologies for taking down that balloon."
Biden, who is planning to visit Europe ahead of the one-year anniversary of the Russian invasion of Ukraine on Friday next week, did not specify when he intended to speak with Xi.
Since taking office two years ago, Biden has repeatedly leveraged his personal relationship with Xi — forged when the two leaders served as vice presidents — to keep disputes from escalating.
Chinese President Xi Jinping, right, welcomes Iranian President Ebrahim Raisi at the Great Hall of the People in Beijing on Tuesday.
Photo: EPA-EFE / XINHUA / YAN YAN
Biden and Xi also spoke after the beginning of the Ukraine war and days before then-US House of Representatives speaker Nancy Pelosi visited Taiwan in August last year.
Their first face-to-face meeting in November at a summit in Indonesia appeared to represent a breakthrough, coming as part of a wider push by Xi to ease diplomatic disputes and focus on rebuilding China's COVID-19-battered economy.
"Without clear directions from the top, it is difficult for the lower levels to properly manage the incident," said Vivian Zhan (詹晶), a professor of Chinese politics at the Chinese University of Hong Kong. "Biden's gesture suggests that the tension has escalated to the degree that it hurts the US interest as much as it does China, and needs to be contained."
In another sign that both sides are eager to turn the page, US Secretary of State Antony Blinken is said to be weighing a meeting with Chinese Central Foreign Affairs Commission Director Wang Yi (王毅) on the sidelines of the Munich Security Conference, which began in the southern German city yesterday.
The balloon's transit over the US and Canada prompted Blinken to cancel a trip to Beijing that had been planned in the wake of the earlier Biden-Xi meeting.
While China initially expressed regret over what it said was the balloon's accidental passage over US territory, it has denied that the craft was intended for spying and denounced the decision to shoot it down as an "overreaction."
Meanwhile, Wang on Thursday told Italian Minister of Foreign Affairs Antonio Tajani that Xi is planning to deliver a "peace speech" to mark the first anniversary of Russia's invasion, Italian radio station reported.
Wang "told me that Xi will deliver a peace speech on the anniversary of the invasion of Ukraine," Tajani told RAI a day after meeting the Chinese top diplomat in Rome.
Additional reporting by Reuters
Comments will be moderated. Keep comments relevant to the article. Remarks containing abusive and obscene language, personal attacks of any kind or promotion will be removed and the user banned. Final decision will be at the discretion of the Taipei Times.