Senator urges Biden to shift focus to China
'DETER EXPANSIONISM': The president should shift his defense focus away from Ukraine and make more resources available to Taiwan, Josh Hawley said
The US should prioritize Taiwan over Ukraine to deter China, US Senator Josh Hawley said on Thursday, citing limited military resources.
Speaking at the Heritage Foundation think tank in Washington, Hawley said the US' military power "isn't deployed where it should be."
Hawley expressed similar views in a letter to US Secretary of State Antony Blinken in December last year, saying that Washington should prioritize Taiwan when scheduling arms deliveries.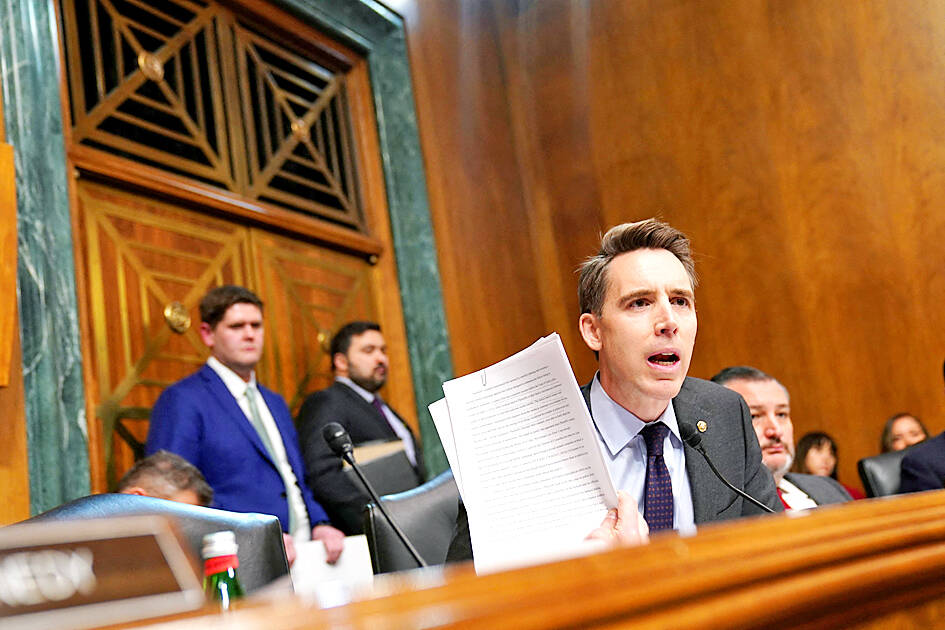 US Senator Josh Hawley speaks at a US Senate Judiciary Committee hearing on Capitol Hill in Washington on Wednesday.
Photo: REUTERS
Blinken at the time said he disagreed with the stance, adding that the world's response to Russia's invasion of Ukraine would deter China.
Hawley said helping Ukraine would not deter China from trying to invade Taiwan.
Although there is bipartisan consensus in Washington that US help to Ukraine would affect China's planning, the US should seek to stop Chinese expansionism in Asia, Hawley said.
Spending money on Ukraine would not stop China's military buildup, he said.
"China is on the march and we are not prepared to stop them," he said, adding that if China were to invade Taiwan now, "they would prevail."
US "actions in Ukraine are directly affecting our ability to deter our most pressing adversary, and that is China," he said.
To deter China from invading Taiwan, the US needs to supply the nation with many of the weapons it sent to Ukraine, he said, adding that the US defense industry is strapped for capacity.
Hawley said the US cannot defend Ukraine, stop China and fulfill its own military requirements at the same time, adding that it "shouldn't have to."
If China were to invade Taiwan, the US would face severe price increases and product shortages, he said.
A war over the nation would lead to a deep recession in the US, as it largely relies on Taiwanese semiconductors, he said.
Hawley called on NATO to take on the responsibility of supplying Ukraine with military resources to safeguard Europe while "deterring China from seizing Taiwan should be America's top foreign policy priority."
Meanwhile, top Republicans on US congressional foreign affairs and armed services committees on Thursday pressed US President Joe Biden to include US$2 billion in military assistance grants for Taiwan in his upcoming budget request.
US representatives Michael McCaul, chairman of the US House of Representatives Foreign Affairs Committee, and Mike Rogers, chairman of the House Foreign Armed Services Committee, were joined by US senators Jim Risch, ranking Republican on the US Senate Foreign Relations Committee, and Roger Wicker, ranking Republican on the Senate Armed Services Committee, in asking Biden to include the funding in Foreign Military Financing grants for Taiwan in his proposed budget for the fiscal year ending in September next year.
Congressional aides said they expect Biden to release the budget proposal on March 9.
In a letter to Biden, the four lawmakers called China's military buildup and the recent incursion into US airspace of a high-altitude surveillance balloon "a grave threat" to US interests.
They also stressed the need to support Taiwan.
"To stop these trends, the United States must act with urgency to defend itself and ensure our allies and partners have the capabilities they need to defend against" the Chinese Communist Party, the letter said.
The US Congress late last year approved legislation authorizing US$10 billion over five years of military grants for Taiwan.
However, a spending bill passed days later did not include the funding.
The White House did not immediately respond to a request for comment on the letter.
Comments will be moderated. Keep comments relevant to the article. Remarks containing abusive and obscene language, personal attacks of any kind or promotion will be removed and the user banned. Final decision will be at the discretion of the Taipei Times.