Top US official arrives for surprise visit
'WELCOME TO VISIT': Defense minister Chiu Kuo-cheng said he was 'not certain' of the plan, just hours before the US deputy assistant secretary of defense for China arrived
The top US defense official on China arrived in Taiwan yesterday, the Financial Times reported, although Minister of National Defense Chiu Kuo-cheng (邱國正) said he was "not very certain" about the plan just hours before the arrival of US Deputy Assistant Secretary of Defense for China Michael Chase.
The newspaper confirmed the arrival, citing one of four sources who earlier said Chase would visit Taiwan this week.
Asked on the sidelines of a legislative session in the morning about Chase's plan, Chiu said that "those who are friendly to us" are welcome to visit Taiwan.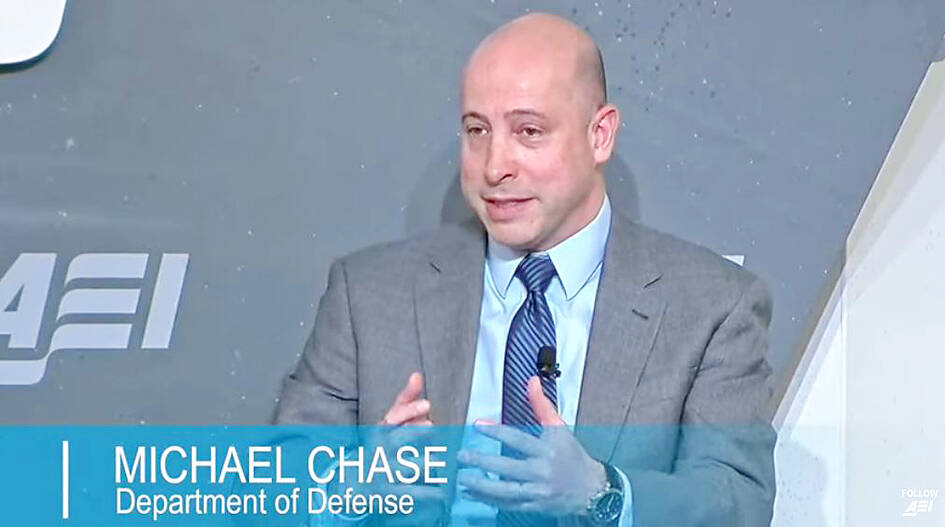 US Deputy Assistant Secretary of Defense for China Michael Chase speaks at a seminar hosted by the American Enterprise Institute in Washington on Dec. 8 last year.
Photo: screen grab from an American Enterprise Institute livestream
"But so far it is not very certain," he told reporters. "I won't explain the details... I won't explain until I get formal notification."
The Financial Times said the Pentagon declined to comment on the visit, but cited it as saying that the US' "support for, and defense relationship with, Taiwan remains aligned against the current threat posed by the People's Republic of China."
"Our commitment to Taiwan is rock-solid and contributes to the maintenance of peace and stability across the Taiwan Strait and within the region," Pentagon spokesman Lieutenant Colonel Martin Meiners told the newspaper.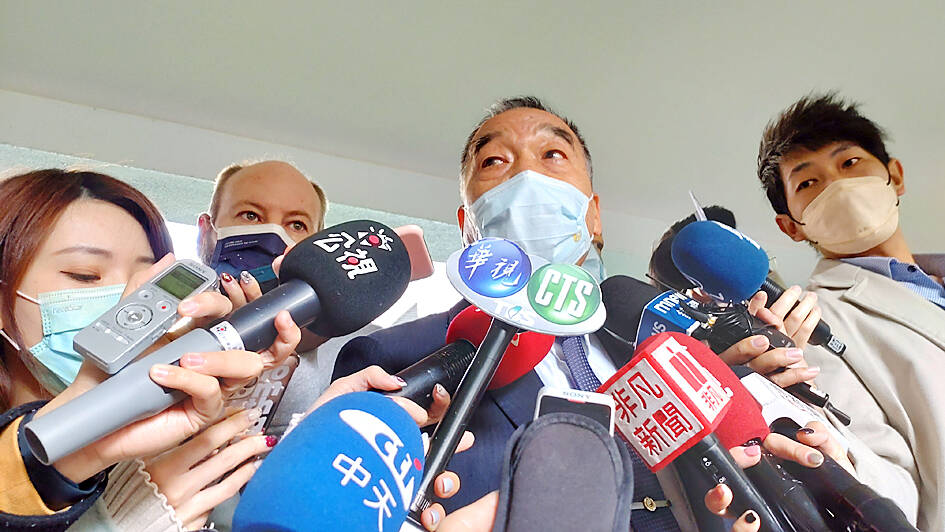 Minister of National Defense Chiu Kuo-cheng, center, answers questions from reporters on the sidelines of a hearing at the Legislative Yuan in Taipei yesterday.
Photo: Yang Cheng-yu, Taipei Times
Chase is the most senior US defense official to visit Taiwan since 2019, when then-US deputy assistant secretary of defense for East Asia Heino Klinck visited.
In November 2020, US Navy Rear Admiral Michael Studeman, who at the time was in charge of intelligence at the US Indo-Pacific Command, made an unannounced visit to Taiwan, and the Financial Times reported that Studeman made another visit last year as Chinese and Russian bombers flew a mission over the Sea of Japan.
Separately, a top Chinese Nationalist Party (KMT) official on Thursday said that US House of Representatives Speaker Kevin McCarthy would "definitely" visit Taiwan this year, even though the speaker has yet to announce the plan.
KMT Department of International Affairs director Alexander Huang (黃介正) made the remarks in an interview after concluding a visit to the US on Saturday.
Talks with McCarthy's aides and aides to other Republicans on Capitol Hill suggest that the speaker is planning to visit Taiwan this year, Huang said.
Even aides to Democratic US representatives did not rule out a visit by McCarthy, he said.
Huang said McCarthy, who was sworn in last month, is still new to his position, which potentially affects his travel schedule.
US media last month reported that the Pentagon is preparing a security detail for a Taiwan visit by the speaker in the spring.
Referring to a visit by McCarthy's predecessor, Nancy Pelosi, in August last year, Huang said the Democratic Progressive Party (DPP) seemed "underprepared" for her visit.
There were four months between Pelosi's initial comments that she would like to visit Taiwan and her arrival, Huang said.
The DPP had enough time to plan the visit with US agencies and predict China's reaction, he added.
Huang said that the DPP frequently claims that Taiwan-US ties are at their "all-time best," but it has yet to prove it by showing the public that it can clearly communicate with US agencies before McCarthy's planned visit.
Comments will be moderated. Keep comments relevant to the article. Remarks containing abusive and obscene language, personal attacks of any kind or promotion will be removed and the user banned. Final decision will be at the discretion of the Taipei Times.