China-US tensions soar as Wang Yi visits Europe
China yesterday questioned whether the US genuinely seeks to repair ties damaged by a dispute over a spy balloon as the two nations' top diplomats head to a security conference in Germany, where they might meet on the sidelines.
Chinese Central Foreign Affairs Commission Director Wang Yi (王毅) is to attend the conference as part of a visit to several European countries.
Starting his trip, he on Wednesday had talks with French President Emmanuel Macron about the war in Ukraine.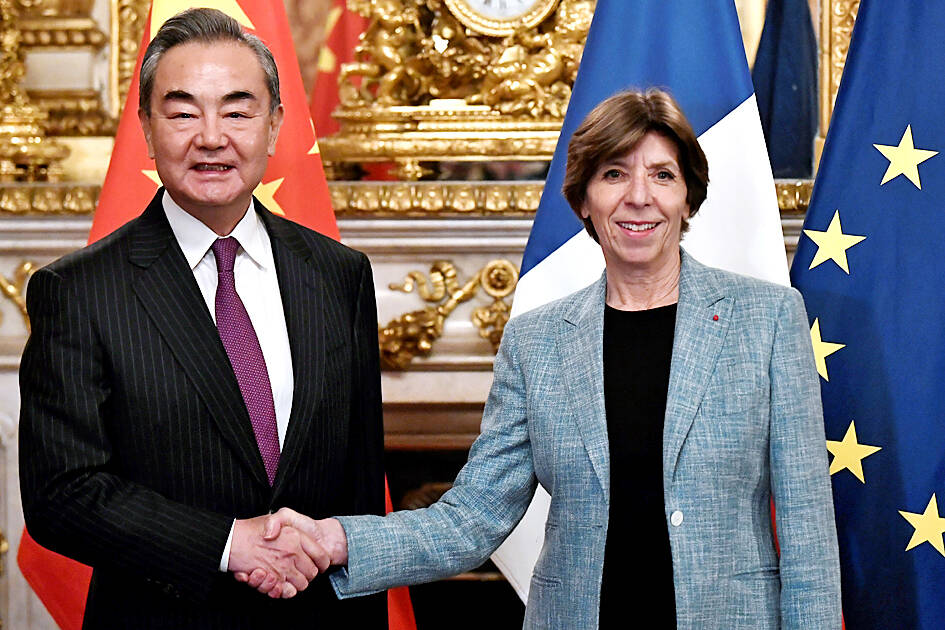 Chinese Central Foreign Affairs Commission Director Wang Yi, left, shakes hands with French Minister of Foreign and European Affairs Catherine Colonna in Paris on Wednesday.
Photo: EPA-EFE
Macron's office said that in a closed-doors meeting, they discussed the consequences of Russia's invasion of Ukraine on the world's most vulnerable nations regarding food security..
They expressed "the same objective of contributing to peace in line with international law," it said.
Wang was yesterday scheduled to participate in a session of a French-Chinese strategic dialogue with Macron's top diplomatic adviser to discuss bilateral projects.
In the coming days, Wang is to travel to Italy, Hungary, Russia and Germany.
He is expected to speak at the Munich Security Conference, which starts today.
Wang's tour is seen as part of China's efforts to restore ties with European nations at a time of rising tensions between the world's two largest economies — China and the US — following the US military shooting down a suspected Chinese spy balloon earlier this month.
The trip comes amid China's persistent efforts to push back against Western pressure on trade, technology, human rights and its claims to a broad swath of the western Pacific.
China's refusal to condemn the invasion of Ukraine nearly a year ago, and join others in imposing sanctions on Russia as the war heads into a second year, has further frayed ties with the West and fueled an emerging divide with much of Europe.
In December last year, Wang defended what he said was his country's position of impartiality on the war in Ukraine and signaled that China would deepen ties with Russia this year.
Speaking ahead of the trip, Chinese Ministry of Foreign Affairs spokesman Wang Wenbin (汪文斌) said Wang Yi would have "in-depth strategic communication" aiming to "promote new developments in bilateral relations, enhance strategic mutual trust between China and Europe, and exchange views on major international issues."
In Munich, Wang Yi is expected to meet with US Secretary of State Antony Blinken.
Wang Wenbin yesterday said the balloon saga "tests the US' sincerity and capability to properly handle crises and stabilize relations with China."
The remarks came after Beijing rebuffed US attempts to arrange a telephone call between the two countries' top defense officials.
The Pentagon asked for a call between US Secretary of Defense Lloyd Austin and Chinese Minister of National Defense General Wei Fenghe (魏鳳和) right after the balloon was shot down on Feb. 4, but China "declined our request," Pentagon press secretary Brigadier General Pat Ryder said in a statement last week.
"The US cannot ask for communication and dialogue on the one hand while sharpening differences and escalating crises on the other," Wang Wenbin said yesterday.
Comments will be moderated. Keep comments relevant to the article. Remarks containing abusive and obscene language, personal attacks of any kind or promotion will be removed and the user banned. Final decision will be at the discretion of the Taipei Times.