US urges Beijing not to interfere in Taiwan visits
The US hopes China will not use any visits by US lawmakers to Taiwan as an excuse for military action, a senior US diplomat said on Wednesday, adding that all countries should warn Beijing against conflict over the nation.
US-China relations were rocked in August last year by a visit to Taiwan by then-US House of Representatives speaker Nancy Pelosi.
Since then, several US lawmakers have visited Taiwan, and speculation has swirled that Pelosi's successor, Kevin McCarthy, could visit Taiwan in the spring or summer.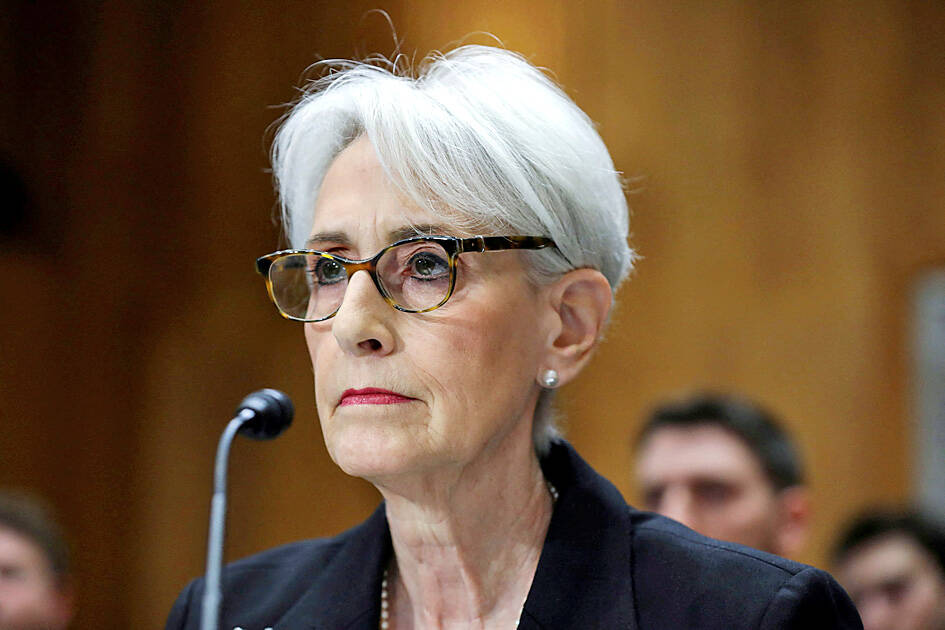 US Deputy Secretary of State Wendy Sherman takes part in a US Senate Foreign Relations Committee hearing in Washington on Thursday last week.
Photo: REUTERS
US Deputy Secretary of State Wendy Sherman told an event at the Brookings Institution think tank that the US was committed to support Taiwan and its ability to defend itself under its "one China" policy.
"We hope that the PRC [People's Republic of China] does not use a visit by a member of [the US] Congress to Taiwan as a pretext for military action," Sherman said.
China staged military drills around Taiwan proper after Pelosi's visit.
Strained relations between Washington and Beijing deteriorated further this month after the US military shot down what it said was a Chinese spy balloon that flew across US territory.
Sherman drew on Russia's invasion of Ukraine as a lesson for China against any moves in the Taiwan Strait, saying the war had increased energy and food insecurity for the whole world, as well as inflationary pressures.
"The same would be true of a conflict in the Taiwan Strait," Sherman said. "And so, I urge all countries to tell the PRC this affects me. This affects my people, my country. This is not a good idea."
Sherman said Washington had "growing concern" about China's "no limits" partnership with Russia and its support for Moscow's invasion of Ukraine, even as it was attempting to increase its global standing by saying it would help mediate an end to the conflict.
She said China could not have it both ways.
"But what I would say to all of those who are supporting Russia, you're going to end up with an albatross around your neck," Sherman said, adding that Ukraine would deliver a strategic failure for Russian President Vladimir Putin.
"That's going to create a lot of problems for those who are supporting this unholy invasion going forward," she said.
Comments will be moderated. Keep comments relevant to the article. Remarks containing abusive and obscene language, personal attacks of any kind or promotion will be removed and the user banned. Final decision will be at the discretion of the Taipei Times.