China is exploiting funeral, MAC says
PROTOCOL SHUNNED: No itinerary for the Beijing delegation was submitted, and the presence of Ye Xiaowen would have been disruptive to the funeral, an official said
China is exploiting the passing of Buddhist master Hsing Yun (星雲) for political purposes, the Mainland Affairs Council (MAC) said yesterday, rejecting accusations that the Democratic Progressive Party (DPP) government refused to allow a Chinese delegation entry to Taiwan for Hsing Yun's funeral tomorrow.
China's Taiwan Affairs Office (TAO) spokeswoman Zhu Fenglian (朱鳳蓮) earlier yesterday said that a 38-member Chinese delegation scheduled to attend the funeral was canceled at the last minute.
"The DPP disregarded basic humanitarian principles and rudely rejected the mainland's delegation to Taiwan," Zhu said.
The logo of the Mainland Affairs Council is displayed at its headquarters in Taipei in an undated photograph.
Photo: Chung Li-hua, Taipei Times
The planned delegation would have been headed by former Chinese State Administration for Religious Affairs director Ye Xiaowen (葉小文) and TAO Deputy Director Long Mingbiao (龍明彪).
Five other TAO personnel, four officials from the Chinese Communist Party's United Front Work Department and three officials from the TAO's provincial-level agency would have also attended.
The MAC said that Beijing had not followed the mechanism to facilitate cross-strait visits and was wrongly blaming the DPP administration.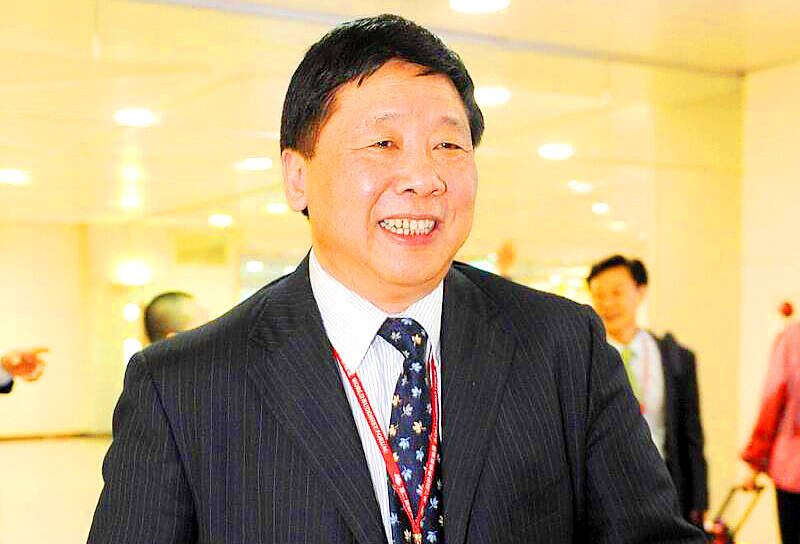 Former Chinese State Administration for Religious Affairs director Ye Xiaowen is pictured in an undated photograph.
Photo: Chen Cheng-yu, Taipei Times
"When Chinese officials plan to visit Taiwan, they should follow protocol and provide their itinerary to the MAC, but we did not receive any messages from Beijing regarding attendance at the funeral," a MAC official said, speaking on condition of anonymity.
The council on Friday denied Ye's request to visit, saying that aside from evidence linking Ye to religious persecution and denial of religious freedoms, another factor was potential social disruption, as his visit for the 2009 World Buddhist Forum had sparked widespread protests.
Ye was denied entry to Taiwan mainly to ensure that Hsing Yun's memorial service proceeds smoothly, the council said.
Long and other officials in the delegation did not utilize the appropriate MAC channels, and therefore were not granted permits to visit Taiwan, the MAC official said.
DPP Legislator Wang Ting-yu (王定宇) yesterday said that "China is using the death of Hsing Yun to conduct united front tactics and disseminate propaganda in Taiwan."
"This is unethical and highly disrespectful by exploiting the passing of a major religious figure," Wang said.
Taiwan People's Party caucus whip Chiu Chen-yuan (邱臣遠) called on Chinese authorities to avoid sensitive political matters during the funeral period, and urged the Chinese delegation to follow the MAC's protocols to enter Taiwan.
The MAC welcomes other Chinese groups traveling to Taiwan for Hsing Yun's memorial service, it said in a statement.
Taiwan has expedited approval of entry permits for about 120 people from China to attend the funeral, including relatives and family friends of Hsing Yun, delegations from Chinese Buddhist organizations, and Buddhist temple managers and other religious figures based in China, it said, adding that many of them arrived yesterday.
Hsing Yun, founder of the Kaohsiung-based Buddhist organization Fo Guang Shan, died on Sunday last week at the age of 95.
A memorial service is to be held at the Hsing Yun Cloud Dwelling Building tomorrow morning.
Comments will be moderated. Keep comments relevant to the article. Remarks containing abusive and obscene language, personal attacks of any kind or promotion will be removed and the user banned. Final decision will be at the discretion of the Taipei Times.