Ex-admiral warns of Taiwan deadline
'WAKE-UP CALL': Republican members of a US House committee said that China has surpassed the US in the number of intercontinental ballistic missile launchers
A former commander of the US forces in the Pacific on Tuesday told the US Congress that the US ignores the prospect of China invading Taiwan within years "at our peril," as tensions with Beijing remained high after the downing of an alleged Chinese spy balloon.
China's intent to take Taiwan is clear, retired admiral Harry Harris, former head of the US forces in the region, told the US House of Representatives Armed Services Committee at a hearing.
He cited testimony by his successor, Admiral Phil Davidson, before the US Senate in 2021, in which the Indo-Pacific commander emphasized the prospect that the People's Republic of China (PRC) could invade Taiwan.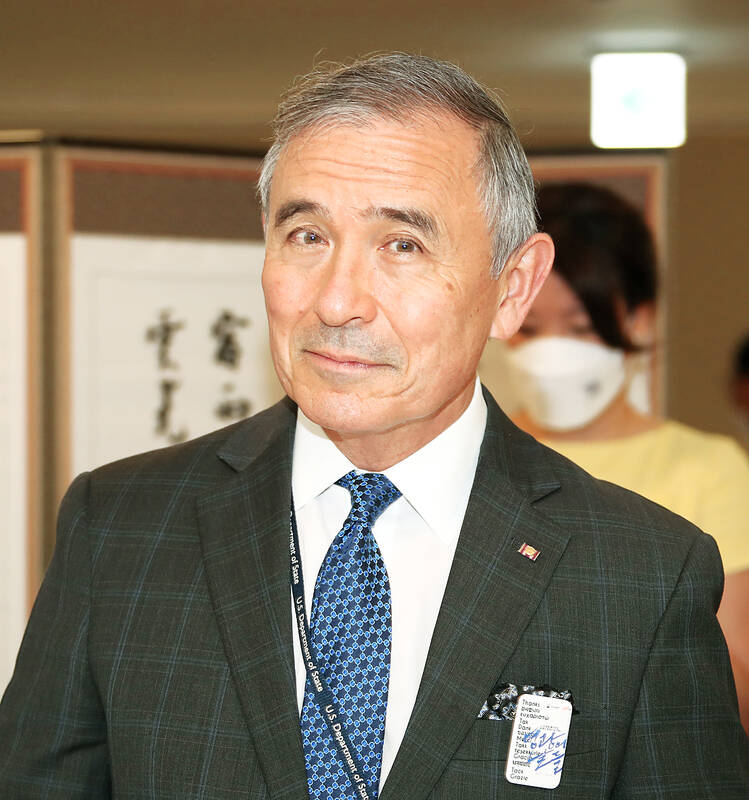 Then-US ambassador to South Korea Harris Harry attends a ceremony in Seoul on 27 July, 2020.
Photo: EPA-EFE
"My successor at Indo-Pacific Command testified before Congress in 2021 that the PRC could invade Taiwan in six years — that's 2027," Harris said on Tuesday. "We ignore Admiral Davidson's warning at our peril."
Actually, Davidson stopped short of predicting a full-scale invasion in an interview last month with the Japan Times.
"In my mind, that can be many lesser things than an all-out invasion," he said. "One of those would be the threats to outer islands, and I think it's a grave security concern of Taiwan's."
The Armed Services Committee held its first hearing since Republicans took control of the House, with the theme of "The Pressing Threat of the Chinese Communist Party to US National Defense."
It came at a tense time for US-China relations, just days after the Pentagon shot down an alleged Chinese spy balloon off the coast of South Carolina after it drifted across the continental US. It led to the postponement of US Secretary of State Antony Blinken's long-planned trip to China and has reignited Republican criticism that the administration of US President Joe Biden needs to take a tougher stance toward Beijing.
Republican members of the committee also said they have been informed by the US Strategic Command "that China has surpassed the US" in the number of launchers for intercontinental ballistic missiles, which the lawmakers called "a wake-up call."
At the hearing on Tuesday, Harris — who recently visited Taiwan — said the region was at a "precarious crossroad," adding that Beijing was engaged in a quest to "intimidate, isolate and ultimately dominate Taiwan."
Some China experts have questioned public warnings about a timeline for a potential Chinese invasion of Taiwan.
They have said that Beijing would much prefer to absorb Taiwan eventually without the use of force, as Chinese President Xi Jinping (習近平) has said publicly.
They have also said that 2027, the 100th anniversary of the Chinese People's Liberation Army, is simply a date China has set for its military modernization goals, rather than a hard date by which it wants to conquer Taiwan.
Harris seemed to disagree.
"Xi Jinping has shown us his intent regarding Taiwan time and time again, and shame on us if we ignore him," he told the committee.
During the hearing, asked by US Representative Chris Deluzio to elaborate on what "strategic clarity" would mean for the US, Harris said it means clarifying whether the US will commit to Taiwan's military defense, should China try to take over the nation by force.
"I think the time for ambiguity is over," he was quoted by Politico's Connor O'Brien as saying.
"We have to be clear about our intent with regard to what would happen if the PRC invades Taiwan, as the PRC is clear in its intent that it's ultimately going to seize Taiwan, if need be," Harris said.
Strategic clarity would entail letting Taiwanese know whether the US would defend Taiwan so that they can decide between bolstering the nation's defensive capabilities or allowing annexation by China, he said.
Such a policy would also inform Beijing of the cost it would pay if it tries to invade Taiwan and that US parents would know that their children might lose their lives in a war to protect Taiwan against Chinese aggression, he added
Additional reporting by Jonathan Chin
Comments will be moderated. Keep comments relevant to the article. Remarks containing abusive and obscene language, personal attacks of any kind or promotion will be removed and the user banned. Final decision will be at the discretion of the Taipei Times.