Tsai conveys condolences to Turkey over quake
President Tsai Ing-wen (蔡英文) yesterday sent her sympathies to the people affected by a powerful earthquake that struck Turkey and Syria, with the government pledging to donate US$200,00 to rescue efforts and providing disaster relief assistance.
The president also hopes for a quick recovery and a return to normal life there, Presidential Office spokeswoman Kolas Yotaka quoted Tsai as saying.
A team of 40 personnel and three search-and-rescue dogs, equipped with 4 to 5 tonnes of gear and devices, was scheduled to depart last night on board a Turkish Airlines flight, the National Fire Agency said in a press statement.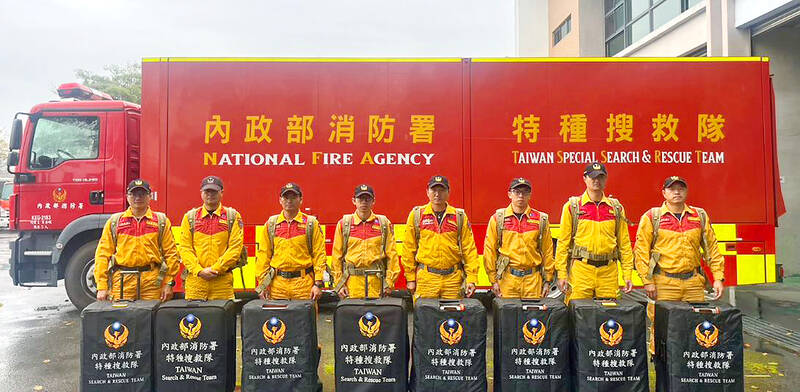 Members of the National Fire Agency's Special Rescue Team yesterday prepare to depart for a rescue mission to Turkey after it was struck by a magnitude 7.8 earthquake early yesterday.
Photo: screen grab from the National Fire Agency's Facebook page
The magnitude 7.8 earthquake rocked wide swaths of Turkey and Syria early yesterday, toppling hundreds of buildings and killing more than 1,500 people. Hundreds were still believed to be trapped under rubble, and the toll was expected to rise as rescue workers searched mounds of wreckage in cities and towns across the area.
Department of West Asian and African Affairs Director-General Anthony Ho (賀忠義) has also, on behalf of Minister of Foreign Affairs Joseph Wu (吳釗燮), conveyed his condolences to Turkish Representative in Taiwan Muhammed Berdibek, the ministry said.
The Taipei Economic and Cultural Mission in Ankara said that there had been no reports of Taiwanese casualties, but that it would continue to monitor the situation, it said.
Rescuers carry out a girl from a collapsed building following an earthquake in Diyarbakir, Turkey, yesterday.
Photo: Reuters
For emergency assistance, Taiwanese in Turkey can call the mission's emergecy hotline at +90-532-322-7162, while their relatives in Taiwan can contact the ministry's toll-free all-hours hotline in Taiwan at 0800-085-095.
On both sides of the Turkish and Syrian border, residents jolted out of sleep by the pre-dawn quake rushed outside on a cold, rainy and snowy night. Buildings were reduced to piles of pancaked floors, and major aftershocks continued to rattle the region.
Rescue workers and residents in multiple cities searched for survivors, working through tangles of metal and concrete. A hospital in Turkey collapsed, and patients, including newborns, were evacuated from facilities in Syria.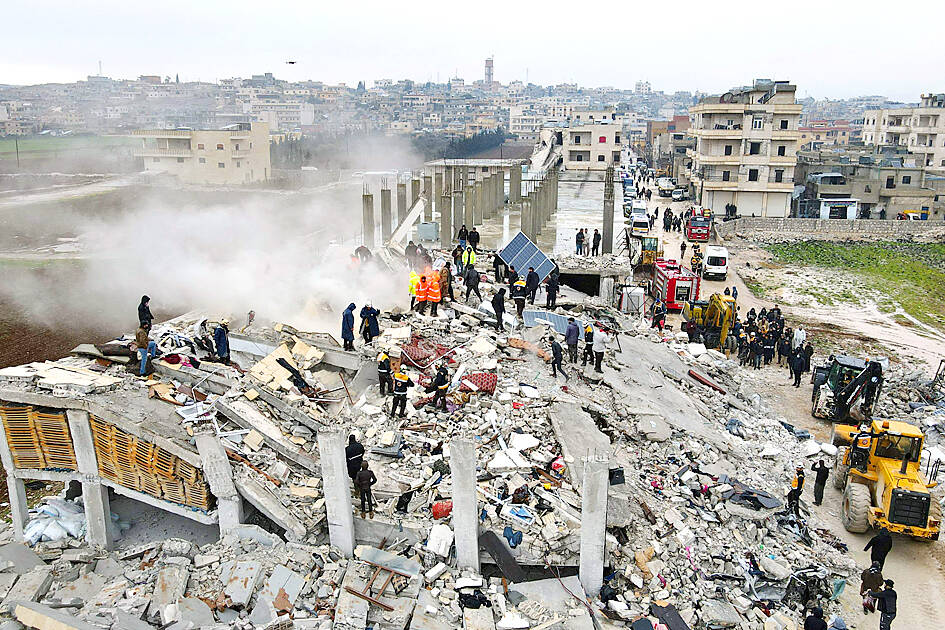 People search for victims and survivors in the rubble of collapsed buildings, following an earthquake in the town of Sarmada in Syria's Idlib Province yesterday.
Photo: AFP
"Because the debris removal efforts are continuing in many buildings in the earthquake zone, we do not know how high the number of dead and injured will rise," Turkish President Recep Tayyip Erdogan said. "Hopefully, we will leave these disastrous days behind us in unity and solidarity as a country and a nation."
The quake, which was centered north of the Turkish provincial capital of Gaziantep, was felt as far away as Cairo. It sent residents of Damascus rushing into the street, and jolted awake people in their beds in Beirut.
It struck a region that has been shaped on both sides of the border by more than a decade of civil war in Syria. On the Syrian side, the swath affected is divided between government-held territory and the nation's last opposition-held enclave, which is surrounded by Russian-backed government forces. Turkey, meanwhile, is home to millions of refugees from that conflict.
A Syrian man weeps as he carries his son, who was killed in an earthquake in the town of Jandaris, in the countryside of Syria's northwestern city of Afrin in the rebel-held part of Aleppo Province, yesterday.
Photo: AFP
The opposition-held regions in Syria are packed with about 4 million people displaced from other parts of the country by the fighting. Many of them live in buildings that are already wrecked from past bombardments.
Hundreds of families remained trapped in rubble, the opposition emergency organization, called the White Helmets, said in a statement.
Strained health facilities and hospitals were quickly filled with wounded, rescue workers said.
The region sits on top of major fault lines and is frequently shaken by earthquakes. About 18,000 people were killed in a similarly powerful earthquake that hit northwest Turkey in 1999.
The US Geological Survey measured yesterday quake at 7.8. Hours later, a magnitude 7.5 one struck more than 100km away.
An official from Turkey's disaster management agency said it was a new earthquake, not an aftershock, though its effects were not immediately clear.
Comments will be moderated. Keep comments relevant to the article. Remarks containing abusive and obscene language, personal attacks of any kind or promotion will be removed and the user banned. Final decision will be at the discretion of the Taipei Times.