Czech Republic's Pavel defends Tsai call
Czech president-elect Petr Pavel on Tuesday defended his decision to have a telephone conversation with President Tsai Ing-wen (蔡英文) a day earlier despite objections from China, saying that the Czech Republic is a sovereign state and "we do what we think is right."
In a Czech-language post on Twitter, Pavel wrote that he understood China had "reservations" about the phone call.
"However, we are a sovereign country and we do what we think is right," he added.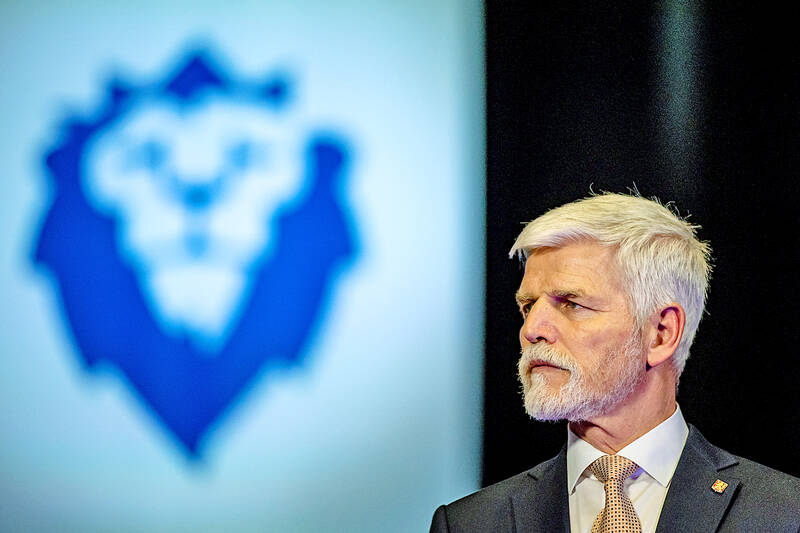 Czech president-elect Petr Pavel speaks during an interview in Prague on Saturday.
Photo: EPA-EFE
Pavel, a retired general and former chairman of NATO's military committee, the alliance's highest military body, swept to the Czech presidency after a landslide victory on Saturday over former Czech prime minister Andrej Babis.
He is to replace Czech President Milos Zeman, whose second term ends next month.
Unlike Zeman, who pushed for closer relations with China and Russia, Pavel is considered a mainstream pro-Western candidate who backs aid for Ukraine.
The previous time Tsai publicly announced a phone call with a leader of a nation that does not have formal diplomatic ties with Taiwan was on Dec. 2, 2016, with then-US president-elect Donald Trump.
Pavel's post on Twitter was made after Beijing on Tuesday condemned Prague over the Tsai-Pavel call.
"Czech president-elect Pavel ignored China's repeated attempts to dissuade him and our repeated representations," Chinese Ministry of Foreign Affairs spokeswoman Mao Ning (毛寧) told reporters.
"He has persisted in stepping on China's red line, seriously interfering in China's domestic affairs and hurting the feelings of the Chinese people," Mao said.
"Before his election, Pavel publicly stated that the 'one China' principle should be respected, yet now he has gone back on his words," she said. "China once again urges the Czech Republic to ... take immediate and effective measures to eliminate the negative impact of this incident and avoid irreparable damage to China-Czech relations."
Meanwhile, Czech Prime Minister Petr Fiala on Tuesday said the Czech Republic maintains its "one China" policy, despite having good relations with Taiwan.
"Czechia respects and holds its own one-China policy," Fiala said in a statement. "As a sovereign country we decide ourselves who we have calls with and who we will meet."
The president of the Czech Republic is the head of state, but has mostly ceremonial powers, with the day-to-day business of the executive government carried out by the prime minister.
In related news, EU spokeswoman for foreign affairs and security policy Nabila Massrali on Tuesday reiterated the bloc's stance on Taiwan and China.
"The EU and its member states remain committed to the long-standing 'one China' policy, which constitutes the framework for the EU's and its member states' engagement with Taiwan," Massrali told a news briefing.
"Within this policy, the EU and its member states recognize the government of the People's Republic of China as the sole government of China," she said. "At the same time the EU and its member states have strong ties with Taiwan, an important economic and high-tech partner in the region."
Comments will be moderated. Keep comments relevant to the article. Remarks containing abusive and obscene language, personal attacks of any kind or promotion will be removed and the user banned. Final decision will be at the discretion of the Taipei Times.