Taiwan tops Asia on human freedom index
NO. 14 IN THE WORLD: The report said that there is a strong link between freedom and democracy, adding that freedom plays a critical role in the well-being of people
Taiwan ranked 14th on last year's Human Freedom Index, the highest placement among countries in Asia, two places ahead of Japan, 16 ahead of South Korea and 138 in front of China, a report published by the Washington-based Cato Institute and the Vancouver-based Fraser Institute said.
The top 10 countries, in descending order, are Switzerland, New Zealand, Estonia, Denmark, Ireland, Sweden, Iceland, Finland, the Netherlands and Luxembourg, said the report, which was published on Thursday last week.
Canada took the No. 13 spot, followed by Taiwan, with Germany at 18, the UK at 20, the US at 23, Ukraine at 89, Russia at 119 and Syria last at 165.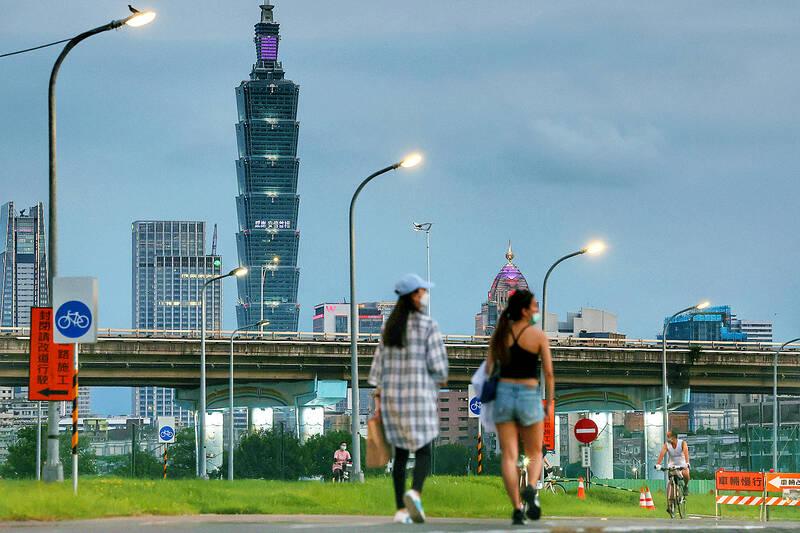 Two women walk in a park in Taipei on July 10 last year.
Photo: CNA
The report found a strong link between freedom and democracy, and said that freedom plays a critical role in people's well-being.
The index used data from more than 165 jurisdictions in 2020, the most recent year for which there was sufficient information.
The index — a ranking on how free the people of the world are — represents 98.1 percent of the global population and is the most comprehensive freedom index to date.
It is based on 83 indicators in categories including: rule of law; security and safety; movement; religion; association, assembly and civil society; expression and information; relationships; size of government; and legal system and property rights.
On a scale of 0 to 10, with 10 representing more freedom, the average human freedom rating dropped to 6.81 in 2020 from 7.03 in 2019, the report said.
"There can be no doubt that the coronavirus [COVID-19] pandemic was calamitous for overall human freedom," the report said, adding that the crucial question highlighted by the index is whether governments would gradually roll back restraints that were imposed in the name of disease prevention.
Only 13.4 percent of the world's population are living in jurisdictions ranking in the first quartile of those in the index, while 39.9 percent are living in the bottom quartile, the report said.
Comments will be moderated. Keep comments relevant to the article. Remarks containing abusive and obscene language, personal attacks of any kind or promotion will be removed and the user banned. Final decision will be at the discretion of the Taipei Times.