Russia rules out talks with Japan over disputed islands
Moscow yesterday said it would not hold annual talks with Tokyo on renewing a pact that allows Japanese fishers to operate near disputed islands, saying that Japan has taken anti-Russian measures.
The islands, off the northern Japanese island of Hokkaido, are known in Russia as the Kurils and in Japan as the Northern Territories, and have been at the core of decades of tension between the neighbors.
"In the context of the anti-Russian measures taken by the Japanese government ... the Russian side informed Tokyo that it could not agree on the holding of intergovernmental consultations on the implementation of this agreement," the RIA Novosti state news agency reported, citing the Russian Ministry of Foreign Affairs.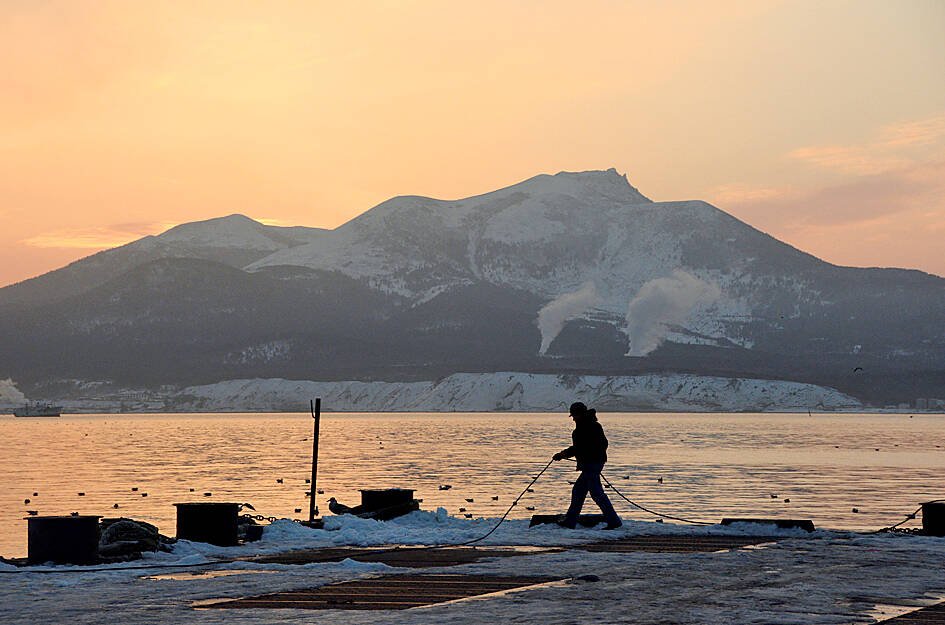 A person walks along the coast of the Island of Kunashir, one of four islands known as the Kurils in Russia and the Northern Territories in Japan, on Dec. 20, 2016.
Photo: Reuters
Japan, a major US ally, imposed sanctions on dozens of Russians and Russian organizations soon after Moscow launched its invasion of Ukraine on Feb. 24 last year.
On Friday, it tightened sanctions on Russia in response to Russian air attacks on Ukrainian cities.
Russia in June last year suspended a 1998 agreement that allowed Japanese boats to fish near the islands. Japanese Chief Cabinet Secretary Hirokazu Matsuno on Monday last week told a news conference that Japan would demand that Russia engage in the annual talks so this year's fishing operations could begin.
The Russian ministry said there would be no improvement in ties unless Japan showed "respect."
"To return to a normal dialogue, the Japanese neighbors should show elementary respect for our country, a desire to improve bilateral relations," the RIA quoted the ministry as saying.
Russia and Japan have not formally ended World War II hostilities because of their standoff over the islands.
Comments will be moderated. Keep comments relevant to the article. Remarks containing abusive and obscene language, personal attacks of any kind or promotion will be removed and the user banned. Final decision will be at the discretion of the Taipei Times.