Ukraine in 'fierce' fighting for Vuhledar
Three people were killed and at least two wounded after Russian forces struck a residential neighborhood in the eastern Ukrainian city of Kostiantynivka, the regional governor said yesterday, as Ukrainian troops were locked in a "fierce" confrontation with Russian fighters for control of Vuhledar, southwest of Donetsk.
Donetsk Governor Pavlo Kyrylenko wrote on the Telegram messaging app that four apartment buildings and a hotel had been damaged and that rescuers and police officials were at the site to "carefully document yet another crime by the Russian occupiers."
Earlier yesterday, he said that four people had been killed and at least seven wounded from Russian strikes over the past 24 hours.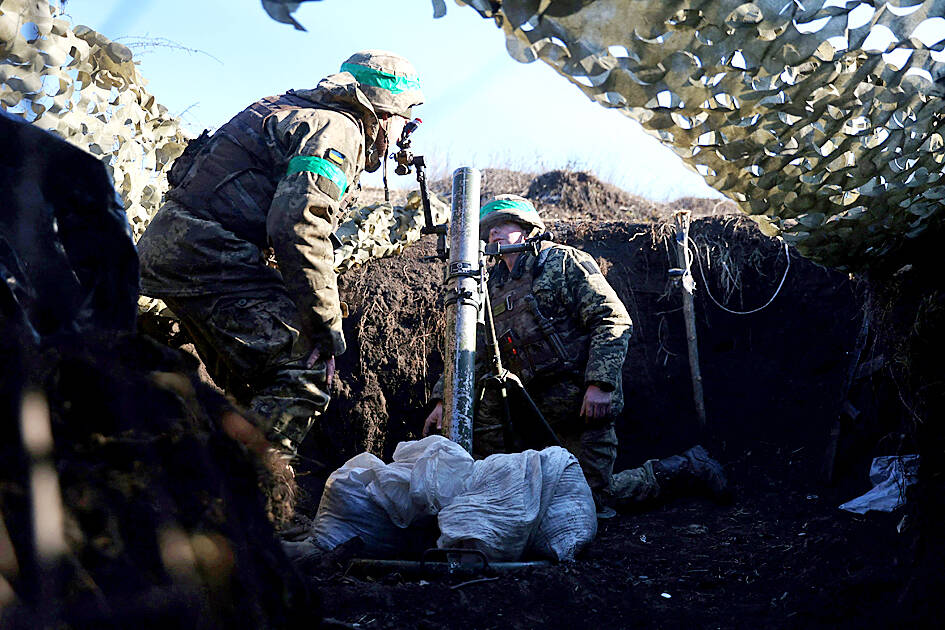 Ukrainian soldiers prepare to fire a mortar near Bakhmut, Ukraine, on Friday.
Photo: AFP
Ukrainian President Volodymyr Zelenskiy said on Friday the situation at the front remained "extremely acute," particularly in the eastern Donetsk region where Russia is stepping up an offensive amid its full-scale invasion, launched in February last year.
In Vuhledar, both sides claimed success in the small administrative center of apartment blocks surrounded by flat fields, a short distance from the strategic prize of the village of Pavlivka.
"The encirclement and subsequent liberation of this city solves many problems," said Denis Pushilin, the Moscow-appointed leader of the Donetsk region.
"Soon, Vuhledar may become a new, very important success for us," he was quoted as saying by Russian news agencies.
Kyiv said the town, which had a pre-invasion population of about 15,000 people, remained contested.
Moscow's push for Vuhledar is part of its effort to seize control of the entire Donetsk region, which it has already declared a part of Russia.
Ukraine said this week that Russian troops had stepped up their attacks in the east, particularly on Vuhledar and Bakhmut.
Russian President Vladimir Putin used International Holocaust Remembrance Day on Friday to lash out at Ukraine, calling those in the country "neo-Nazis" to justify the 11-month-old invasion.
"Forgetting the lessons of history leads to the repetition of terrible tragedies," Putin said. "It is against that evil that our soldiers are bravely fighting."
In Poland, where about 3 million Jews were slaughtered during World War II, officials pointed their fingers at Russia as perpetuating Nazi thinking.
"On the anniversary of the liberation of the Nazi German death camp Auschwitz-Birkenau, let us remember that to the east Putin is building new camps," Polish Prime Minister Mateusz Morawiecki wrote on Facebook.
"Solidarity and consistent support for Ukraine are effective ways to ensure that history does not come full circle," he added.
Ukrainian President Volodymyr Zelenskiy marked Holocaust Remembrance Day by urging the world to unite against "indifference" and "hatred."
"Today, as always, Ukraine honors the memory of millions of victims of the Holocaust. We know and remember that indifference kills along with hatred," he said.
Meanwhile, Zelenskiy on Friday invited International Olympic Committee (IOC) president Thomas Bach to visit the frontline city of Bakhmut, where some of the heaviest fighting has taken place in recent months.
"I am inviting Mr Bach to Bakhmut so that he can see for himself that neutrality does not exist," Zelenskiy said. "It is obvious that any neutral banner of Russian athletes is stained with blood."
He made the invitation after the IOC said it was seeking a "pathway" for Russians to participate in the 2024 Paris Olympic Games despite the invasion of Ukraine.
Comments will be moderated. Keep comments relevant to the article. Remarks containing abusive and obscene language, personal attacks of any kind or promotion will be removed and the user banned. Final decision will be at the discretion of the Taipei Times.