Fiji scraps China policing deal under new government
Fiji yesterday suspended its police commissioner after a general election led to the first change in government in the Pacific island nation in 16 years, after the military earlier warned against "sweeping changes."
Fijian President Ratu Wiliame Katonivere said Fijian Police Commissioner Sitiveni Qiliho had been suspended on the advice of the Fijian Constitutional Offices Commission, "pending investigation and referral to and appointment of a tribunal."
Fijian Elections Supervisor Mohammed Saneem was also suspended by the commission, the statement said.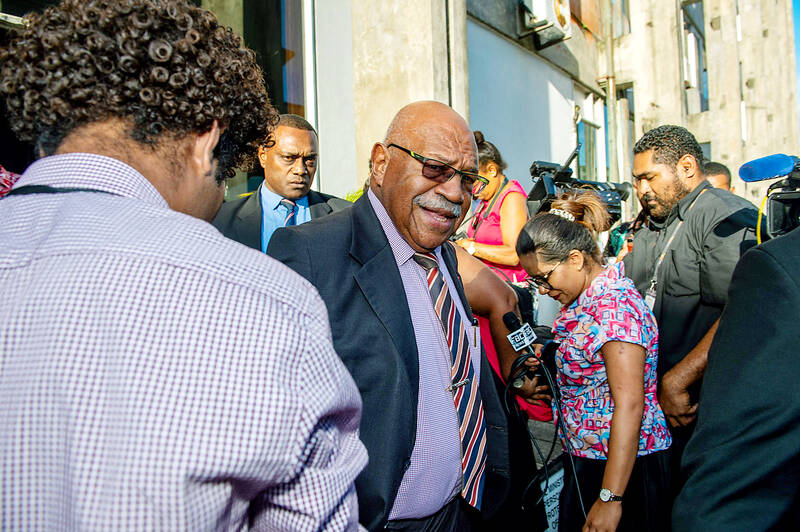 Fijian Prime Minister Sitiveni Rabuka, center, speaks to reporters in Suva on Tuesday last week.
Photo: AFP
Qiliho declined to comment to local media because he said he would face a tribunal over his conduct.
He was seen as being close to former Fijian prime minister Frank Bainimarama, who led the country for 16 years before a coalition of parties narrowly won an election in December last year and installed Sitiveni Rabuka as prime minister of the strategically important Pacific nation.
The day before a coalition agreement was struck, Qiliho and Bainimarama called on the military to maintain law and order because they said the hung election result had sparked ethnic tensions, a claim disputed by the coalition parties.
The Pacific island nation, which has a history of military coups, has been pivotal to the region's response to competition between China and the US, and struck a deal with Australia in October last year for greater defense cooperation.
On Thursday, the Fiji Times reported that Rabuka had announced his government would end a police training and exchange agreement with China.
"Our system of democracy and justice systems are different so we will go back to those that have similar systems with us," it quoted Rabuka as saying, referring to Australia and New Zealand.
The prime minister's office did not immediately respond to a request for comment.
Fijian Military Forces Commander Major General Jone Kalouniwai earlier this month warned Rabuka's government against making "sweeping changes," urging it to abide by a 2013 constitution that gives the military a key role.
Comments will be moderated. Keep comments relevant to the article. Remarks containing abusive and obscene language, personal attacks of any kind or promotion will be removed and the user banned. Final decision will be at the discretion of the Taipei Times.